DECATUR — Some compounds are easier to make models of than others. Johns Hill Magnet School science teacher Liz Bartimus wanted her students to build models of "molecules that changed the world."
"We've been studying elements and how they combine to make molecules and names of compounds and how they put them together, and the students asked to do a project," Bartimus said. "I read an article in a magazine about important molecules, and I did a little research and came up with a list of about 50, but some of them are so doggone big," she added, laughing.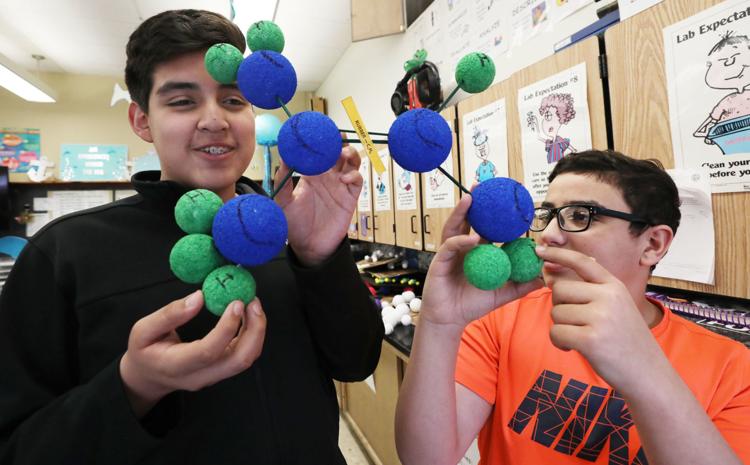 One of the most significant is insulin, but it has more 700 atoms in its molecule, she said, and building a model of that was daunting at best. She and the students talked about the ones that were too big to build, but narrowed down the choices of which ones to build to smaller ones.
Students were paired into teams, and they researched molecules and why they were important. Models depict asbestos, aspirin, table salt (sodium chloride), Kevlar, rubber and lidocaine, to name a few. Students also prepared tri-fold display boards with facts about their projects. Other than guidance, students were largely left to execute the ideas themselves.
"We've never done this project before," Bartimus said. "The only control I had over it was the grading scale for the model. The kids made the (scale) for presentations and for partner collaborative work. They chose the items they felt they needed to be graded on.
"I was really proud of them, because one of the things they chose for their presentation (to be graded on) was knowledge gained, and most kids would not want to touch that."
Asbestos, one of the projects, is "a terrible molecule," Bartimus said, but at one time, it was used widely and thought to be a boon for protecting against fires because of its ability to resist heat. It has since been banned as a carcinogen.
"They really owned it and really had a good time doing it," she said of the students.
You have free articles remaining.
Rubber was discovered in 1839 by Charles Goodyear, said Walter Milla, and without it, we wouldn't have car tires, for example. He said he learned a lot from the project.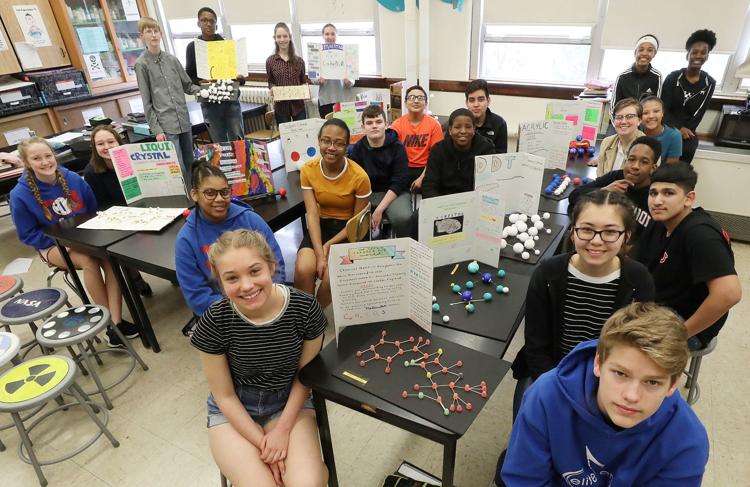 "I didn't know (before) that the fumes of rubber dust can give you cancer," Walter said. "Rubber is one of the most used elements for transportation. We need it for stuff like latex gloves. I didn't know that rubber came from certain trees."
The salt model was deceptively simple, because it contains only two atoms, but salt itself is a critical substance.
"You have to have it to live," said Chase Mooney, one of the students who worked on that project.
While working on those molecule models, the students were able to sit on proper lab stools, donated by ADM Cares. Some of those stools are decorated with science-themed art work done by other Johns Hill students under the tutelage of art teacher Kathy Balamos Ganley, and all the stools will be done eventually.
"We got to talking and thought, wouldn't it be nice if we could paint the seats of the lab stools and then put a sealing coat on it with little icons that have something to do with all the science?" Bartimus said. "They can only take six at a time because I need something for the kids to sit on."
That project began when Ganley and her students were busy preparing for an art fair, but now that it's over, they can turn their full attention to the stool-painting project. The hope is that they'll all be finished by the end of the school year.
 "When we get all done, we're going to get all the kids together who worked on them to hold them up and take a picture to send to ADM and say thank you," Bartimus said.