DECATUR — When Ja'Varius Jones found the golden egg in the Thomas Jefferson Middle School cafeteria on Thursday, he held it above his head triumphantly and marched back to his classmates with a wide smile.
As for what he's going to spend the $5 on, he said, "I don't know."
The National Junior Honor Society at Thomas Jefferson organized Easter festivities for the Life Skills students, which included the Easter egg hunt, crafts and a movie. Thursday was the last day of school before a long weekend break. They bought pre-filled plastic Easter eggs and included one "golden egg" — an oversized plastic egg with money inside — for each of the three classes that participated in the hunts.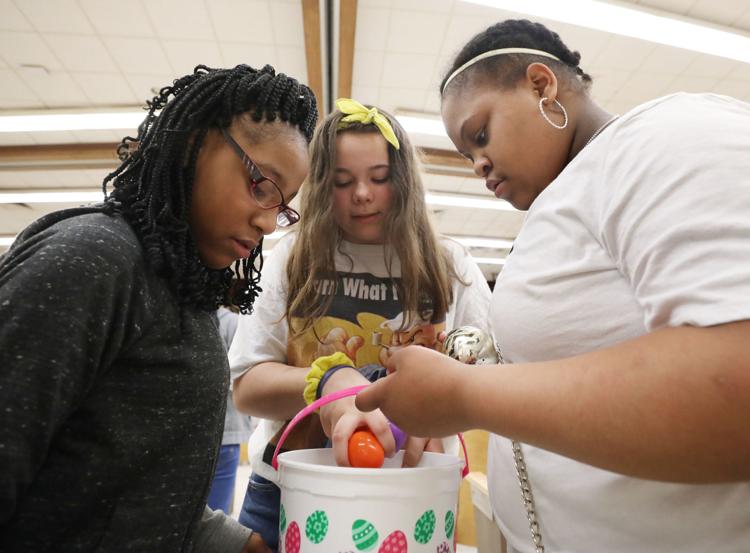 The NJHS members came up with the idea themselves, adviser Penny Jones said, and they have been doing activities with the Life Skills students all year. The Life Skills students have moderate intellectual disabilities and need a functional curriculum.
One of the requirements of membership in the National Junior Honor Society is service, and student choose their project. This group chose the Life Skills students because they wanted to serve someone in their own community.
"The last two years, we've worked with our Life Skills students as our service project," Jones said. "For every holiday season we do stuff with them. They sat down and made a huge list of what they wanted to do and they did it. It's their thing and they're running with it."
The honor students spend class periods with the Life Skills students, reading or playing games together, so they've developed relationships.
"I think it's good for our kids to get involved with them and for them to learn from our kids who they are," Life Skills teacher Ashley Zook said. "My kids really seem to enjoy it and have fun."
You have free articles remaining.
Having fun together is the whole idea, NJHS member Noah Hays said.
"We like to help out with our Life Skills kids and give them a fun time," said Noah, an eighth-grader. "We help out with Webster-Cantrell (Hall) kids, too. We do this so they can have fun and kind of just party and let them have a good time with us and help us learn that everybody's the same.
"We might learn different, and we might act different, but we're all the same," he continued. "We all want to do fun stuff, so we're here with them and doing fun things."
NJHS at Thomas Jefferson is in its fifth year and is sanctioned by the National Honor Society. The junior version is for middle school students and requires the same qualities: scholarship, leadership, service, character and citizenship. Students must have a minimum grade-point average of 3.0 on a 4-point scale, though individual schools can require higher grade-point averages.
High school students can't join the National Honor Society until they're juniors, and Jones said most of the NJHS students have done so when they're old enough, provided they keep their grades up and are accepted.
As the two middle schools in Decatur plan for next year's consolidation at Stephen Decatur Middle School, Jones said, she has already met with staff at Stephen Decatur, and they have completed the necessary paperwork to move the chapter to that building and identify potential new members. Stephen Decatur has not previously had a National Junior Honor Society.
---
School's (almost) Out: Decatur summer camps your kids will love!