DECATUR — Brittany Wentworth brought her three children to Decatur Public Library on Friday just for something fun to do, with no idea that the READiculous team was performing a new show.
"We ran into John (Schirle, children's library assistant) downstairs, and he told us about it," said Wentworth, whose children Avery, 5, Aspen, 3, and 10-month-old Eli are enrolled in the summer reading program at Warrensburg's Barclay Public Library.
Avery was enthralled enough that she wanted to meet Alissa Henkel and Susan Bishop, who have performed as READiculous for eight years, a total of 250 shows.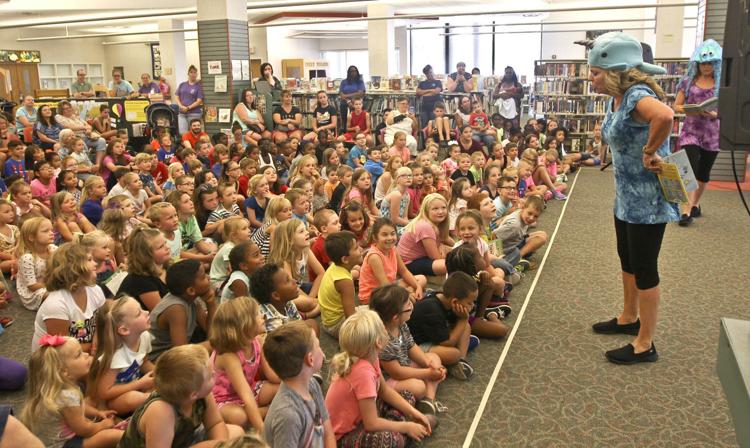 When the two approached retired children's librarian Katie Gross  with the idea to act out children's books eight years ago, Gross was enthusiastic. Since then, the two women, both library employees, have developed a reputation for engaging shows and perform all over the area throughout the year.
Their new shows premiere as a reward for the Decatur Public Library's summer reading program, and Friday's performance drew almost 200 adults and children. Thanks to a sound system donated by Altrusa and new microphones donated by the Kiwanis, even the back row had no trouble hearing their spirited performance.
The new show includes the first time the women have ever performed a graphic novel, "Narwhal: Unicorn of the Sea."
"As new books are getting checked in, I saw it and Narwhal, that's a series, I think there's two or three and it's two characters," Bishop said.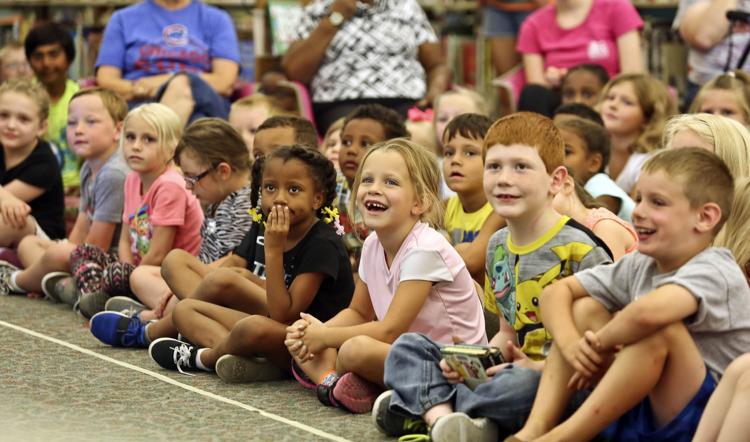 Henkel said it was also easy to pick up because it's like a beginner reader book.
Two characters is a necessity for their shows, as it's only the two of them when they go out to do shows at schools and other locations. Their favorite two-character beginning reader series, "Elephant and Piggie," has come to an end.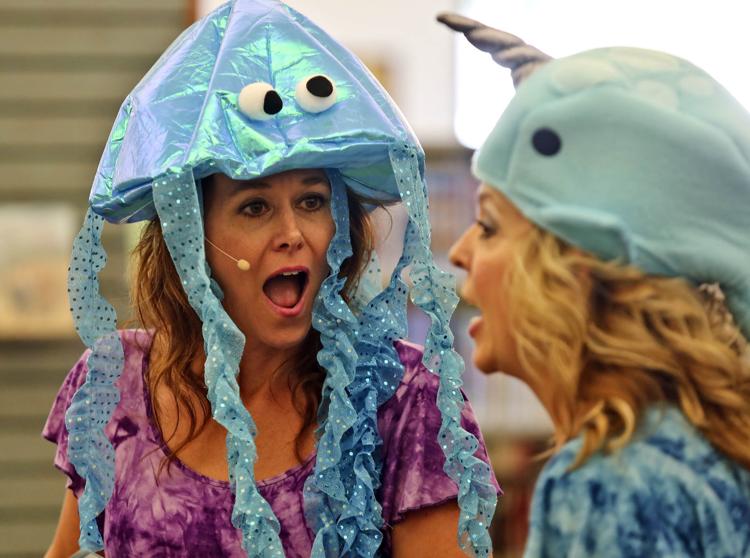 "He's (author Mo Willems) not making any more, so we're done with that, and we're still trying to find something that fills that void," Henkel said. "There's going to come a time when we just can't bring (Elephant and Piggie) again. This might be (the replacement)."
Their costumes are often hats that suggest their characters, such as Elephant and Piggie. For Narwhal, Henkel had a jellyfish hat while Bishop portrayed Narwhal, a cross between a whale and a unicorn. The two characters love waffles, adventures and parties.
Henkel and Bishop prefer to use series because they can re-use their costumes to portray familiar characters, and the children always like to see old favorites come back in a new show.
Victoria Maske-Mendenall brought her daughter, Calla, 10, who is going into fifth grade. Calla's favorite characters are Elephant and Piggie, even though the books are aimed at much younger children. She's been attending READiculous shows for years.
READiculous also provides training for youngsters who'd like to learn about performing, and the next session of READiculous Jr. is set to start right after Labor Day, Henkel said.
"If we had to do two classes, that would be amazing," she said.