DECATUR – On the first Wind Down Wednesday at Oak Grove School, Jill Headrick had had a rough spot in her day before the after-school get-together.
A student had been having a difficult day, and his mother visited the classroom after she got the message on her phone through Classroom Dojo, an app that allows teachers to notify parents immediately when kids are having especially good or bad days at school.
Headrick said the mother came in, waded right in to help with the kids, and the whole day improved.
"I told her, 'That door may not literally always be open, but you're welcome any time you want to visit,'" Headrick said to her fellow teachers after school.
Wind Down Wednesday is an idea that instructional coach Megan Holt got from a conversation with a friend who was part of a running group over the summer.
"It's just self-care," Holt said. "The district has talked so much about taking care of ourselves the past year, so we can take care of kids."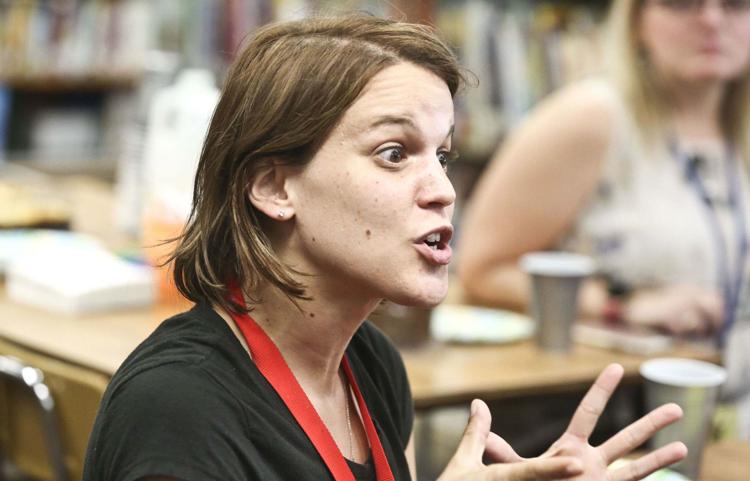 If the teachers aren't taking care of themselves, she said, they can't be effective and take care of the kids. It's important that they have a way to manage stress.
She introduced her co-workers at Oak Grove to the idea on Wednesday. There's a good reason people call Wednesday "Hump Day," she said. You've made it that far, but you still have two days to go before the weekend, and a pick-me-up can help you get through it.
There's no pressure to attend, and there are snacks and drinks in addition to a guest speaker on topics that the teachers will choose. Holt invited former Decatur teacher Chris Allen to be the first speaker. Now a financial representative for Northwestern Mutual, Allen holds a master's degree in kinesiology.
He talked about mindfulness and guided meditation, leading them through some visualizations to show them how to center and calm themselves to reduce stress. After one of these, a teacher said she was unable to keep her mind blank and just breathe, as Allen had instructed them to do. Too many items from her to-do list ran through her mind.
Physical education teacher Paul Marconi made his mostly female co-workers dissolve into helpless laughter when he said that was a perfect illustration of the difference between men and women.
"I was just sitting here going 'I'm breathing,'" he said. "All I saw was a gray slate."
Wellness starts within, Allen said, and he first became aware of mindfulness – which is basically concentrating on the moment without letting your thoughts and feelings crowd in – in college. He credits his Christian faith for teaching him how to keep balance in his life.
He starts each day with a silent period of reflection of gratitude and ends his day the same way, and he said that keeps him from focusing too much on the negative.
He instructed the teachers to put both feet on the floor, which "grounds" a person, making them aware of their connection to physical placement, then asked them to think of something to be grateful for that had happened that day.
The parent who came to help was Headrick's. Amanda Werkheiser said one of her students had created a disruption during the day that required her attention.
"I looked around and realized the other kids were quietly talking and working," she said.
The fact that the other students continued to work and allowed her to deal with the one who required her attention made her day better, she said.
The hardest thing for people to do, Allen said, is sit in complete silence and reflection.
"Your mind is like a dog off the leash," he said. "It goes everywhere."
But when you learn to shut off your senses, push away nagging worries and concentrate on the moment, he said, the mind can relax. By concentrating only on breathing and heartbeat, though it takes practice, a person can learn to release stress.
"It's both easy and difficult," Allen said. "When was the last time you sat in silence?"