BETHANY – Students in Wes Wise's agriculture classes at Okaw Valley High School just have to accept that they're going to smell like livestock.
Wise jokes that he cleans obsessively, but it doesn't really work.
"The last thing we do every day is feed them, and we go home smelling like pigs," Wise said, while the entire class nodded in resigned agreement.
Mama Pig Ruby and her offspring share the barn with two cows, two calves and Skip, a pony that actually belongs to Wise's son, but is serving as a temporary resident to give the students experience with horses. Students administer medication when necessary, feed, exercise and clean up after them all.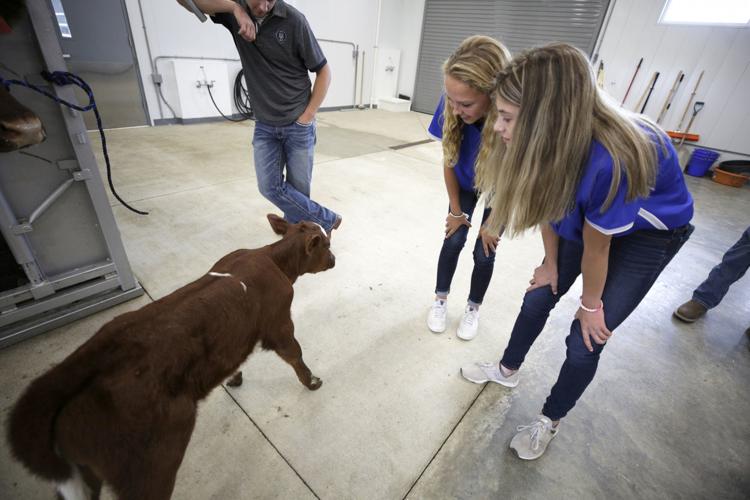 Thanks to a grant from ADM Cares, the school was able to buy several pieces of equipment to expand the program and give students a wide variety of experiences, including a tiller and a UTV which is used to spread the pigs' manure on the hay field. The school will still have to buy some commercial fertilizer, but the pigs' contribution will cut down on how much, Wise said.
The ag building opened in January and includes fields planted by students who, even on their summer break, helped harvest. Students continued to show up in the summer to care for the animals and Wise joked that if he's short a few students, he knows where to look.
"They come in and don't even say 'hi' to me, they go straight to the barn," Wise said. "I have to go get them for class."
The general idea was to establish a university farm on a small scale, Wise said. They wanted to include everything a specialized program would have, like might be found at the University of Illinois. They've had five different species of animals, including a set of triplet lambs born in the spring, which is unusual.
"We do everything from breeding, to birth, and now we're getting to the harvesting stage," Wise said. "So the pigs will have gone full circle. They've never been anywhere but here."
Most of the young pigs will go to slaughter in September, though one female and the mother will remain at Okaw Valley for breeding. Plans are to use the pork from one of the youngsters for a cookout for the school community later in the fall, Wise said.
"The animals come from local farmers that are willing to let us use their livestock (for learning) and the pigs are the only ones that are the school's property," he said.
Grace Bunfill, a junior, is one of the students who has been most hands-on with the animals. She's vaccinated them, tagged a calf with an ear tag, treated illnesses with medication, and watched castration though she didn't actually participate, she said. She had planned an entirely different career, in medicine, before taking the class and now she wants to go into agribusiness.
Only one of the students has a farming background, Wise said, in spite of the school's location in the heart of farming country. Some have grandparents who farm, but several have no connection to the agriculture industry at all. Of 160 students in the high school, 95 are enrolled in the ag program.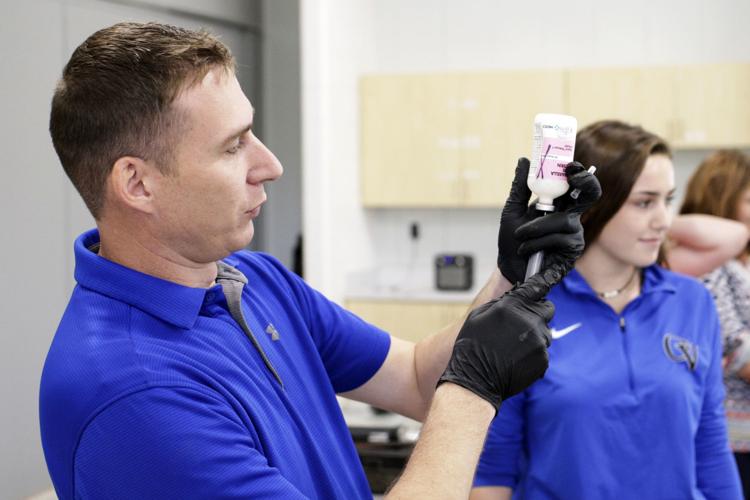 The spring was too wet to plant a garden this year, but that's on the schedule for the upcoming year. The tiller provided by funds from ADM Cares will help them plant a big enough garden to hold a farmer's market, both to showcase the program and to make a little money from their work to support the program. They know they won't make enough to fully support it, but it will help.
Several area schools have added agriculture education to their curriculum in recent years, after several years of moving the focus to other areas. For example, Decatur schools has a "living science farm" on the grounds at Enterprise School that includes a barn and fields and an Ag Academy at the high schools with FFA chapters, and 4H clubs in the lower grades. Argenta-Oreana and Maroa-Forsyth have added ag education as well.
ADM Cares has a special interest in agriculture programs, said Jennifer Ballinger, director of ADM Cares, but they also want to support the community where they have their headquarters and where employees of that facility live, which includes Decatur and the surrounding towns.
"For us, it's important that we invest wisely and as much as we can in this community," Ballinger said. "We look at how the grants align with our focus areas, so we focus on agriculture and STEM (science, technology, engineering and math) education, so this (program) checks those boxes, and we also focus on hunger, so the WSOY food drive is one, and sustainable farming and sustainable agriculture is a third category."
Jaxon Mowry, a junior, helped bale straw in the summer.
"It was a good experience," he said. "I learned how hard it is, especially when it's hot."
Sophomore Mia Harris showed pigs when she was a small child, and has shown one of the pigs in the program.
"We spend most of our time with the animals and the boys spend most of theirs with the crops," Grace said.
---
Contact Valerie Wells at (217) 421-7982. Follow her on Twitter: @modgirlreporter
Be the first to know
Get local news delivered to your inbox!