BETHANY — When visitors walk into the barn section of the Okaw Valley High School Agriculture Building, a mama pig lumbers to her feet and trots over to say "hello."
"This mom gave birth to these piglets about three months ago, and we've housed them here ever since," said Brooks Inman, athletics director for the school, who jokes that he's a "jack of all trades" and helps out wherever he's needed, including the ag program. "The kids vaccinated them, so they gave them all their immunizations. They've done different labs with them. We've had cows and we've had lambs born here, we've had goats, all kinds of different animals."
The $1 million building opened in January, and for a small school, Inman said, they have one of the best facilities and most comprehensive agriculture programs in the area.
"Our kids are getting hands-on experience with what agriculture is like," he said.
A field behind the building includes a grazing area and field that will be planted with crops cultivated and harvested by students. Thanks to the program, a number of students who had never considered a career in agriculture have decided that's what they want to do with their lives.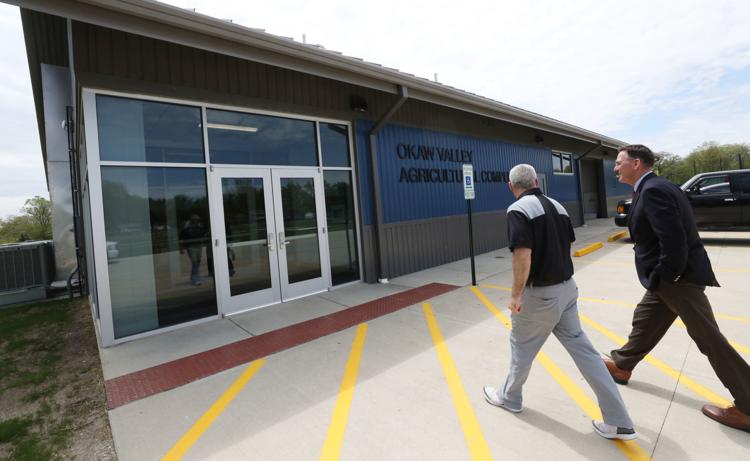 One example of that hands-on experience was that students used ultrasound technology to examine the cows to see what grade of beef they might produce. Later, they're going to learn to inseminate animals for breeding.
"It's just a real exciting time for our kids," Inman said. "The exposure our kids get to agriculture is different from (what) any other kid in the area's going to get. This building is one of a kind and we're proud to have it."
You have free articles remaining.
The building includes a classroom adjacent to the barn area, and ag teacher Wes Wise, who is a native of the area, aims to give the students the widest experience as possible, so students can find the area that suits them best. Ag covers a multitude of disciplines, from business to research to sales to veterinarians to banking.
Senior Sam Hagerman is working for the Army Corps of Engineers, thanks to a partnership between them and the school. Students can earn $2,500 in scholarships and the hope, Inman said, is that eventually the program will raise enough money to pay for students' educations at Lake Land College if they choose to pursue a career in agriculture.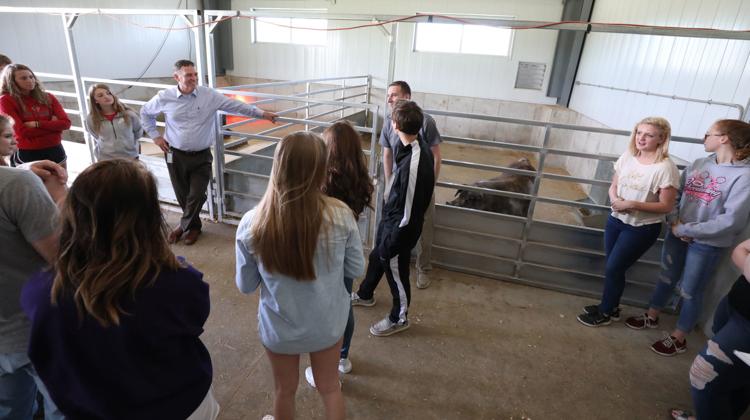 "I wasn't in on the ground floor, because I was never an 'ag kid,'" Sam said. "They have a ton of great students, kids that grew up around here that farm our land. The Corps helps them with that, with buying machinery and seeds. We get a lot of help from the corps and people around the community."
Sam works at the visitors center at Lake Shelbyville and has done a little bit of everything, he said. Mainly he has worked with the environmental scientists, doing controlled burns, fish population counts, entering data, weather charting, maintaining fish habitats. He and classmate Garrett Tippit mark fish locations on GPS devices and track them to make maps. They've even created hiking trails in the woods.
"I plan on going to college for business, and there are parts of the corps that pertain to business," Sam said. He hasn't made up his mind whether he'll use that degree to work for the corps, but he's definitely considering it, he said.
Principal Matt Shoaff said agriculture classes used to be held in the school building, which didn't give them the variety and flexibility they have now. Their program even drew the attention of state Agriculture Director John Sullivan, who visited on May 6. Okaw Valley has also had inquiries and visits from other high schools that want to replicate the program.
"(Before the new building) this was mainly book stuff, but out there we're able to do animal husbandry, vaccinating and all the things we couldn't do before," Shoaff said. "We still come in here to do welding and small engines, but in terms of the classroom, it's state-of-the-art out there."