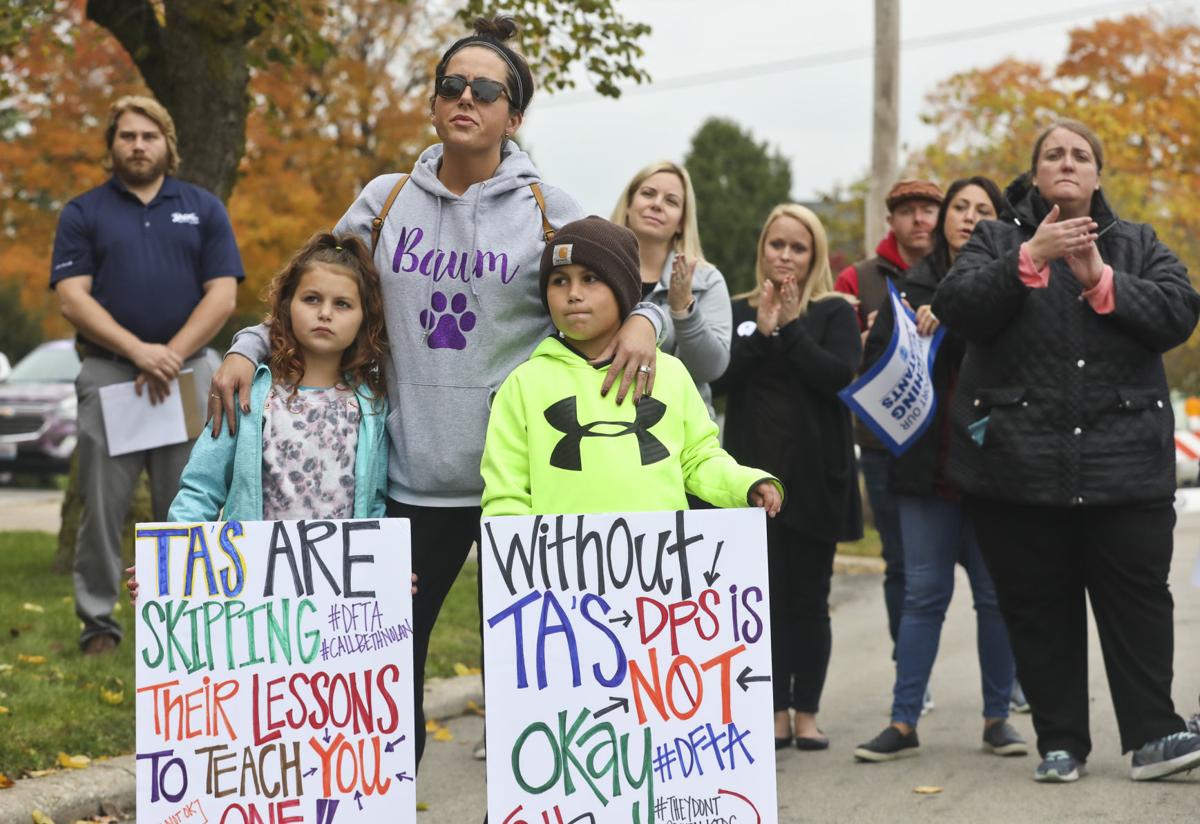 DECATUR — Hundreds of students in special education and prekindergarten programs are not in school today, the result of a strike by teaching assistants who say they are seeking better health insurance offerings from Decatur Public Schools. 
The school district and Decatur Federation of Teaching Assistants have been in negotiations since April, including several meetings with a federal mediator. On Monday, as the union's strike deadline ticked closer, neither side showed signs of softening. District leaders alleged at a press conference that the union's leadership had not effectively communicated health insurance offers to members. Later in the day, union members gathered with supporters and parents outside of the Keil Administration building, where they rallied with chants of, "We teach, we care, just be fair." 
Caught in the middle are parents like Cristy Proctor, whose 5-year-old daughter, Isabella, has Down syndrome and will not be able to attend class Tuesday. 
"Our kids have to work so hard just to be respected in the community, and one thing that brings them joy is going to school to learn," said Proctor, who said her daughter gets help from a teaching assistant. "To be told, 'You don't matter, sorry, stay home. We'll get back to when we can.'... Really?"
District officials said 528 of the district's roughly 8,700 students would not be able to attend classes until the strike ends. Students most affected by the situation are enrolled in special needs courses, early learning programs, life skills, essential skills and cross-categorical alternative courses among others who have Individualized Education Program (IEP) plans. Pershing early learning programs will be closed, but other pre-k programs not funded through a grant will stay open, Chief Communications Officer Denise Swarthout said.  
Health insurance costs remain the major sticking point in the negotiations, both sides said. Board members said they are offering a reasonable proposal, which includes a high-deductible plan under which the district would cover all of the monthly premium costs for single employees and 85% of the cost for employees with spouses, children or a family plan. 
Union leaders have said the cost increases for family coverage under the lower-deductible plan are unacceptable for members, whom they describe as making an average salary of $20,000. The union also said on Saturday that it was never given details of the high-deductible plan, but the district says the information was made available months ago. 
Saying she spoke for the entire school board, President Beth Nolan blamed union leadership, and particularly President Paula Busboom, for much of the situation. 
"Paula Busboom has misled her members and twisted the truth about our insurance options, wage offers, willingness to negotiate in good faith and misinformation on data relevant to her members," she said. "We believe if the union members had been given accurate information from DFTA leadership, there never would have been a vote to strike."
Nolen also said comments by the union that the board doesn't care about students with special needs are unfair. Board member Regan Lewis also spoke, saying the district has made three offers increasing wages 16% over four years and the union has rejected all of those. Lewis, an attorney who has been part of negotiations, said 70% of union members would do better financially under the district's plan.
Union leaders have said that all offer information been communicated to members. Speaking at the rally, Busboom did not directly address Nolan's statements, but instead said she was proud that the unions representing district employees, from teachers to maintenance staff, all stand together. Members of the Decatur Education Association released a statement in support of the teaching assistants earlier Monday.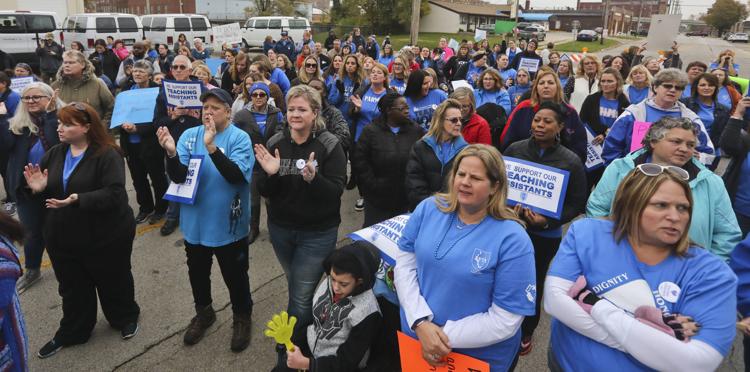 "No employee in this school district should have to decide, 'Do I take a paycheck or do I provide insurance for my children and/or my family?' " she said. "... You should not ever be expected to have to make that choice." 
The union represents 275 hearing interpreters, licensed practical nurses, hearing-vision technicians and teaching assistants who have been working without a contract since the academic year started in August.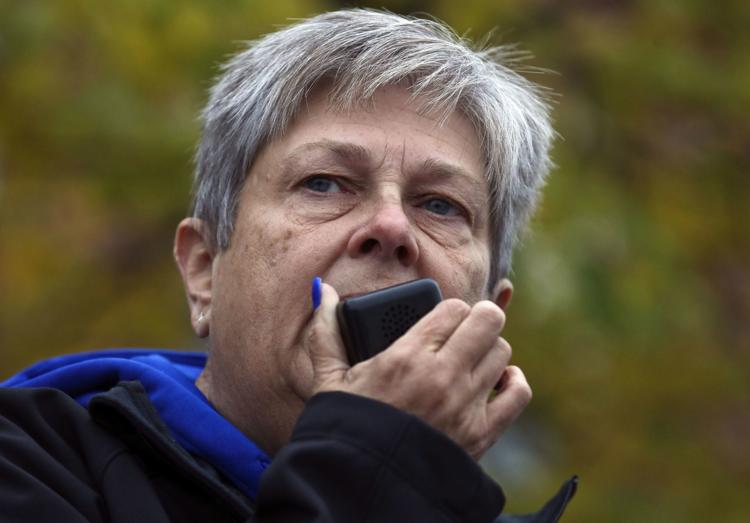 The union has picketed multiple times over the past month and plans to do so again Tuesday at the schools where teaching assistants normally work.
The district's health insurance proposal includes two plans: a high-deductible "silver" plan and a lower-deductible "gold" plan, both structured based on coverage for a single employee, employee and spouse, employee and children or family. High-deductible insurance plans generally offer lower monthly premium payments with a higher upfront payment cost.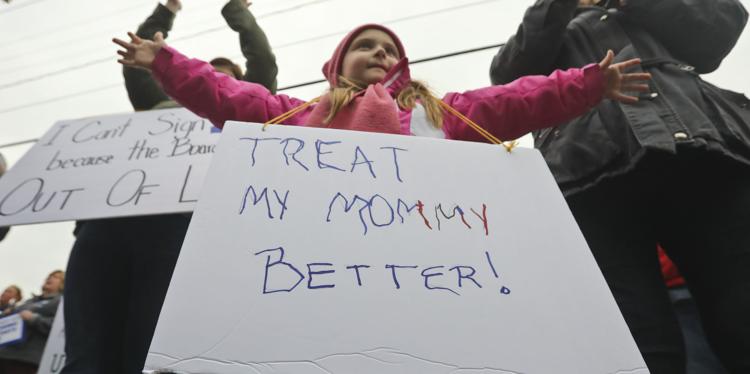 Single employees currently pay $900 per year for health insurance, and those with family coverage pay $3,300 annually. The money is paid over 18 pay periods, or the nine months of the year that teaching assistants work.
Single employees selecting the silver plan would have premium payments covered in full by the district. 
Annual costs for other tiers under the silver plan for fiscal year 2023 would be:
$2,355.48 for an employee and spouse;
$2,294.16 for an employee and children;
$3,864.48 for a family.
Under the gold plan, annual costs would be the following in fiscal year 2023, the final year of the contract:
You have free articles remaining.
$1,471.56 for a single employee;
$5,650.56 for an employee and spouse;
$5,503.44 for an employee and children;
$8,159.28 for a family. 
A single employee's premiums would be covered by the district. That employee would have a $2,100 deductible under the silver plan during 2019 and it could be increased in future years, the district has said. The deductible for a single employee under the gold plan is $750 and will increase to $1,000 in 2021.
Illinois Federation of Teachers Field Service Director Jon Nadler said details of the silver plan were never brought up in negotiations. Asked by the Herald & Review to review and comment on the plan, he said it would not meet the union's needs: "The silver plan is not feasible for our members."
Nadler said the gold plan was also unreasonable because of the monthly premium that members would pay under the family plan by the end of the contract. With the annual cost spread over the nine months that the teaching assistants work, they would pay $906 monthly — 247% more than they pay now. The union proposal would have members with a family plan pay $418 every month for nine months, or annual total of $3,762. 
District leaders have argued that union members make no monthly premium payments for three months of the year. If the annual cost were divided over 12 months, it would be $679 per month for the family plan in the final year of the contract.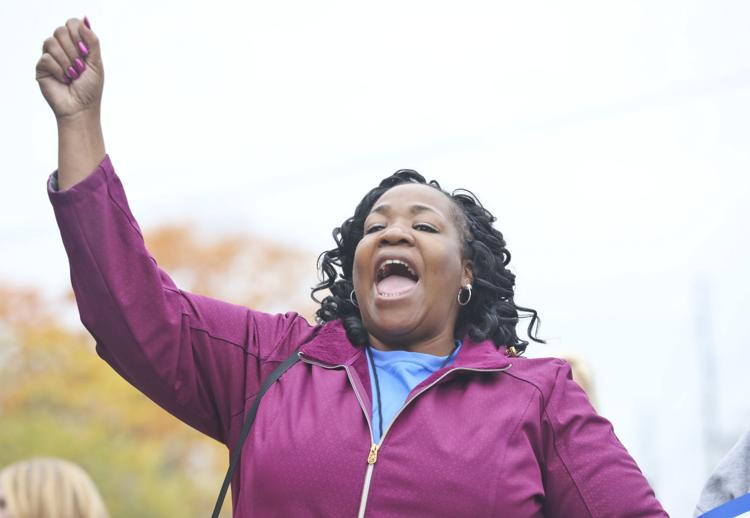 Speaking during the rally Monday afternoon, Busboom said the real issue is not over the rising cost of healthcare. 
"We know the cost of healthcare is rising. We're not here to debate that issue," she said. "What we're here for what is best for our members and that is affordable healthcare."
Illinois Federation of Teachers President Dan Montgomery also spoke during the rally and said teaching assistants should be valued. During his 18 years as an English teacher and nine years with the organization, he's seen three to five strikes per year statewide.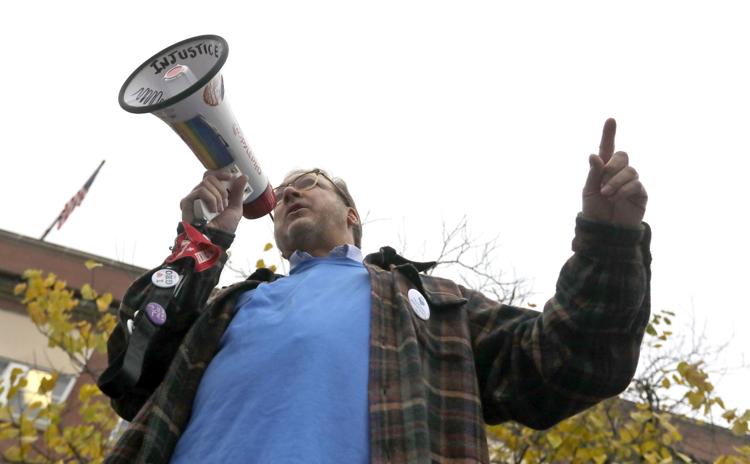 "We see more now than we did because of the austerity," he said after the rally. "Wages haven't kept up, and so you have the situation where now you've got these critical workers not making fair wages." 
---
Read both sides' contract proposals for yourself:
Decatur Public Schools Proposals 
Health Insurance Costs
Wage Proposal
Salary Table
Side-by-Side Health Insurance Plan Comparison
Note: The far-right plan, in orange, is the "silver plan" discussed in negotiations.
Decatur Federation of Teaching Assistants Proposal
Current DFTA Contract
Contact Analisa Trofimuk at (217) 421-7985. Follow her on Twitter: @AnalisaTro