DECATUR — Looking at plans for his daughter's new school building, Rob Cook saw reason to be impressed. 
"The Montessori program is one of the reasons we stay in this area and don't move elsewhere," said Cook, whose daughter Maia is in second grade at Garfield Montessori School. "Now it will be even better with the new facility." 
Maia and her fellow students will move into the renovated Thomas Jefferson Middle School next year, part of a wide-ranging $55 million facilities plan designed by Decatur School District leaders. On Wednesday, Cook was among parents, teachers and community members who turned out to an open house at Hope Academy to review designs and talk with representatives from BLDD Architects, the firm spearheading the plan.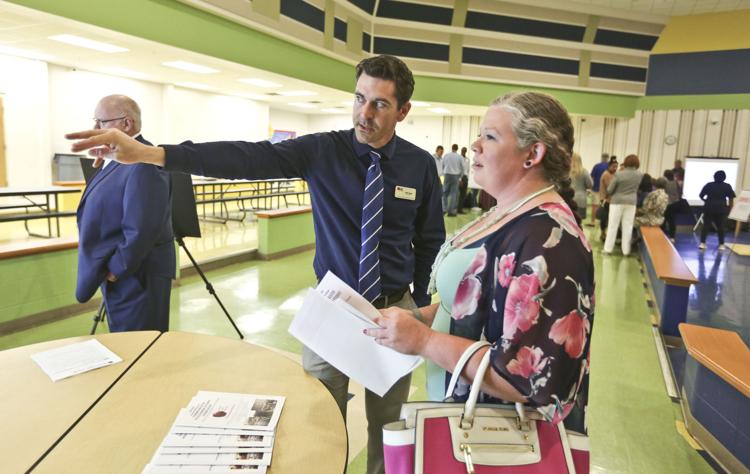 The facilities plan, known as the BOLD Plan (Building better Opportunities for Learning in Decatur), began earlier this year and involves the consolidation of several schools, renovation of facilities and the decommissioning of other campuses. By its conclusion in 2021, it will reduce district buildings from 22 to 17.
The BOLD plan is an extension of the district's five-year strategic plan. The plan includes five major goals, each with several action items, but the overall aim is to make DPS a "destination district." 
Among components of the facilities plan: 
In August, students from Thomas Jefferson will join those in Stephen Decatur Middle School, which will be renovated;
Stevenson, Baum and Oak Grove students will move to Parsons, Muffley and Franklin respectively after additions to those buildings;
Johns Hill Magnet School will get a new building;
Durfee Magnet School will close and the students will go to other buildings;
the Montessori schools, Garfield and Enterprise, will combine at Thomas Jefferson after it's been renovated to accommodate them;
French Academy will move to Enterprise School's building; Dennis School will be expanded to two buildings, moving part of its program into French Academy's present building;
air conditioning will be installed in all the buildings that lack it;
Harris School will become the alternative education center and those students will move to Hope Academy.
Evyonne Hawkins, a trustee for the Decatur Public Schools Foundation, participated in the strategic plan and said she is excited to see a portion of the plan become a reality, but she has a few points of concern.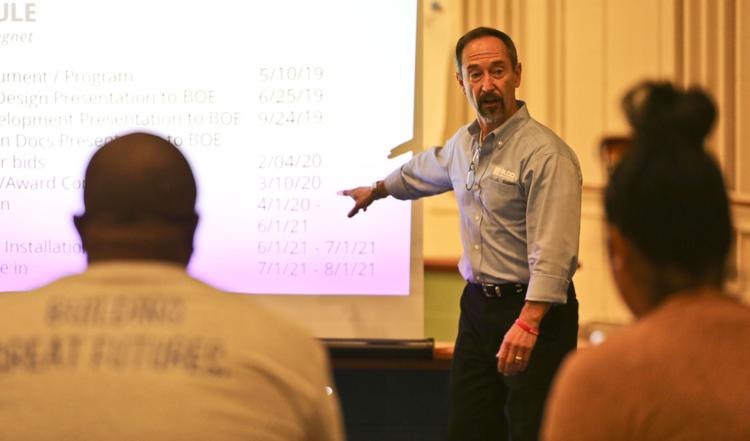 Hawkins was among several who highlighted needs of elementary school band students at the renovated buildings, Muffley, Parsons and Franklin. 
"The band students in the elementary schools need a place to practice," she said. "They are right there in the hallway as soon as you walk in. They need a home."
Sam Johnson, BLDD principal, spoke about creating spaces for band and choir students at the Decatur Board of Education meeting Tuesday and said the architects will make it a priority. 
Julie Boeckenstedt, an elementary substitute teacher, spoke with Johnson about her concerns with the construction of the elementary schools, specifically bathroom placement.
"Bathrooms especially for the younger kids and the Life Skills (students) is a major concern. When they have to go they have to go and you really can't wait," Boeckenstedt said. "Sam and the BLDD staff were so willing to hear me out and they thanked me for coming and for telling them what I thought could be a problem."
Johnson asked attendees to draw their ideas for the elementary schools on dry-erase boards he provided with current blueprints. He also provided 3D print versions of the building additions so that residents could envision them.
"We are pretty much working with a blank canvas when it comes to the elementary project," Johnson said. "We will be presenting a more final version in August and any outside input will help us put that together."
At another station in the gym, BLDD licensed architect Kim Kurtenbach presented designs of what will be the updated interior structure of Thomas Jefferson Middle School when the two Montessori programs occupy it in the 2020-2021 school year. The facility will allow the district's Montessori programs to almost double in size, with access to 112,000 square feet.
"The nature of Montessori programs calls for children to do everything in the classrooms from learning, to eating lunch, to group work," said Mary Anderson, principal of Garfield. "They do everything in their own spaces so to have the extra room will be incredible."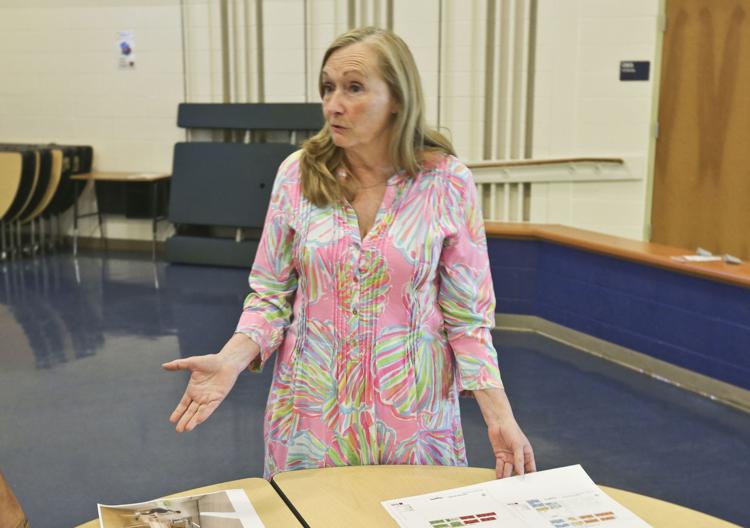 Kurtenbach's presentation came equipped with a virtual reality tour of the space. 
"The virtual reality tour gives you a great idea of the flow of the space," she said. "There are multiple classrooms with large doors that open up into other rooms so teachers will have so endless options on how to utilize the space." 
The district and BLDD will host a second open house at Hope Academy from 9 a.m. to noon Saturday. 
"We look forward to hearing everyone's input," Johnson said. "It is necessary for this project to be successful." 
The community & our families are invited to learn about our BOLD plan! We are creating an innovative plan to improve our schools for our students & our community. Join us at a special Open House to see what the future of education looks like for DPS! #BoldPlan#DestinationDistrict pic.twitter.com/CkDt2JUEvm

— DPS61-Decatur (@DPS61Decatur) May 10, 2019