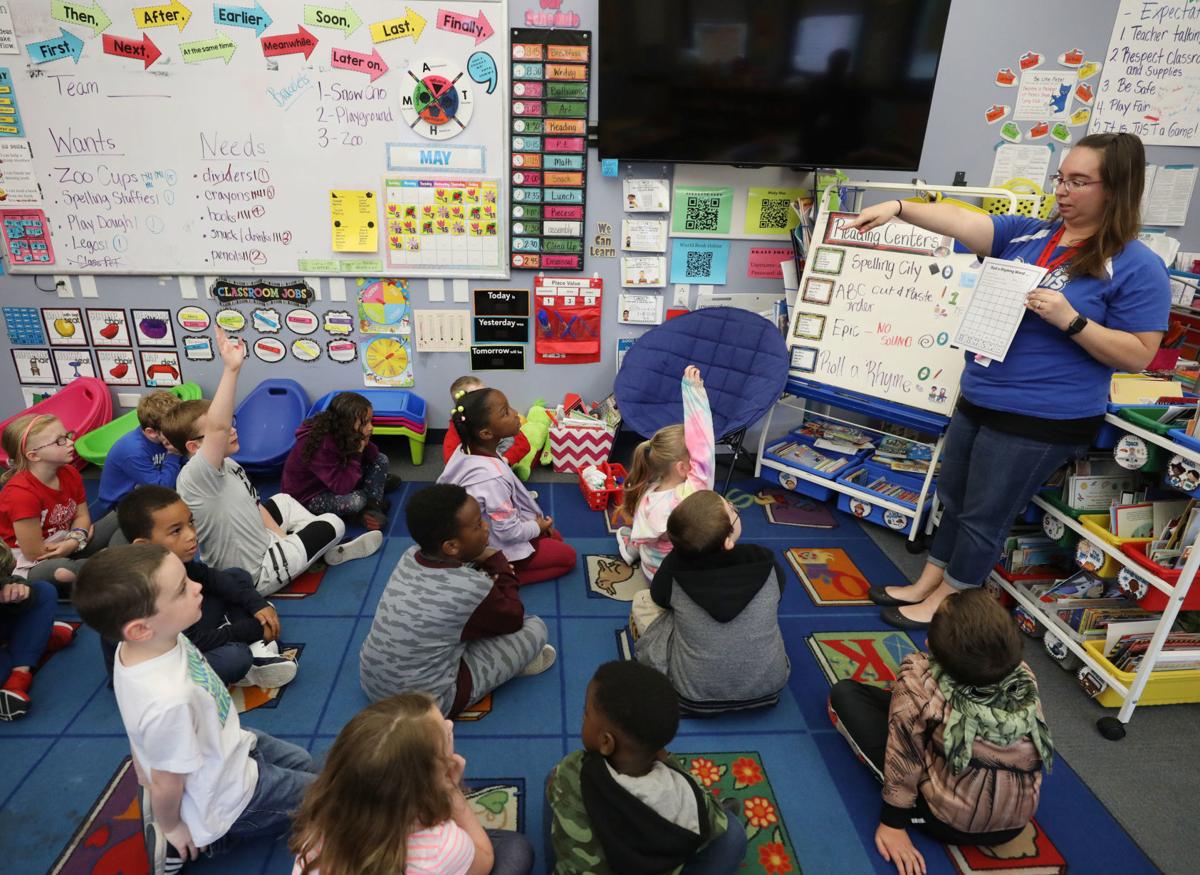 DECATUR — Stephanie Jones moved to Decatur's West End specifically to send her children to Dennis School.
And while Jones' son is in third grade at Dennis, she said, she was told there's no space for her daughter, who will be in first grade next year. Her daughter will have to go to one of the other buildings in the district, but Jones doesn't yet know which one.
When she tried to register her daughter for kindergarten for this year, there was no room, either, so Jones homeschooled her for kindergarten.
"It kind of stinks, having two kids in separate schools," she said. "I was told I could pull (her son) out of Dennis and send him to same school she goes to, but that defeats the purpose of moving here."
The Dennis boundaries are home to 878 children who could be eligible to attend Dennis School, which is not a magnet school. With its project-based learning model and its partnership with Millikin University as a lab school, Dennis has proven to be a popular choice. Like Jones, families are moving into homes within its boundaries in order to send their children to that school.
The problem is, Dennis can't hold them all.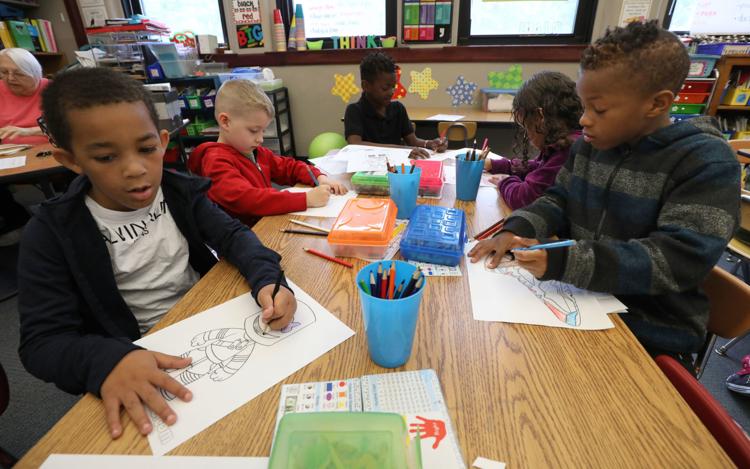 Of those 878 children, 478 are enrolled at Dennis. Another 240 attend one of Decatur's magnet schools, which leaves about 160 kids who have to be assigned, as Jones' daughter will be, to one of the other nearby elementary schools.
As part of the Decatur School District's five-year strategic plan, Dennis will expand into two buildings in fall 2020. French Academy, at the corner of Wood and Monroe Streets, will move into the building now occupied by Enterprise School at 2115 S. Taylor Road. Dennis will take over the French building as its second location.
"Getting the second building, when French moves out to Enterprise, that really opens up additional seats," said Fred Bouchard, assistant superintendent of support services. "We don't have room at the inn right now. We use our pod system and enrollment balancing, so some of those students are at South Shores and some are at Oak Grove or Franklin, other schools that are in pretty close proximity."
Consolidating elementary buildings, which is on the district's strategic plan and should be completed by August 2021, will mean redrawing boundaries, and a group is already working on that, he said. The district's buildings will decrease from 22 to 17 by then. At present, the pod system assigns students to a nearby building if there isn't room at the building they would otherwise attend, as happened to Jones' daughter.
"This pod system isn't ideal," he said. "But we do know that when we combine schools, we need to talk about what those boundaries would look like and making sure we're making good decisions, based on that future and what building capacities are."
You have free articles remaining.
At Dennis, a committee of students, parents and teachers has met twice and will meet throughout the summer to narrow down their ideas for the move, said Keith Creighton, principal intern and leader of the visionary team. He's been a teacher at Dennis for several years. The hope is that the committee will have two or three workable plans by September, and have that refined by December into one plan to present to the school board.
"There's been a lot of excitement on the student end about being empowered and being impactful on the world," Creighton said. "They're starting to see that their actions, their choices and their work can affect the larger world outside, and that's a real exciting thing. It's helped to build community here at the school, it's helped to create a family atmosphere, it's helped to have students dream bigger than I had experienced before when teaching."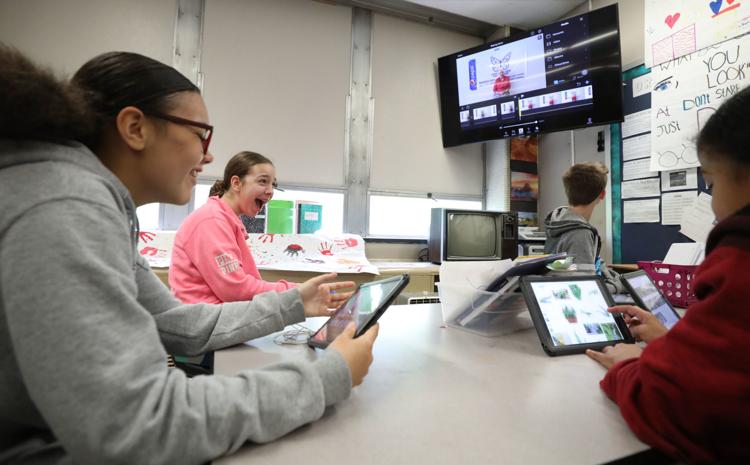 The school's partnership with Millikin University, which began in 2012, means that Millikin students studying to be teachers have a place to apply what they're learning, but it also means that Dennis students benefit from having those college students as mentors, said Jaiden Hinton, a sixth-grader who has been at Dennis since kindergarten.
First-grade teacher Cassie Mann said she thinks that Dennis students spend more time interacting with the community, due to their project-based learning model, and therefore word gets out about the school thanks to the kids' enthusiasm. That may be one reason people move to homes inside its boundaries in the hope of getting their kids into Dennis.
"When we have all these kids in a boundary that want to go to Dennis, and we have to turn kids away," Mann said. "We have all these kids who live close to our school but can't get in because we're over capacity. We have teachers, specialists, counselors in (converted) closets. We don't even have the space for the people we need to have here. That's a problem. People are even choosing to move into our neighborhood, and we have to tell them, 'Sorry, you just bought a house, but we don't have room for your kid."
The hope is that expanding will make room for those students, she said.
Space is at such a premium, Creighton said, that closets have been turned into offices and even classrooms. Every inch of space is being used. The band meets on a wide landing between floors, jokingly dubbed the "blanding" for "band landing." Art classes are constricted on which projects they can tackle because there's no permanent art classroom, so they can't do anything that has to dry overnight, for example. Among many other reasons for looking forward to the expansion, he said, is knowing that there will be room for art, band, special education and other specialties to have their very own space.
Seventh-grader Quinn Heneghan is on the committee working to come up with a plan for the two-campus school and something that's important to him is that the two buildings retain the feeling of being one school, not two.
"We (students) are thinking about the dual campus," he said. "What does it look like? How are students going to feel about it? What grades go to (each) campus is a very big part."
---
LOOKING BACK: Decatur's Dennis School
Contact Valerie Wells at (217) 421-7982. Follow her on Twitter: @modgirlreporter