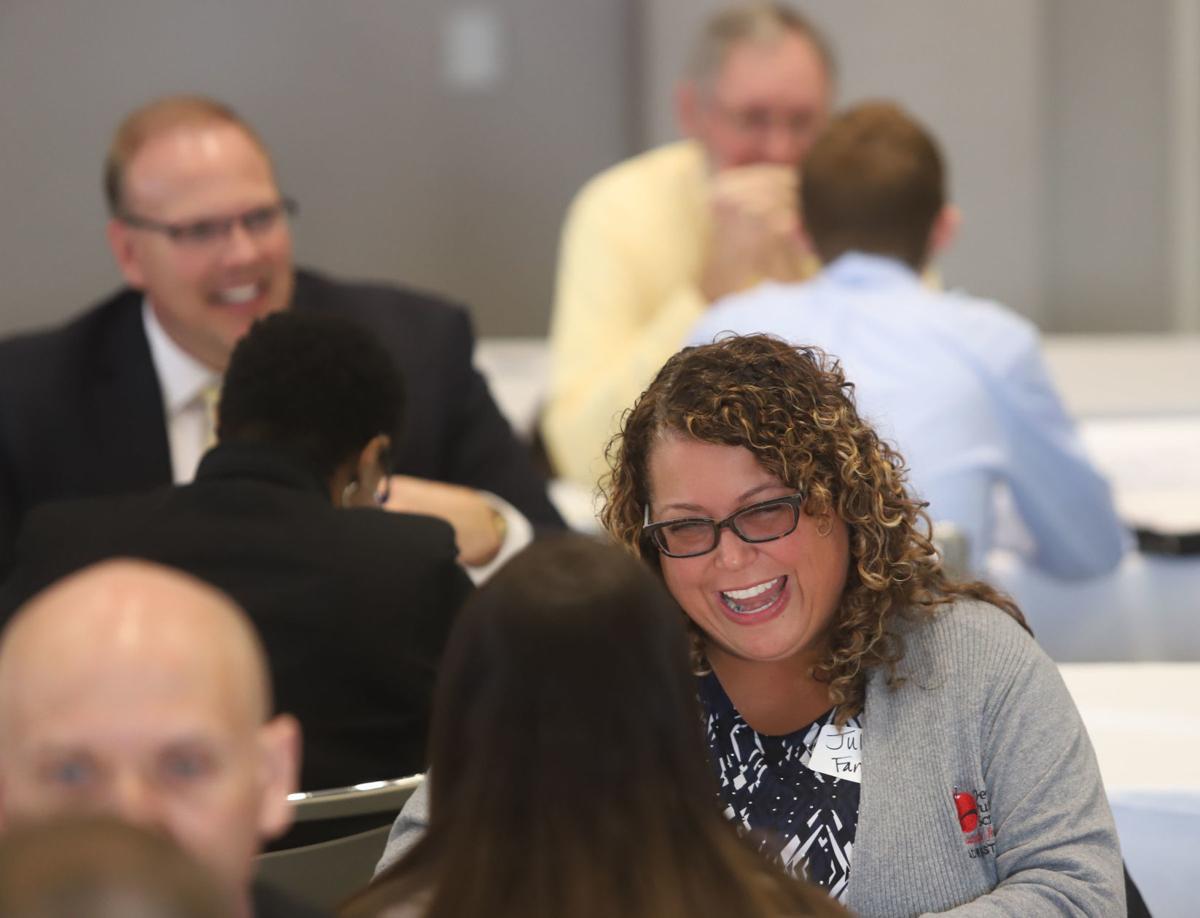 DECATUR — Those initial job interviews out of college can be terrifying, and jittery job-seekers need every edge they can get.
The Interview Boot Camp at Millikin University is designed to help prospective teachers calm those nerves and get some honest feedback from superintendents and principals, all Millikin alumni, to improve their chances.
"They don't use gloves with (the students)," said Christie Magoulias, director of the Millikin School of Education. "They give them tough feedback, but what they all have in common is Millikin, so it's a safe place. Whatever feedback they give them comes back softer, even if it's tough."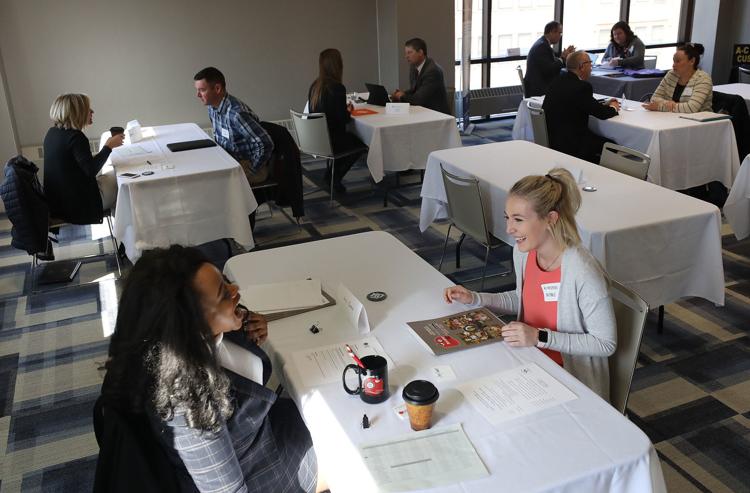 Alex Johnson, for example, who will graduate in December and is studying to be a high school English teacher, was told that his eyes dart too much while he's talking.
"They said it makes me look nervous," Johnson said. He admitted he was nervous, but doesn't want to be obvious about it, and will work on keeping steadier eye contact.
Rob Prange, principal of Johns Hill Magnet School, doesn't have any openings at his building at the moment, but he said the more interviewing practice the Millikin students get, the more relaxed they will be during the real thing.
"You have to know when to stop talking," said Matt Snyder, regional superintendent of Macon-Piatt Regional Office of Education. "It's hard to do when someone's across from you, staring at you."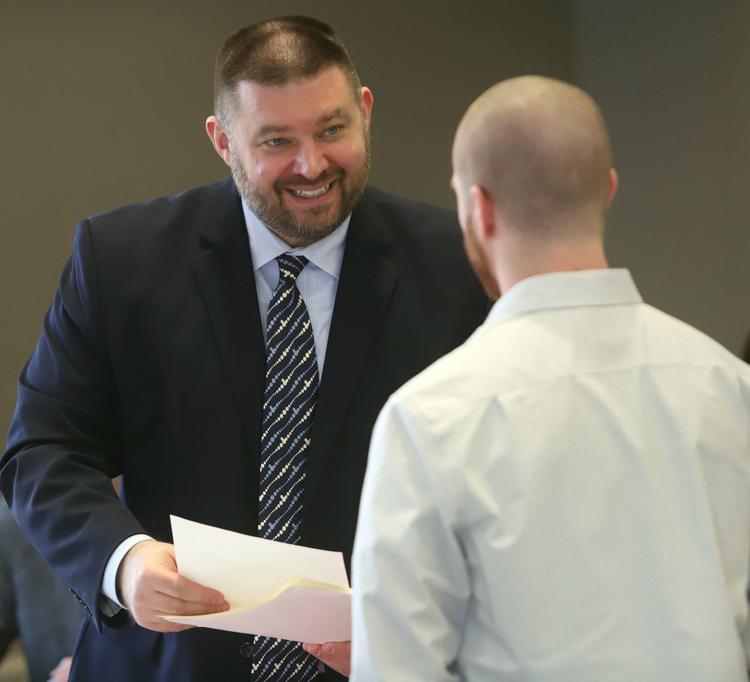 His best advice to the students is to answer the questions succinctly, then stop and wait for the interviewer to ask another one instead of rattling on, which also betrays that they're nervous.
The teacher shortage statewide is easing somewhat, Snyder said, but part of his reason for being at the event was the hope that he could convince some of the students to spend a semester teaching in alternative education programs or as substitutes.
"It's good experience for them," he said. He also oversees 11 school districts in the region and can get the word out if new teachers are interested in positions in any of those districts.
Brittany Williams is majoring in vocal music education. Music has been a passion of hers since she was very young, she said, and she wants to share that with children. The boot camp helped, she said.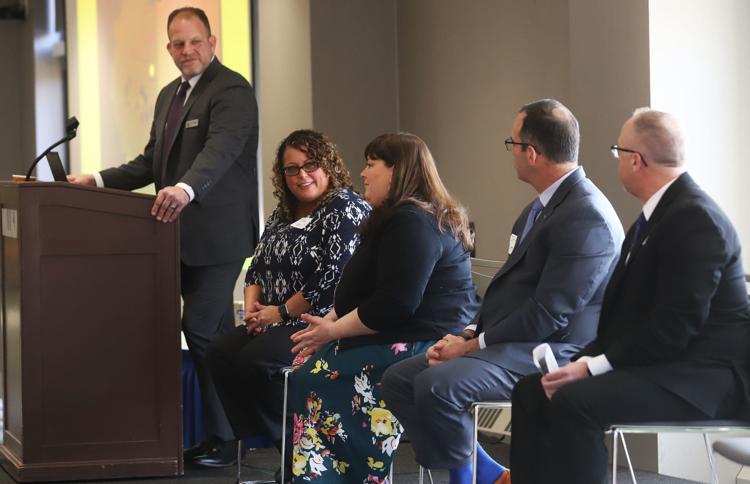 "It gives me a different perspective on things, and it's a good tool, one of the many good tools Millikin gives us in the education program that helps us prepare for a career and real-world experience," she said.
Genesis Brito was majoring in Spanish when a professor suggested she investigate altering that to Spanish education. As a native speaker, Brito was intrigued and followed the advice.
"I'm so glad I did," she said. "I found my passion with that."
She's certified to teach K-12, but she's most interested in teaching at the high school level because she's a double major also studying theater. At the high school level, she'll be able to be involved in extracurricular activities that could include theater. She's student-teaching at Eisenhower High School this semester and said she really enjoys it.
"I think I would be a really good asset in environments where theatrical plays is really important, and that's something I could bring to the table," she said.
She was a little nervous before the interview boot camp, she said.
"All of the people here have made us feel so comfortable and have given us nothing but helpful tools to use when we're out in the real world interviewing, and doing things that will help us get jobs," Brito said.
---
FROM THE ARCHIVES: Recognize anyone? A look back at the people and places of Millikin University
Contact Valerie Wells at (217) 421-7982. Follow her on Twitter: @modgirlreporter
Be the first to know
Get local news delivered to your inbox!