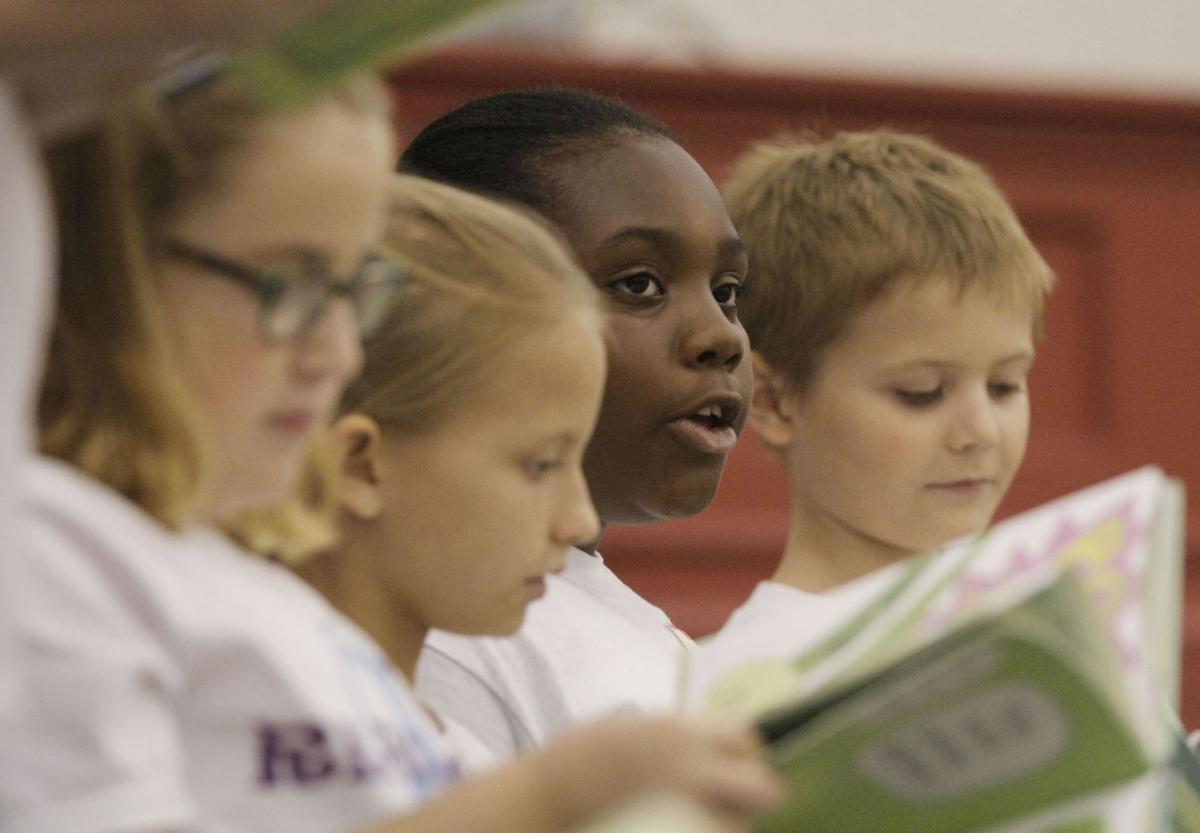 DECATUR — A favorite game of the kids in READiculous Jr. is "scream and die."
"I want to see you scream and die," said Susan Bishop, one half of Really READiculous, along with Alissa Henkel. "I want to see you react to the people who die around you."
Used as a warm-up and, sometimes, just for the heck of it, the game consists of looking down and then looking up and if you make eye contact with somebody, that person has to scream and die — theatrically, of course.
READiculous is a theater for readers that Bishop and Henkel have been doing for several years, performing at the Decatur Public Library and at schools all over the area. Their show uses books aimed at young children, short and often funny books, with the idea of bringing those books to life and inspiring children to want to read or be read to.
"After every show, we have kids come up and say, 'I want to do what you do,'" Bishop said.
A few years ago, the women came up with the idea of READiculous Jr., for kids 10 to 14 who have a library card. The rules are simple for participants: Be goofy. Be supportive. Have fun. Nobody is to make fun of anybody else. It's a safe place to participate fully, to the best of your abilities, and only constructive criticism is allowed.
Funding wasn't available to repeat the class until recently, and for six weeks, 19 kids have been meeting with Bishop and Henkel. Tuesday was the last day of class, and they performed their books for family and siblings.
"I love acting," said Sarah Baylor, 13. "I'm home-schooled, so I don't get a lot of chances for socialization."
She got her chance with READiculous Jr., and said the most important thing she learned about acting is to keep going no matter what.
Henkel reminded the kids of that just before parents arrived for the performance. If something goes wrong, if you lose your place, if you pronounce a word wrong, make it part of the act.
"I remember one show when I accidentally referred to myself as 'Miss Susan,'" Henkel said, making the kids laugh. "We just had fun with it."
The Friends of the Decatur Public Library paid for T-shirts for the kids, and Bishop said they wore their shirts to class every week and practically strutted around the library with pride. Kids would arrive early for class and hang around outside the story room, ready to start. And the enthusiasm of their performances on Tuesday proved their interest.
Because kids grow out of READiculous books by the time they're in first or second grade, Bishop said, READiculous Jr. provides a way to keep them interested in the shows, and possibly offer the women some spare actors to expand their repertoire. They can usually only do books with two characters, but it's possible that some of their young students could be recruited to perform with them on occasion, and they could do books with more characters.
Bishop and Henkel will present a workshop at the Illinois Library Association and the Illinois School Library Media Association in October to teach other libraries how to re-create what they do with READiculous.
Caleb Willfong, 10, said he enjoyed acting, but learning his part was always the tough part.
"This is easier, because you have your script (the book) in your hand," he said.
Bishop and Henkel always perform with their books in their hands when doing READiculous shows because they want children to connect the story and the performance to the book. Encouraging them to read is the whole point.
And while some kids began the class six weeks ago a little shy about letting it all hang out, by the end even the quietest of them was ready to put on a show.
"It's been amazing to watch them grow," Henkel said.
Be the first to know
Get local news delivered to your inbox!