DECATUR — The library tables at Enterprise School were loaded down with children's books for every taste and interest.
Mallory Shugart, 5, had already found what she wanted and clutched it close to her body.
"I love events like this," said her mom, Jaycie Shugart. "She would always pick princesses."
"It's Disney," Mallory said, indicating the Disney logo on the cover of the book. "I like Disney."
Her brother, Benjamin, a second-grader, had chosen a Star Wars book "because it's about Luke (Skywalker)," he said.
The book giveaway was a project by Pi Beta Phi, a women's fraternity founded at Monmouth College in 1867, whose mission in recent years has been literacy. The Millikin University chapter members visit Enterprise School weekly, and sometimes more, to read with children. They chose Enterprise because Principal Ann Mathieson is a Pi Beta Phi Millikin alumna.
"We just love her," said Lillian Hester, vice president of philanthropy for the organization.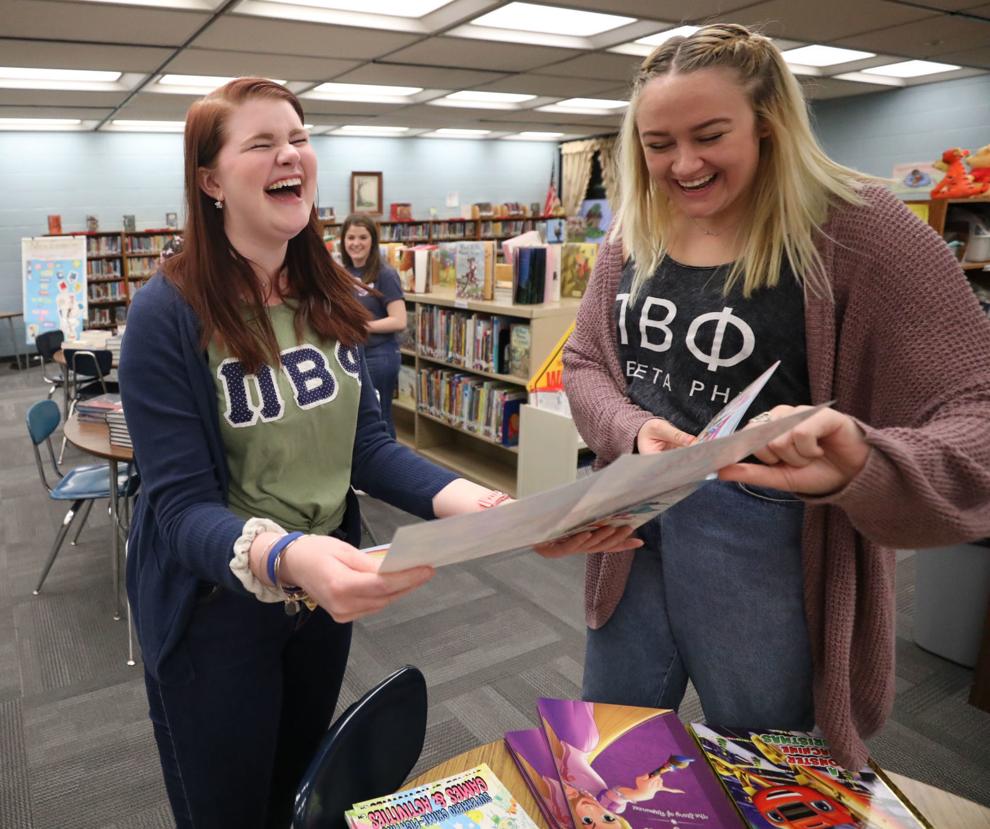 The Pi Phis, as they call themselves for short, received a $750 grant from their parent organization to buy the books, but thanks to discounts, they were able to buy many more than they anticipated, a total of 837 books. The teaching staff chose the titles, with several copies of each, and children and parents visited the school on the evening of Feb. 27 to choose books to take home. Extras will be placed in the school library or in classroom libraries for students to borrow.
PawPrint Ministries was also at the event and set up shop with several trained comfort dogs in the cafeteria. Business was brisk, with plenty of children stopping in to meet and pet the furry visitors, and many of them also read their new books to the dogs. The dogs are used to that, because they visit the Decatur Public Library the first and third Thursday of each month at 6 p.m. for just that reason — so kids can read to them.
"We're just having a little celebration (of the donation) and letting kids come and pick up a book," Hester said.
"One in four children cannot read, and that is just something that we, as an organization, Pi Phis across the country and Canada, chose to center around, because it's something near and dear to our hearts," said chapter President Megan Carey.
Pi Phi chapters center around philanthropy and volunteer service, Carey said, which is one reason they visit Enterprise to read with kids.
Mathieson said teachers choose kids who could use the extra attention when the Pi Phis visit and take turns so all the kids get a chance to read with their visitors. The literacy focus is recent in the past few years.
"We had different service projects when we were at Millikin," Mathieson said. "Sometimes (they come) twice or three times a week. It depends on their schedule. We kind of spread the joy through the hallway with different classrooms."
---
School's (almost) Out: Decatur summer camps your kids will love
Contact Valerie Wells at (217) 421-7982. Follow her on Twitter: @modgirlreporter