DECATUR — Students starting class at Stephen Decatur Middle School next month will be greeted by a new secure main entry, dozens of updated classrooms, science rooms and other upgrades.
The renovations that began earlier this year will allow the facility off East Mound Road to accommodate students from Thomas Jefferson Middle School, a merger that marks the first phase of Decatur Public Schools' wide-ranging facilities plan. The district's buildings and grounds staff is wrapping up the $800,000 project, with some additional touches to be added after the school year starts.
"We have a very skilled building and grounds staff that have done an excellent job on the facility and continue to do so," Superintendent Paul Fregeau said Tuesday.
The new entryway and main office area are more secure, now requiring visitors to go through a security checkpoint, said Steve Kline, director of buildings and grounds. Visitors planning to meet with a staff member can do so in a new meeting room near the office and entryway.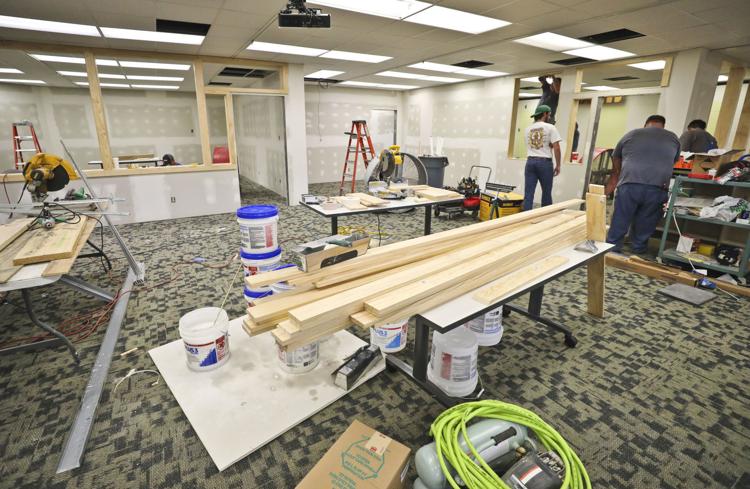 "The meeting room will make it so that we do not have visitors walking through the hallways unless it is necessary," Kline said.
Two gender-neutral bathrooms were also installed in the lobby area. Buildings and grounds staff repurposed a library storage space as the main office and the old office space has been turned into a guidance counselor center, said Fred Bouchard, assistant superintendent of support services. Other renovations included the construction of four science rooms, which are connected by prep space for projects. Fregeau said three classrooms built in the mezzanine area will serve several purposes, including project-based learning.
The students will be sorted into three academies, each with a designated area in the buildings, Bouchard said. Students can choose between STEAM (science, technology, engineering, arts and math), public services (law enforcement, nursing and teaching), and agribusiness. Certain classrooms were upgraded and re-purposed; for instance, a former woodshop room became two agribusiness classrooms.
District officials initially budgeted $500,000 for the upgrades, but approved spending an additional $300,000 during a June meeting when they realized the budget did not account for the cost of internal labor performed by the district's building and trades staff. The district's staff is allowed to complete renovation work, Bouchard said. Any new construction work must be done through a contractor.
"We are very lucky to have such a talented buildings and grounds staff," he said.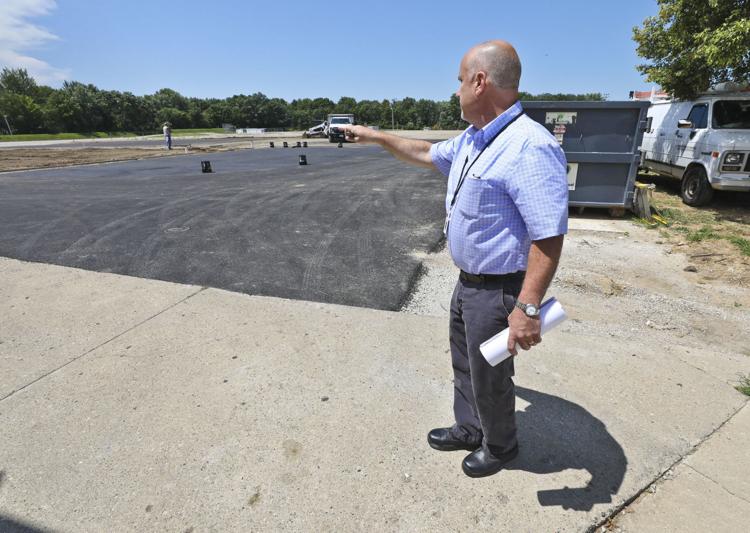 Officials allocated $100,000 or less for new classroom and cafeteria furniture, some of which is still in the works.
During its regular meeting Tuesday, the board approved spending about $70,000 on new classroom and library furniture. A separate bid of about $13,000 for cafeteria folding tables and equipment was rejected due to an error in the original bid, but the bidding process will reopen, Chief Operational Officer Todd Covault said.
"We have the tables that were available at Stephen Decatur and at Thomas Jefferson," Bouchard said, "and they will be adequately able to have lunch until the new furniture arrives."
Stephen Decatur was the first facility to be renovated on the long list of projects outlined in the BOLD (Building better Opportunities for Learning) facility plan, a component of the district's five-year strategic plan that aims to turn Decatur into a destination district for families.
You have free articles remaining.
Because Life Deserves Design (BLDD) architects design the facilities and O'Shea Construction will serve as the construction manager, overseeing the projects with on-site instruction. The board on Tuesday offered a partnership with the Decatur Building and Construction Trades Council for union employees to work on the construction for the facility plan.
The first day of school is Aug. 14.
District goals
In other business on Tuesday, Fregeau presented the previous and current school year balanced scorecards, or tools the district uses to determine what areas of improvement should be a priority.
"The scorecards serve as a road map and tell what areas we need to work on," Fregeau said. "Creating them is a collaborative effort by the school board."
The scorecard is separated into four quadrants: students, staff, community and finance. The board has taken action on several initiatives in recent months that aligned with last year's goals, such as the implementation of before- and after- school programs, the approval and purchasing of a vehicle to allow Crossing Healthcare to provide mobile health care, financial literacy seminars and a number of other actions.
One highlight Fregeau mentioned was the implementation of care rooms at all of the district's facilities. The rooms are designed to address students with discipline or behavioral problems, with a goal of working with the students to identify the issues causing problems and helping them to transition back to regular classrooms.
"There were ups and downs with the care rooms but it is a step in the right direction," Fregeau said. "We have had the lowest number of referrals in 14 years."
The ambitious upcoming school year balanced scorecard outlines several priorities, including deploying a district-wide "whole student" approach that improves academic and social outcomes, identifying and deploying a universal social and emotional tool district-wide, cultivating community partnerships and developing a funding plan for facility improvement.
"There are several things that happened this year that have been talked about by previous boards and administrations but never actually executed," said board member Beth Creighton. "It's interesting to see those conversations that have happened for the last eight to 10 years, and now they are actually happening and it's great to see."