DECATUR — Nevaeh Woods may not be an expert on the Harlem Renaissance, but she's heard of it.
That was the goal of Robertson teacher Sonje Sturdivant's class project last year, during which the fourth- and fifth-graders raised money for a new exhibit in the museum about the Harlem Renaissance, a movement in Harlem, N.Y., in the 1920s that saw the rise of numerous black entertainers, writers and activists. The exhibit recently opened in the upstairs portion of the museum.
"I like that I was a part of that," Woods said, looking at the exhibit. "It feels real to me now."
Students in Sturdivant's Mastering Academic Desire and Drive (MADD) Lab raised more than $1,000 for the exhibit, which was made by DynaGraphics Printing in Decatur.
"Evelyn already had her, and when I first saw it I said, 'Well, maybe one day we could do the Harlem Renaissance," Sturdivant said. "And we thought it was a great idea to teach the kids about this period of rebirth in the arts as well as the political and social areas. There were a lot of people from that era this generation won't know about unless he expose them to these kids."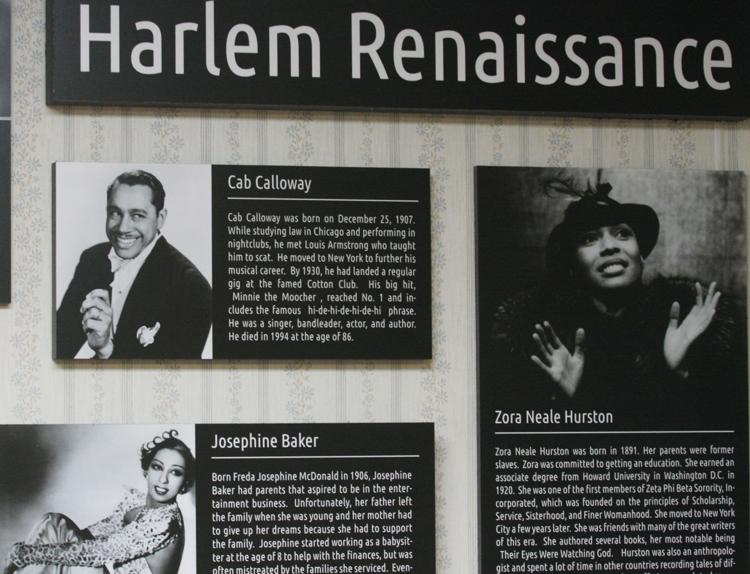 This was the second year in a row Sturdivant's MADD Lab had raised money for an exhibit. Last year's exhibit was on the National Pan-Hellenic Council — nine historically black fraternities and sororities commonly known as the "Divine Nine," and is also on the second floor of the museum.
"I remember sitting at home the summer before last trying to think of something that would last all year long and be impactful," Sturdivant said. "I was reading through the Herald & Review archives and I saw something about Rich Hansen in Mount Zion and thought, I could do that, too."
Sturdivant reached out to Hood, who thought it was a great idea.
"It's been one of my goals to reach the youth," Hood said. "I want our history to stay alive, so it has to be passed on to the younger generation."
Students in the MADD Lab this year did research projects on the Harlem Renaissance and also performed Cab Calloway's "Minnie the Moocher" in December, with students dressing in period clothing, and had a reading of a Hughes poem.
Money was raised through social media, sending flyers home and a little ingenuity — especially from fifth-grader-to-be Anthony White.
"Every day he was bringing in dollars and I was like, 'Where are you getting this money from?'" Sturdivant said, laughing.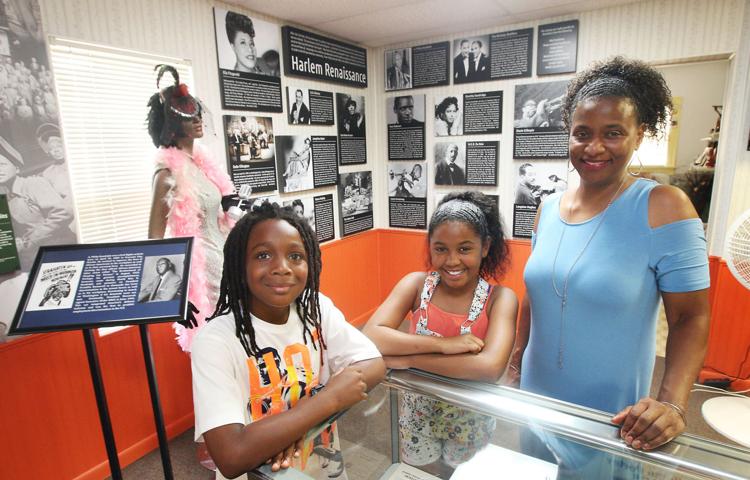 White said he did every chore he could think of to earn the money.
"I took out the trash, I sweeped, I did everything," White said.
He said he'd never heard of the Harlem Renaissance before the project, but learned quite a bit.
"There were a lot of famous people — dancers, musicians, singers, a lot of stuff," White said.
Woods said her mom had a jeans day on a Friday for a $1 donation to raise money and she went to Bob Brady Auto Mall, where her dad works, and along with some other students gave a presentation to the sales team about the Harlem Renaissance, which earned a donation.
Woods, who also hadn't heard of the Harlem Renaissance before the project, said in her research she learned about Holiday.
"She was a famous jazz singer," Woods said. "I feel like I'd heard singers from then at the store. You know how they play the music over the speakers at the store? I feel like I'd heard them there, but I didn't know who they were."
Robertson principal Niki Fenderson said every class at Robertson is required to do a community service project. Other projects have included volunteering at nursing homes, the Decatur-Macon County Senior Center, Scovill Zoo's Boo at the Zoo and the Macon County Animal Control and Care Center, and sending cards and letters to veterans.
"It's anything where the students connect with an organization or agency to give back," Fenderson said. "It's important our students understand the importance of giving back and being productive, and it's also important that they learn and understand about African-American culture."
Sturdivant she's already in the planning phase for next year's project on the ancient Egyptians. Like Hood, Sturdivant said she sees potential for bigger and better things for the museum.
"I think this could be a great place — a tourist attraction," Sturdivant said. "It's not just for African-Americans. It's a great place for us all to come and stimulate conversation and have those discussions that squash stereotypes."