DECATUR — The students seated around long tables at the Decatur Area Arts Council seemed to be doodling, but there's a name for that style of drawing: zentangle.
It's a relaxing, nonrepresentational and unplanned method in which the artist uses combinations of dots lines, simple curves and orbs to create designs. The idea is to focus on the strokes and not worry about the result.
Through a grant from Delta Kappa Gamma International, a society of female educators, students from Sangamon Valley schools were able to take art classes through the organization's Women in the Arts Council.
"Sangamon Valley was chosen because they do not have an elementary art program," said member Kay Mason, who was on hand for those classes last week.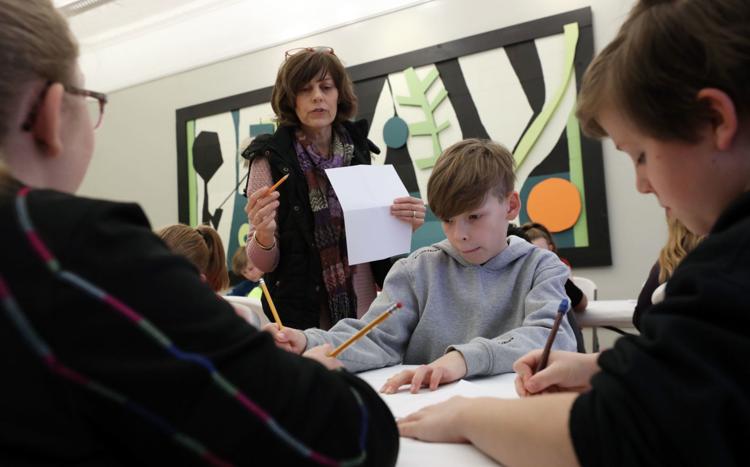 One of the state organization's committees is Women in the Arts, and that committee called a local member and said they had some grant money they wanted to give to a school near their upcoming convention site in Decatur.
Mason retired from Sangamon Valley last year, where she taught several grade levels over the years. She suggested giving the grant to that school. The Decatur Area Arts Council agreed to host the classes, taught by retired teachers with a special interest in art. All the Sangamon Valley students in kindergarten through fifth grade took a class.
"Delta Kappa paid for the classes, the teachers, the transportation and everything," Mason said. "They have no visual art teacher (in the district) until they get to middle school. One of the kids said 'I love my art work so much I think I should leave it here so they can display it.'"
Teachers Jennifer Stout and Connie Brewster, in different classrooms at the Decatur Area Arts Council, guided fourth-grade students through simple zentangle designs, with more complicated ones displayed on bulletin boards at the front of the room so the kids would see what's possible as they master the form.
Samantha Simpkins and Charlotte Murphy worked side by side on their projects, following the same directions but with very different results, which is exactly the point.
"It's really calming," Samantha said. "And it's really pretty."
"I like it because you don't have to get mad if you don't do it right, because it's just about making a shape," Charlotte said.
Marlie Deerwester enjoys drawing at home, but had never tried zentangle before.
"It's interesting for kids to do," Marlie said. "It's a good field trip. I usually draw with pastels and sketch."
Students on other days tried other media such as watercolor and oil pastels, said the education coordinator for the Decatur Area Arts Council, Jenny Cowgill. Zentangle was a good choice for the intermediate-aged kids, she said.
"Art is as important as anything else, and the thing about art is, people think it's a craft, it's just a fun thing to do," Cowgill said. "But really, it's all about problem-solving.
When you do a piece of art, you learn different techniques," she continued. "Just like you learn 1 plus 1 equals 2, in art you learn that if you do these different kinds of lines or colors and bring them all together, you create a unified piece of art that's pleasing to the eye."
---
School's (almost) Out: Decatur summer camps your kids will love