DECATUR — Negotiations continue today between the Decatur school district and the union that represents 275 teaching assistants who have said they will strike if a deal is not reached by Oct. 29.
Parents and teachers on Tuesday told the Decatur Board of Education that the strike would leave students, particularly those with special needs, without the attention and assistance that they need. Members of the Decatur Federation of Teaching Assistants picketed for a fourth time before the school board meeting, which was held at Eisenhower High School to accommodate a large crowd wearing blue shirts in support of the teaching assistants.
"The kids that are going to be affected by this are the most at-need kids in the district," said Phillip Shields, a DPS parent. "That doesn't just go for the kids in the life skills program. There are kids in my son's Montessori program who will not be able to go to school because they require one-on-one assistance."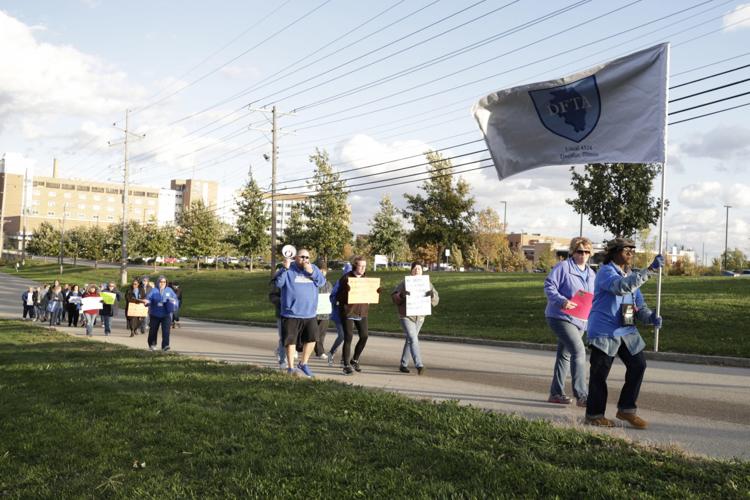 Board President Beth Nolan said the board understands that the teaching assistants not working would create a hardship for families.
"It could result in students not receiving the same educational delivery that we would like, which is why we are committed to continuing to negotiate in good faith," she said. "Until this is resolved we are available to meet with them as often as it takes to get this job done."
The union represents the district's hearing interpreters, licensed practical nurses, hearing-vision technicians and teaching assistants who have been working under a contract extension since the academic year started in August. Negotiations began in April, and the sides have met three times with a federal mediator.
A major sticking point in the talks has been the cost of health care benefits, according to the union.
"We work very, very hard every single day and if you go to any building and ask the teachers they will agree and say they can't do it without us," said Jennifer Hutton, a teaching assistant at Parsons Elementary School. "We go home with bite marks and bruises, and our pay does not reflect any of that."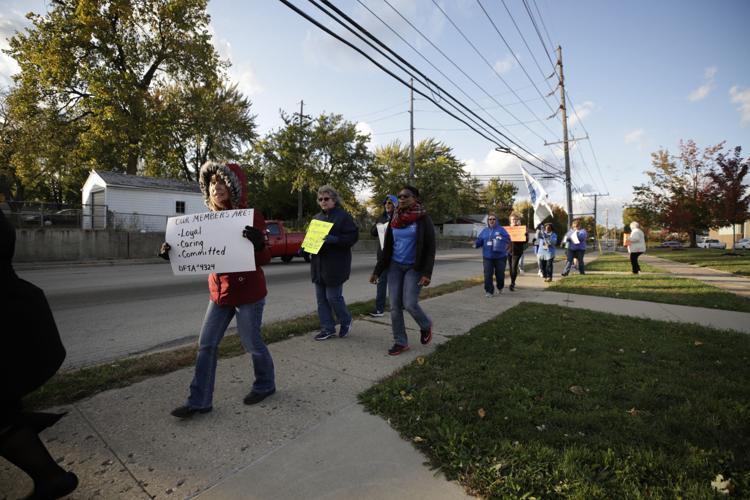 Union president Paula Busboom said the union does not want to strike and she hopes they can work something out during the mediation.
"Time to take action and allow the board and districts team to bargain in good faith," Busboom said.
District leaders have said they want to reach an agreement with the union. In a statement released Oct. 17, the district said contracts have been negotiated successfully in the past two years with unions that represent teachers, maintenance staff, security staff and secretarial staff.
As they have several times over the past month, parents and teachers addressed the board during the public comment portion of Tuesday's meeting, which lasted about 40 minutes. Several speakers stressed that their main concern was for special needs students, whom they described as the most vulnerable group in the district and the most deeply affected if a strike occurs.
You have free articles remaining.
A handful of parents said their children require more attention for daily tasks, something that would not happen without the teaching assistants.
"They are my son's legs and arms," one parent said regarding her son who uses a motorized wheelchair. "They feed him, they diaper him." She said without the teaching assistants, she doesn't know what she will do the day of the potential strike.
Plans have not yet been announced for how the district would proceed if a strike occurs.
"The board will negotiate until the union says they are done negotiating at which point we will implement a communication plan to notify parents and staff of what will happen next," Nolan said.
In other business, the district announced the hiring of Denise Albert as the new Chief Communications Officer. Albert earned a bachelor's degree in graphic design at Millikin University and most recently worked as the principal consultant for the Illinois State Board of Education in Springfield. Her base salary will be $123,456.
The board voted 7-0 to allow Because Life Deserves Design (BLDD) to use $3 million in Health, Life, Safety (HLS) bonds to install and renovate heating, ventilation and air-conditioning in four facilities:
Franklin Elementary School: $596,713
Muffley Elementary School: $752,910
Parsons: $693,474
Thomas Jefferson: $962,400
According to board documents, the district had approximately $3.7 million in the HLS funds. The projects are included in the district's wide-ranging BOLD Facilities plan, which involves major renovations and new construction of several facilities.
Chief Operational Officer Todd Covault said the district is taking out $55 million in bonds for the project and funds for other projects, such as adding the heating and air-conditioning, would come from separate funds.
Board members also unanimously approved a Memorandum of Understanding Retirement Incentive for teachers. According to board documents, the Teacher Collective Bargaining Agreement has provided a retirement track benefit in which eligible employees earn four, six percent increases during their last four years of employment. The General Assembly in June 2018 passed a law which lowered the penalty threshold from six percent to three percent. The Decatur public school board and teachers negotiated a reduced retirement benefit from the agreement three percent.
Gov. J.B. Pritzker in June 2019 passed a law which removed the three percent threshold and made it so it would not exceed six percent. The change allowed for DPS officials and teachers to increase the retirement rate to 5.75 percent.
"For the employees who choose this option, a portion of their health insurance rate will move from the retirement track tier to the higher health insurance tier," Covault said. Those employees would be provided less donated sick days, according to the board Tuesday meeting packet.