SHELBYVILLE – In the last several years, "free little libraries" have become popular throughout the country.
They're usually small boxes with glass doors, placed in easily-accessible public places. The idea is that anyone can borrow one of the books inside, and bring it back later or replace it with another book. No card, no payment, all on the honor system.
Elementary math teacher Anita Breeden and third-grade teacher Kati Harkins came up with the idea to have students at Main Street School in Shelbyville create free little libraries as a way to connect with the community.
"We really wanted students to get involved in the community," Breeden said. "Studies show that it's good for kids to be involved with their community. There are sporting programs, but we wanted to have some other things in addition to sports."
Main Street School serves kids in kindergarten through third grade, so finding a project that kids that age could do was a challenge.
"Besides being a benefit to the students as a project, it's putting books in their hands," Breeden said. "We're appreciative, of course, of what the libraries and the schools do for literacy, but it was just one more way of getting books in their hands. We thought that was another good reason to have the free little libraries."
You have free articles remaining.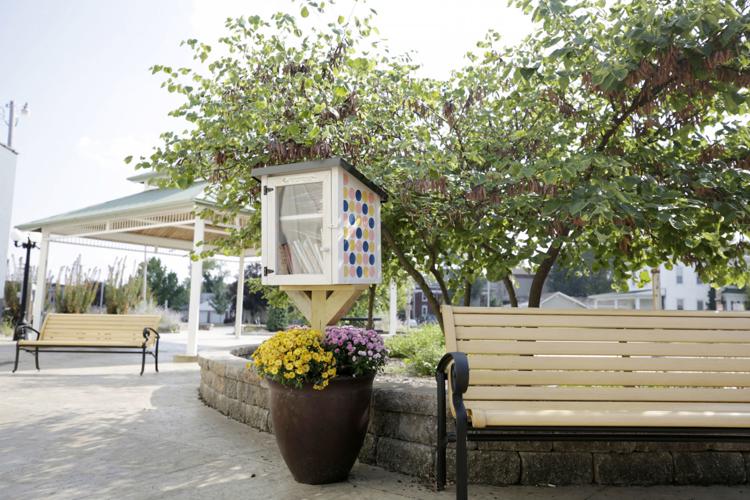 Breeden also works with downtown Shelbyville businesses in other projects, and the decision to put the little libraries along the street in the business district was made to add another reason for residents to visit that area.
"The city council thought it was a great idea," said Mayor Jeff Johnson. "Since they wanted to put them on public property, they approached the city council, and they gave permission and supported the idea. They did the work and arranged everything and they did a wonderful job."
Thanks to help from the Parent-Teacher Organization and private donors, and the students' own hard work painting the boxes and choosing books, the little libraries are arranged at intervals along Main Street just blocks from the school, and include nearby benches where a child, or parents and children, can sit to enjoy a book right there on the spot if they want, or take books home and return or replace them later.
One of the free little libraries, Breeden said, began full of children's books and has already turned over its inventory completely to being full of fiction and non-fiction for adults. Breeden laughed about that and said she hopes that means the children's books are at home in some child's personal collection now, and if so, that's the way the little libraries are meant to work.
"I've heard a few people talk about it and that they like having it in downtown area," Johnson said. "I see people sitting there on the bench and maybe a mother and kids or somebody like that, sit there reading the book and enjoying the weather."
Contact Valerie Wells at (217) 421-7982. Follow her on Twitter: @modgirlreporter
"Besides being a benefit to the students as a project, it's putting books in their hands."

Shelbyville teacher Anita Breeden