MOWEAQUA — Sometimes it's easier to confront someone in person than on social media.
"Online, it's like (you're thinking), 'Oh, so many other people will see this,' while in person, I can tell them right there without all these people around me," said Taylor Daily, a senior at Central A&M High School."Online, I have to deal with all these other people coming back on me."
High school students heard a presentation from Kim Karr of #icanhelp, a California-based organization that was founded in 2013 to counter negativity on social media. The organization said it has developed relationships with all the social media platforms. Karr also spoke at Mount Zion schools on Monday and at a second event on Tuesday evening for parents of Central A&M students.
Karr said she was a middle school teacher when a fake Facebook page was created in the name of another teacher, and when the culprits were found and the page removed, their excuse was, "We don't like that teacher."
That brought home to Karr just how much damage negativity on social media can do. When someone posts something mean, she told the students, they give it power if they laugh, "like," retweet or otherwise feed the negativity.
Instead, they can stop it. They can send a private message to the one who posted it, speak to that person face to face, respond to the post or picture with a positive comment and the hashtag #icanhelp. They can send an encouraging message to the target of the bullying.
An example she showed them, with the student's permission, was a photo a girl had taken of herself after getting ready for school. She was wearing a nice dress.
Another student took a photo of her at school, from the back, and posted it online with the remark "thicc," which is internet-speak and made fun of her weight. The girl found out and texted her mother to bring her jeans and a T-shirt because other students were making fun of her, and she wanted to change her clothes.
Karr calls it being "digital first responders." Kids and adults can make social media a better place by:
Not taking photos of people without their knowledge,
Not adding to someone's negative posts with likes and retweets,
Standing up for people who are being bullied online,
Using their own social media posts for positive and uplifting messages.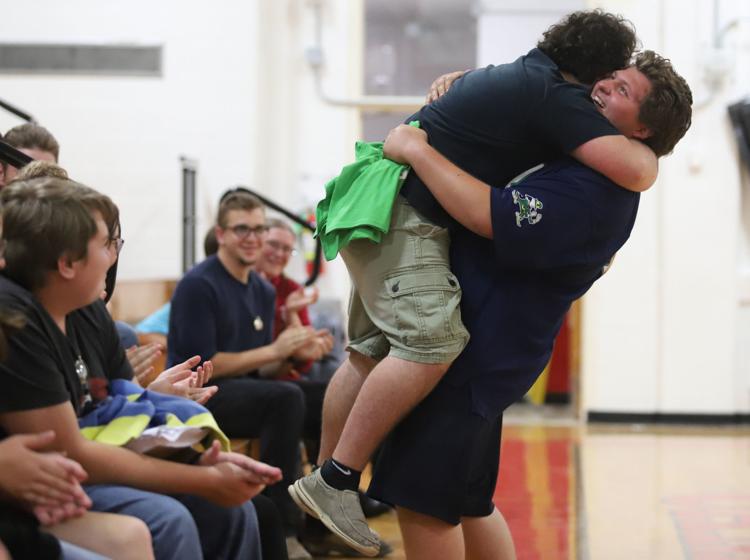 "It's stuff we don't hear all the time," said Bailey Ashenfelter, a senior. "Hearing about the stuff that happens and how we can prevent it helped."
Said senior Charis Hadley: "You can stand out and you can do something about it. You don't have to join in and say mean things to other people. You can bring out positivity and be different. I liked that."
The assembly was sponsored by Students Against Destructive Decisions, said the group's adviser, Katie Boltz. SADD was once Students Against Drunk Driving, and while that's still a message they support, the message has expanded to include much more.
Karr also wanted the students to realize that deleting a photo or comment doesn't mean it's gone. She explained "digital footprint" to them, which means that even after it's deleted, law enforcement can track down a message's origin. Someone could take a screenshot of the message and share it with others. Anything they put online, even a private message between two friends, can get out and be shared and reshared all over the world.
Social media posts have lost people their jobs and promising students have lost scholarships, she said, putting up some screenshots of Twitter posts from college coaches.
Herb Hand of Penn State had tweeted about dropping a prospect due to the athlete's social media posts. "Glad I got to see the 'real' person," Hand had written.
"There are real people behind the screen," Karr said. "You don't get to see faces (online). You don't know if you made their day or ruined it. You can't 'read' sarcasm. How we treat each other is so important."
Suicide, depression and anxiety among teens has risen 37 percent since the advent of smartphones, she said, and social media is largely to blame. Being good digital citizens and taking #icanhelp to heart will decrease the drama online, which will decrease the drama in real life as well.
Friends Chris Stevens and Quinn Stewart, both seniors, said they had made posts they might reconsider after this, especially memes — photos with captions that are often shared repeatedly. Their favorite social media is Snapchat and Twitter. Snapchat, Chris said, allows him to reach his closest friends in moments, but he knows that some of the things he's posted are things he shouldn't have.
"I admit my mistakes," Chris said. "I've made a lot of them."