DECATUR — Illinois State Police Trooper Tracy Lillard makes a lot of jokes as she's giving presentations to students, but her message is a serious one, and she brings visual aids along to drive that message home.
At the LSA High School on Tuesday, Trooper Lillard talked to the students about drugs and what they can do to the human body, and she spent the most time on methamphetamine, and what meth labs look like. She held up a Gatorade bottle with aquarium gravel and dirty water in it, which she'd made to look as much like a meth lab as possible. Never pick one of those up if you find it.
On the video screen behind her, she showed the students what can happen. "This is trained firefighters," she said, as one of them knocked over a bottle very much like the one she'd brought and it exploded into a fireball.
The combination of gasoline, lithium, and other volatile ingredients in meth are highly unstable. Often, when a house or car burns for no apparent reason, meth is the cause, she said.
She also covered the dangers of other kinds of drugs. Her husband, Illinois State Police Sgt. Tom Lillard, has seen firsthand how people are affected. In one case, a man who had a car crash and was under the influence of the synthetic marijuana K2, took all his clothes off in frigid February weather because his core temperature was so high he was, as the sergeant said, "cooking himself from the inside." With six men working together to hold him down, he still managed to get up, and the paramedics had to give him two doses of a strong horse tranquilizer to calm him.
"That stuff's really nasty," Sgt. Lillard said. "It does weird things to your body."
The highlight of the event, for dog lovers at least, was when Sgt. Lillard went out to his police vehicle and came back with Yadi, a Dutch shepherd trained to find drugs and to be his handler's protector. The two have worked together for four years.
"His name was Jerry when I got him," Sgt. Lillard said, after first asking the students if they were familiar with classic cartoons. "We'd have been the Tom and Jerry Show. I had to change it."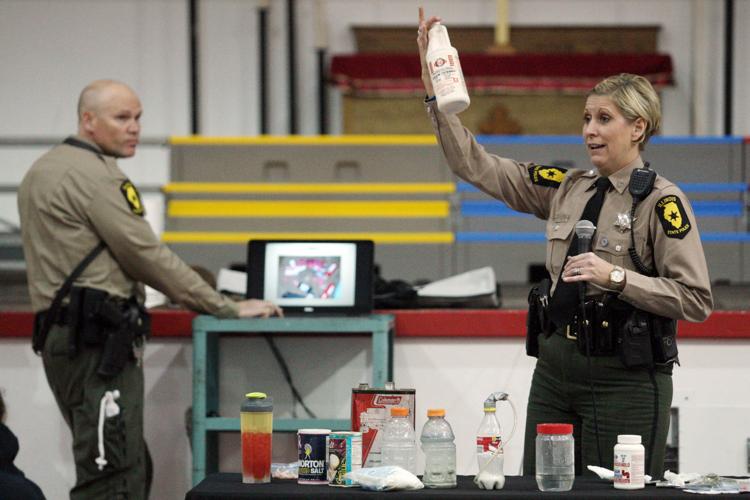 "Yadi" is, of course, in honor of Yadier Molina, a catcher for the St. Louis Cardinals. When the two teamed up, Yadi was 1½ and very green. Much of his training is centered on obedience, and commands are given in Dutch. His reward is a ball or a tug toy, never food, and when Sgt. Lillard has either of those toys in his hand, Yadi's eyes are glued to the toy. In his years of service, he's helped locate 2,000 pounds of marijuana, 28 to 30 pounds of cocaine, and 10 to 20 pounds of heroin.
And the two are partners, Sgt. Lillard said. If he's having a tussle with a suspect, he can click a button on his belt and it will release Yadi from the vehicle to help him. If he's chasing somebody, Yadi is his best ally.
"One of the hardest things to do is trust a furry guy with a brain about the size of a walnut," Sgt. Lillard said with a chuckle.
The two officers and Yadi led the students outside to demonstrate how well Yadi works and how fast he can run. Trooper Lillard put on a protective arm covering so Sgt. Lillard could demonstrate Yadi's attack mode, which the sergeant said is "fun" for Yadi, who isn't being aggressive for the sake of being mean. He's obeying his handler.
Trooper Lillard professed to be terrified of the demonstration, but bravely stood her ground with the arm covering held out in front of her.
"He knows her," Sgt. Lillard said. "We all live in the same house."
Yet, when Sgt. Lillard gave the command, Yadi grabbed that arm and hung on for dear life, snarling, until the sergeant gave the command to stop. Yadi didn't want to give up his chew toy, so Trooper Lillard slid out of the protection and let him keep it.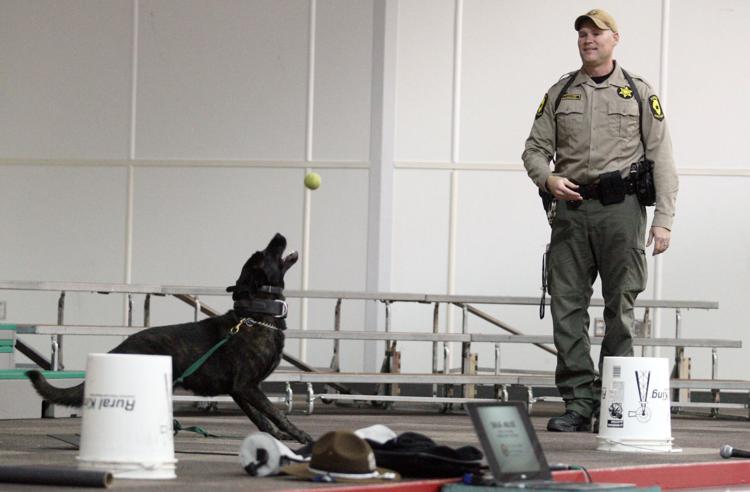 "Yay! Tracy didn't die!" she said to the students as she rejoined them.
The presentation was sponsored by the Students Against Destructive Decisions chapter at the school, whose members are well acquainted with Trooper Lillard. She comes to the school regularly to talk about seat belt safety and give other presentations.
"It was really cool how they actually had visual representations of the drugs," said Eric Trickey who, as a member of SADD, knew some of the information but not all of it that was provided at the presentation.
Kierra Massey has been a member of SADD for four years, and first met Trooper Lillard at her old school before coming to LSA. "There's never a dull moment with her," she said.