OREANA — When Kelson Reed saw the "Warriors" book, one of a series by Erin Hunter, he didn't think he'd like it, but was intrigued enough to pick it up.
"I like fantasy, and I like cats," said the sixth-grader, a member of the Argenta-Oreana Middle School book club. The books are about a clan of wild cats in the forest who live "according to the laws laid down by their warrior ancestors," as the back of the first book proclaims.
He liked the book enough that he is recommending it to the students in the district's elementary school as part of the book club's regular visits to read to and encourage reading by their younger counterparts.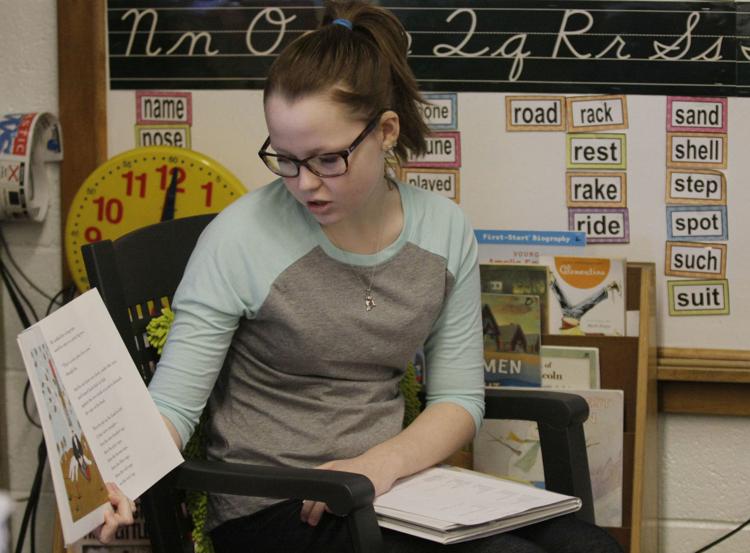 Some children don't enjoy reading, Kelson said, and having the older students show enthusiasm for specific books and for reading in general could help the younger students discover a love of reading for themselves.
"Books are an escape from the real world," Kelson said. Fantasy is his favorite, but he reads any book he finds interesting, he said. The Warriors series is both fantasy and mystery, which he also enjoys.
Library assistant Lura Weatherford started the book club five years ago. Students meet twice a month during their lunch period.
"It just gives our book club students, who really enjoy books, an opportunity to come down and share their favorites with the elementary students and, hopefully, get them excited about reading," Weatherford said.
"Practicing speaking in front of a group is a good thing, as well as just being able to share book talks, showing a little maturity and taking the responsibility of preparing and practicing and then actually delivering a book talk in front of a group," she added.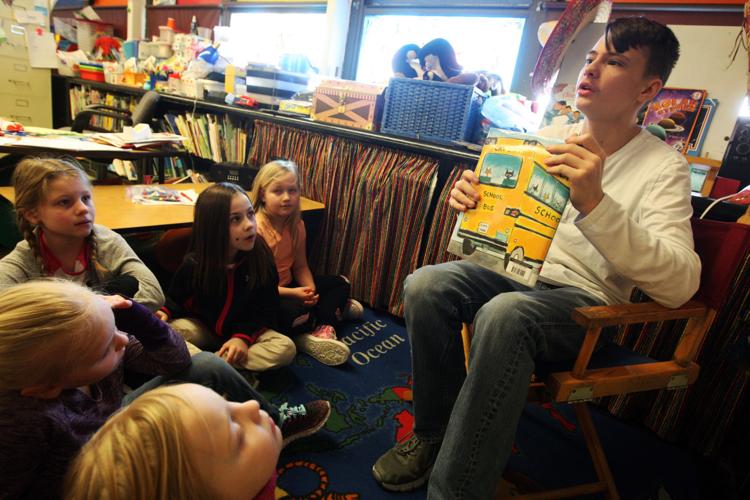 Sixth-grader Gracie LeBeau, said she has difficulty with reading, so she loves graphic novels, which use pictures and words tell the story.
"We're going to read to each class," Gracie said. "We only have about five minutes to read to each class. You kind of want to think about the grade level that they're in (when choosing a book), and then get a book you think might interest them."
"We do book talks," Kelson said. "We tell them about the book, and read the first page to get them interested."
Mentoring at Argenta-Oreana isn't confined to middle school students working with elementary. High school football players are mentors to younger students, too.
Social worker Jessica Hill knew there were some boys who needed a positive male figure in their lives, and several football players volunteered. They spend about 40 minutes a week with their young friends, working on homework and doing fun things like playing basketball.
"When I was younger, I got kicked out of school and had to go to alternative school," sophomore Makail Stanley said. "I thought if I could help one of the kids not go through same things, it would be beneficial and make me a better person."
Joshua Williams thought his academic skills could be useful in helping another student.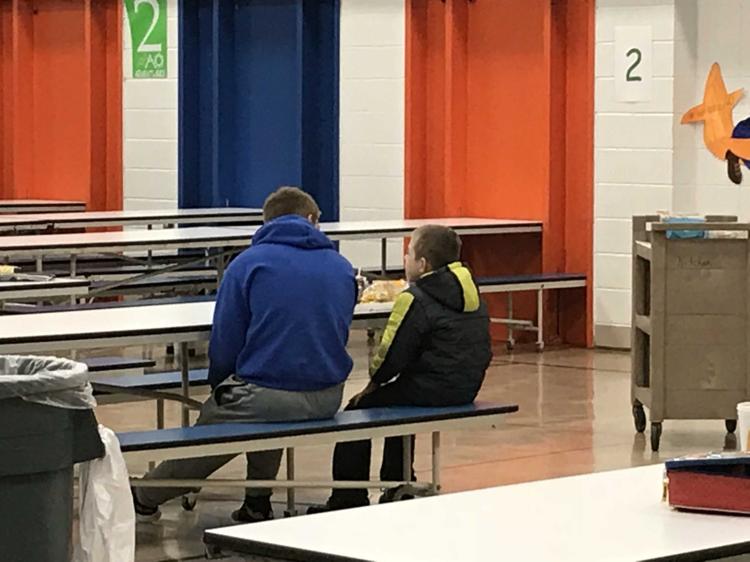 "I wanted to take my skills and help a kid that may be struggling through elementary," he said. "Me helping them out may boost them through whatever's going on at home or at school."
Jacob Brown has three older brothers and wanted to know how it felt to be the "big" brother.
"It feels amazing," the sophomore said. "I love when I walk into the room and my kid's face lights up because he 's so excited to see me and I love seeing that."
Jacob Whicker teaches 4- and 5-year-olds in Sunday school at his church and has considered becoming a teacher. When his coach, Dustin Krause, approached him, he knew he wanted to volunteer.
"I didn't know what I was getting into at first," Christian Barber said. "There's no real reason why I wanted to. I volunteered because it felt like the right thing to do.
"My kid isn't very vocal, and he's still a little bit awkward around me, but he's starting to open up," he added. "I've heard good reports about him already."