DECATUR — Educators often speak of the "summer slide," when kids forget some of what they learned during summer break. The result is having to spend precious time reviewing in the fall before learning new things can begin.
The Summer Math Academy was created, in part, to prevent that.
"I'm good at math," said Sam Dion, who will be in eighth grade at Johns Hill Magnet School in August. "But I forget things in the summer."
He's one of 525 Macon County students from kindergarten through ninth grade who are enrolled in the three-week Math Academy, now in its second week. The majority of the students are from Decatur schools, but area districts are well represented, too, said Juanita Morris of the Mamie D. Hayes Educational Foundation, headquartered in Decatur, which sponsored the academy.
"It was no big epiphany. You know we deal with the summer slide," Morris said. "I have a rising seventh-grader and my daughter will be in the fifth grade, and math is not challenging, but we lose it, and I thought, why not create an academy to bring all of our kids together and learn math hands-on and fun."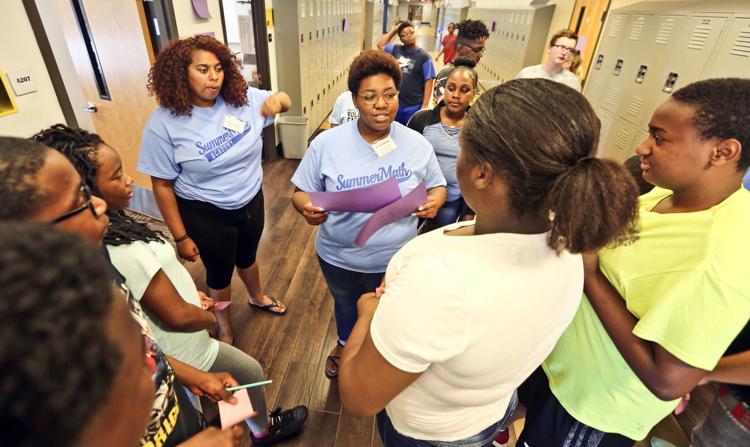 Decatur schools already offer Operation Calculus, which allows high school students to get a look at advanced math classes prior to the start of the next school year. That began at Eisenhower High School and has expanded to MacArthur High School. Morris modeled the Math Academy on that, and one component is "algebra boot camp." Two hours three days a week, students practice the basic skills they'll need and learn the terminology of algebra, so it won't be as intimidating and new when school starts.
The math academy is low stakes, Morris said, with no homework, tests or grades. Class doesn't begin until noon, so the kids can sleep in and arrive well rested, and the activities are in the form of games and puzzles to allow them to have fun while they learn. The academy is free to students and their families, thanks to sponsors including Decatur Public Schools Foundation, State Farm, Ameren and Cromwell Radio Group.
"We're working on fractions this week," said Tiara Mackins, one of the teacher/facilitators, who will begin her second year teaching in Decatur schools in August at Hope Academy. "We are spanning grades six through eight, so there's a lot of variation in what they're learning, but we're going over terminology and the foundational skills to help them."
At this age level, she said, girls and boys are in separate classes, because studies have shown that middle-school age students do better that way, without the pressure of boy/girl flirtations.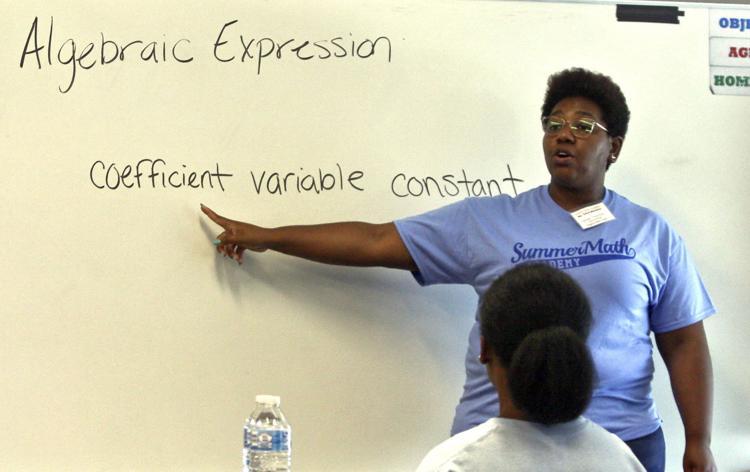 "Having such a homogeneous class allows students to identify quicker with others," Mackins said. "It's one less barrier to socialization. A lot of our academy kids are coming from different districts. Some of our kids are home-schooled, they're coming from Maroa-Forsyth and Decatur public schools. They can come together quicker and form a community."
Girls and boys also often have different learning styles, Mackins said, with the girls preferring small group work, while the boys prefer hands-on, active learning.
"It has made it easier for the other teacher and I to make plans for our groups," she said.
Morris' own son, Kyle, a student at Mount Zion Junior High, said he has a little trouble with fractions, so the week spent on reviewing and practicing was a big help to him.
"I wanted to get some extra math work done and get ready for the school year," Kyle said. 
---
Want to see more local news like this?
Our Daily Headlines email is for you! Delivered daily at 10:30 a.m., you'll get the local stories you need to see directly in your inbox.
I understand and agree that registration on or use of this site constitutes agreement to its user agreement and privacy policy.
---