DECATUR — Music students sometimes let practice time take a back seat during summer vacation, when family activities and just plain being outdoors fill up their schedules.
"I still practice," said Pryce Rhodes, a junior at Lutheran School Association High School who plays trombone. "Just not as much."
That's one reason Pryce, who intended to play trumpet but "fell in love" with the trombone in fifth grade, signed up for band camp with the new music teacher, Evan Bosaw.
"I wanted to meet the new teacher and see what he's like and how he's going to lead us this year," Pryce said.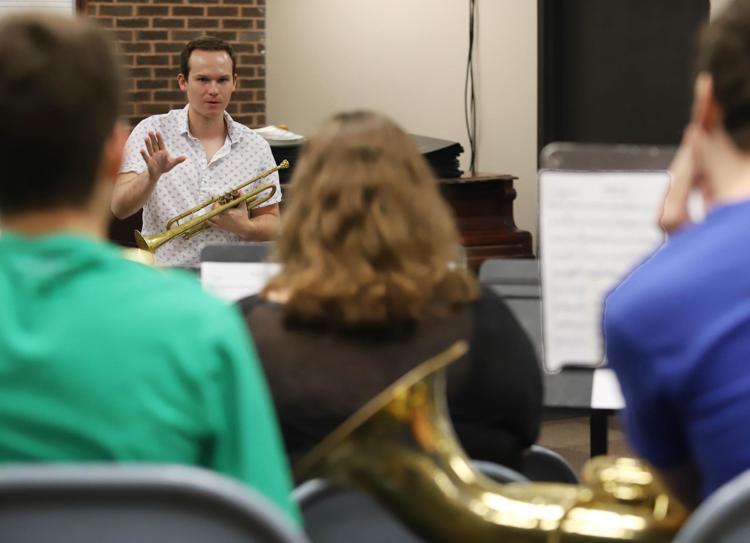 Bosaw, who is from Troy, is a graduate of McKendree University in Lebanon. He was teaching all the music in kindergarten through 12th grade at his old school, which he said was "a little overwhelming," and when he heard about the band teacher opening at LSA, it sounded perfect.
"I wanted a position where I could focus a little bit more on band," Bosaw said. "This gave me an opportunity to focus more on what my passion is, which is band and older choirs. I'd love to get the students playing a lot more music, more variety, and I'd love to start growing the program.
"I'd love to see higher enrollment in fifth- and sixth-grade bands, higher enrollment and a higher retention rate throughout the program."
Band is a graded course at LSA, and so are all the music ensembles.
When 13 older adults took piano lessons, their attention, memory and problem-solving abilities improved, along with their moods and quality of life, the research showed. For children, music can increase reading and math skills, improve creativity and memory and build stronger brain cell connections.
The band camp isn't mandatory, but a chance for students to knock off the rust of summer before classes begin and review basic fundamentals.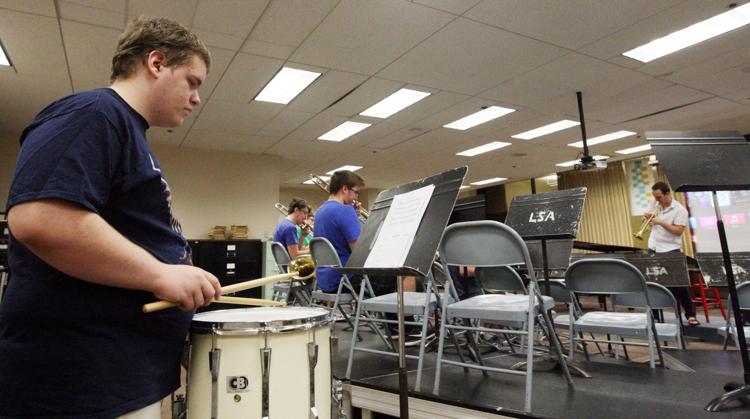 During one session, Bosaw led the students through repetitive exercises that required them to think about timing and breath, emphasizing blend and balance, steady air flow and embrouchure (the way a musician holds their lips when playing a wind instrument).
"Constantly sing concert F in your head," Bosaw said. "It's an ear-training exercise. When you lose the tonal center in your head, you lose pitch."
"Concert" F or any other note is that note on the piano, and not all instruments sound a piano's F note when the F is played on the instrument. Band students have to learn how to transpose if they're playing an instrument such as clarinet, trumpet or saxophone. This is so they play the correct corresponding note on their instrument to sound the same as the "concert" pitch the conductor calls for. It's necessary for tuning all the instruments together.
Alexa Dillow, who plays trumpet in the band, also began playing in fifth grade. She'll be a sophomore at LSA High School this fall.
"I've always been a music person. It's always been in my life," she said. "I do a lot of musical theater, too, but trumpet seems to be my calling, I guess."
Going back over the basics is good practice, Alexa said, and reminds them to think about what they're doing and to not get sloppy. On Monday, for example, they did a lot of breathing exercises, which they applied while practicing on Tuesday.
"We're becoming better at our instruments," she said. "It's like an athlete who goes and works out at a gym. It's getting ready to play and learn."
---