DECATUR — The kids in the after-school 4H program at Durfee Magnet School had an engineering task to complete.
They had to take a plain sheet of paper, two books and a handful of paper clips and make a bridge. Once they were done, Harvest Hero teacher Anne Preston went around the room and piled pennies on their bridges until the structures gave way. The winners were Gemarian Green, 10, and Amiyah Watts, 9, whose bridge supported 23 pennies.
"We folded the paper," Gemarian said, and Amiyah added, "We put this paper clip in the middle to make it stronger."
The University of Illinois' Dean of Agriculture, Conservation and Environmental Sciences, Kim Kidwell, visited the Macon County Extension on Monday for a luncheon and one of her stops was at Durfee to observe the program there. Since taking over as dean at the university, she told attendees at a luncheon at Richland Community College, she has made it a priority to promote 4H and University of Illinois Extension, an outreach effort by the university to offer educational programs to residents of all of the state's 102 counties.
The programs cover five broad areas: energy and environmental stewardship; food safety and security; economic development and workforce preparedness; family health, financial security, and wellness and youth development.
"I'm a little stunned by the state of Extension, and how little people seem to understand how important Extension is," Kidwell said. "It's like this is a weird secret."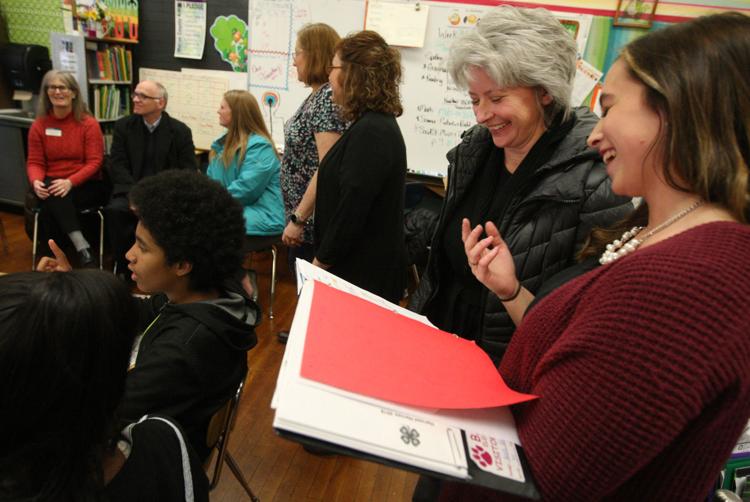 Extension, which manages 4H, has lost more than half of its funding over the last 10 years, she said. Federal funding has remained flat, while state funding has decreased and in Illinois, the Extensions haven't been paid for more than two years.
Counties have stepped up to try to fill the gap in many cases, but she intends to work on getting that state funding released and has contacted state Sen. Chapin Rose for help. 
She has formed at task force on campus at the U of I to address some of the ways to improve awareness and the image of the Extension.
Illinois has 59 Extension districts and each one has its own office, including Chicago. What each office does depends on the district and its needs, and in Chicago, for example, 4H is about robotics and STEM (science, technology, engineering and math) activities. One of the things on Kidwell's list is improving communication about and among those Extension offices.
Another is improving the website, which she said is "terrible." The site hasn't been upgraded recently and is difficult to navigate. And the third thing she suggested to the folks at the luncheon, who were largely connected to Extension and 4H, is to share their stories with others and to offer suggestions to the U of I.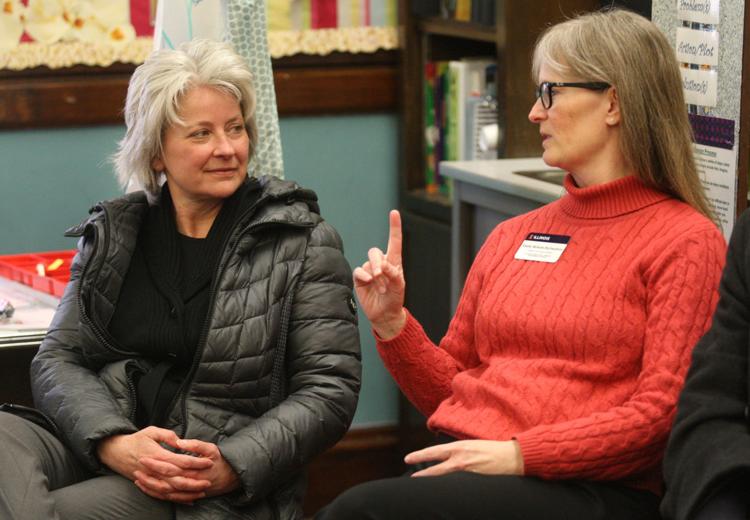 "Be loud and proud," she said. "Don't be shy about telling us what's working and what isn't."
"They do crazy things (in college) like fall in love with people from other states," she quipped, making her audience laugh. "Then your grandchildren are in another state and because grandchildren are such a draw, we lose you, too."
That's why telling young people "the Illinois story," is also important, she said. Of University of Illinois freshmen, she said, 97 percent stay at the university for their entire education and 75 percent of them graduate in four years. It is one of four universities offering an agriculture degree, along with Western Illinois University, Southern Illinois University and Illinois State University.
Ag jobs are not just farming, and students considering careers often don't realize that, she said.
"Why should they stay in Illinois?" she said. "We have to stand together and tell the Illinois story."