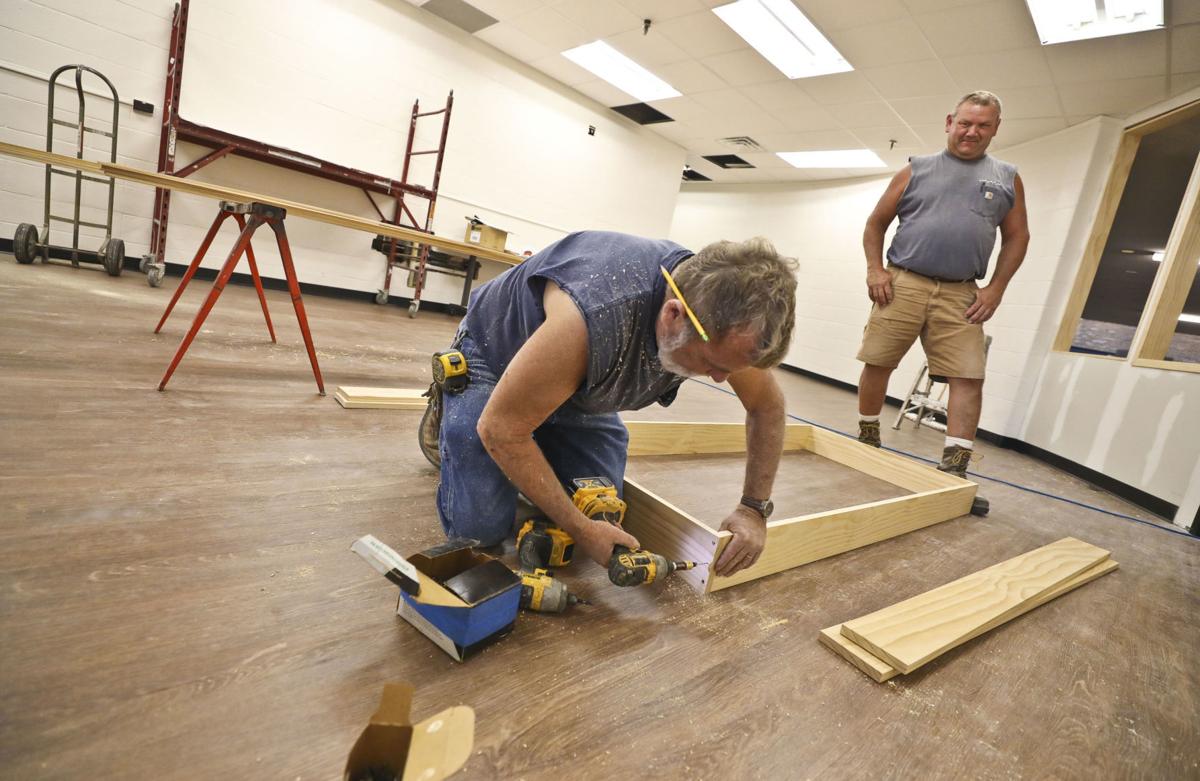 DECATUR — Feelings ran high Wednesday at a Parent Town Hall at Stephen Decatur Middle School organized to address ongoing concerns. 
As parents entered for the meeting, a table awaited them with forms to fill out with their questions, which district personnel separated into categories for the meeting. Principal Matt Fraas began the meeting with a PowerPoint presentation listing the statistics of behavior issues at the school since the start of classes on Aug. 14.
As part of the district's BOLD facilities plan, Thomas Jefferson and Stephen Decatur middle schools merged at the beginning of the school year. The Thomas Jefferson building is being remodeled to accommodate both the Garfield and Enterprise Montessori programs beginning in August 2020. 
Parents have voiced concerns about fights at the school, overcrowding, a lack of schedules, staff vacancies, and an inability to contact the school due to problems with phones. One of the most-often raised concerns is disputes and confrontations between students.
With 850 students, there have been 55 referrals for fighting, for example, and Fraas said several of those were the same students in multiple confrontations.
"We're working with student services to provide support for students in multiple issues," he said.
The Decatur school board meeting is being streamed live by the district starting at 6:30 p.m. on Tuesday.
Some of the changes that are underway, Fraas said, include scheduling core classes within academies, so that students are not moving through the corridors in large groups. During lunch, arrival and dismissal are the times when the problems are occurring, when large numbers of students are moving in the same areas.
"We're targeting areas where we need to make changes," he said.
In the 28 days of school so far, he said, there have been 17 days when fights occurred.
DECATUR — The year that Chris Barnett began working in Decatur public schools, NASA astronauts landed on the moon for the first time. The Roll…
"It's too many days," he said. "These are 12- and 13-year-old brains whose problem-solving skills are not developed. One thing we've seen is multiple fights in a day. Part of that is a copycat mentality. Some of it is ego and seeking status, a crowd mentality of 'it's a show.'"
Staff is working on teaching students to do the hard thing because it's right, even if nobody else is doing it. When there's a fight, for example, rather than join the crowd and egg on the combatants, walk away and do what you should be doing.
He acknowledged the rocky start to the school year, when difficulties with the software meant that schedules were not ready and some students were sitting idle because they had not been assigned to a class. That situation also created problems with student behavior, he said. In addition, not all classrooms were ready and there were a number of vacancies on the teaching staff, some of which have since been filled. Some of those have been filled with substitutes.
DECATUR — The Decatur school district on Wednesday posted its latest offer to the union representing teaching assistants.
On Monday and Tuesday this week, the staff put students through practice, learning the right way to enter a classroom or move through halls to decrease problems, to speak respectfully to adults and to each other and to learn that polite and friendly behavior could defuse potential confrontations.
Other problems he talked about include phones that weren't working properly, with only one line in the building that could accept calls at first. That's largely been corrected and, he said, will be completely fixed in the next two weeks.
After Fraas had addressed the written questions, he opened the floor for additional remarks and several parents called out their specific concerns, with many speaking at once, often with anger.
Parent Gwen Roundtree said her biggest concern is the school's responsibility for her child, who is 13.
"When my child is at this school, you are responsible for her," Roundtree said. "I'm not ashamed to say it, my child was able to get high in the bathroom. Drugs are in this school."
Parent Pearl Baker, who brought her seventh grade daughter, Katrina Hall, said reports that police had been called to the school numerous times made her want to hear what the district had to say about all that.
"That's alarming," she said. "What we hear from school district officials is that the numbers are the same when (Thomas Jefferson) and Stephen Decatur were separate, and that's kind of alarming also. It's kind of to see what they have to say and how they plan on fixing it and what they think is going wrong."
Katrina has yet to be assigned a locker, and students are not allowed to carry their bags with them due to concerns over weapons, she said, so they have to leave them in a classroom and she worries that someone will steal her belongings.
On Wednesday, men from the D-100 group also attended the meeting at Stephen Decatur. The group seeks to gather members of various entities in the city who want to solve community problems, especially violence.
"We want to get all the different active groups in Decatur to come together with one accord," said Elder Thomas Rhone, a member. "We don't care who's the head of thing. We just want to be sure there's a sound representation of people who want their neighborhoods to be safe."
---
Remember this? 21 photos of Decatur high school activities through the years
Contact Valerie Wells at (217) 421-7982. Follow her on Twitter: @modgirlreporter
Be the first to know
Get local news delivered to your inbox!