DECATUR —  A $1.5 million state grant could connect as many as 225 employees to vacant or new jobs in the Decatur area. It is hoped the additional funding will solve an ongoing issue with workforce training in the area. 
"You have very complicated, open jobs today that require a very specific skill set, and you have prospective employers that need help getting from point A to point B, which is going from unemployment to employment," said state Sen. Andy Manar, D-Bunker Hill, at the funding announcement Monday at Richland Community College. "This grant from the state to Richland is intended to connect those two dots. So that came to us from employers and unemployed individuals, and that's why we went to bat for it."
The funding is from the Illinois Department of Commerce and Economic Opportunity and was included in the most recent state budget. The extra dollars will help grow existing training programs in the community, said Ryan McCrady, president of the Economic Development Corp. of Decatur and Macon County.
"It's nice. We have the framework of successful programs already, (and) this $1.5 million shot in the arm helps them grow even bigger to be more successful," he said.
The money will allow Richland's newest initiative, the EnRich program, to fast-track technical training to grow the area's workforce and add to the skills of those who are already a part of it, the college said. Richland is partnering with the Economic Development Corp., Workforce Investment Solutions, the Greater Decatur Chamber of Commerce, the Illinois Manufacturing Association, skilled trades organizations and local businesses on the initiative, college President Cris Valdez said.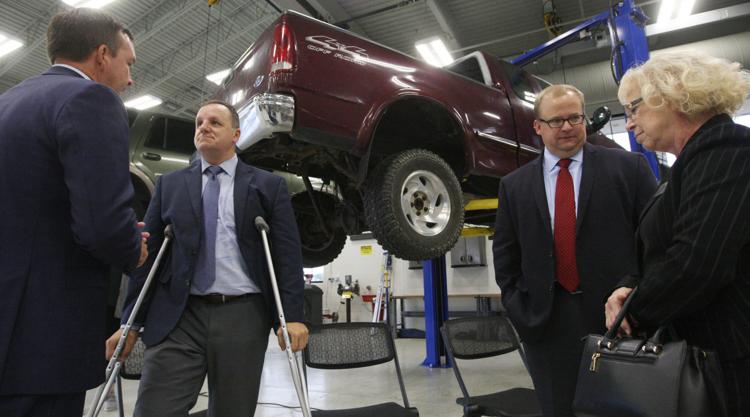 The grant allows the local groups to be flexible in what type of training to offer, Valdez  said. He said they can talk to local employers, such as Caterpillar Inc., Decatur Memorial Hospital or HSHS St. Mary's Hospital, to see what sort of employees they are looking for and mold the training to fit their needs.
"We're hoping to train 225 new employees, whether that is incumbent workers, for instance those at Caterpillar who will train up to become a machinist," he said, adding "or if it is young people who may have disadvantages to becoming employed to help them become employed."
Richland recently designed a three-year computer numerical control associate's degree program for local manufacturing employers. The training format was designed specifically for Caterpillar to offer its employees, the college said.
It might seem contradictory, but an increase in the unemployment rate can be good news to economic development officials. When coupled with job growth, it suggests more people are seeking work.
The transition was part of a plan in which Decatur would begin producing large wheel loaders and compactors.  The company has said more than 1,000 jobs have been added to the Decatur plant's workforce as a result of the transition and industry growth.
Some of the training that the grant will fund exists now, though Valdez said he hopes it can begin "in earnest" by early October.
Manar and state Rep. Sue Scherer, D-Decatur, said that conversations with local employers had a very similar theme: that the jobs are there but it's tough to find qualified employees. On the flip side, people want to get employed but need help getting the skills necessary. Those skills cover both the technical side, as well as the "soft skills" such as preparing a resume.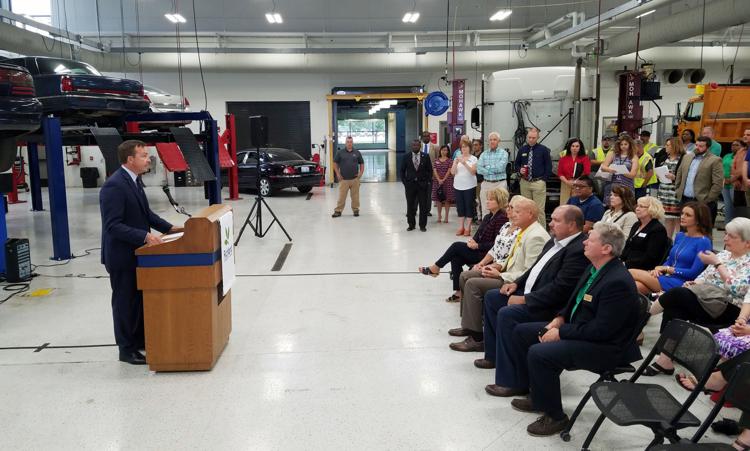 Officials have said recent trends have been positive for the Decatur area, and Scherer said she hoped things like the grant will only make it better.
"It's things like this that can move us to a better future," she said. "This will help us in the future get to where we need to be."
Workforce training emerged as one of the key values in community-wide discussions about the city's upcoming neighborhood revitalization efforts, said Interim City Manager Billy Tyus said. 
The city last fall began a series of public meetings designed to gather feedback and shape goals for the initiative. In addition to goals such as demolishing dilapidated properties and dealing with vacant lots, there was also a desire to support the development of both concrete and "soft skills" that can help people get and keep jobs, Tyus said. 
"We have a community of workers who do fantastic work," he said Monday evening. "But we also know there are areas where we need funding to assist in training, and in some cases, retraining, for some of the new opportunities that are coming."
The unemployment rate for the Decatur region was 5.7 percent in June, the most recent period for which Illinois Department of Employment Security data is available. The rate was 4.2 percent nationally.
Monday's news comes in the wake of an announcement last month that Convey Health Solutions Inc. would close its Decatur call center, resulting in the loss of 150 jobs. Days later, Kroger said it would close its store in Fairview Plaza, 1401 W. King St., affecting 95 employees, although the company said it would attempt to place them at its other stores.
Manar said he wanted as little state bureaucracy as possible attached to the grant, to allow local officials to best identify how to assist local employees and employers in the job market.
He added he hopes this goes well enough to where the grant can become an annual appropriation to benefit the Decatur area.
"I think it could serve, eventually, as a model for the rest of the state as for how to invest money right now to fill vacant positions that are not only in Decatur, but across the state," Manar said.
Those interested in the training should contact Richland's Continuing and Professional Education Division at (217) 875-7211, ext. 6240.
Tom Lisi of the Herald & Review contributed to this story.