WARRENSBURG – When you're in elementary school and you don't have a car or a job or any money, buying presents for your family can be a real challenge.
"This is Santa's Secret Shop and it's been a tradition here for 20-plus years," said Kevin Kondritz, president of the PTA. "It's a little shop we set up, and we have the kids come down and we have parent volunteers who help them. We send an envelope home and (the parents) send back money, and the kids get to shop on their own with a parent volunteer."
The envelopes include lines where a parent can fill in siblings' and grandparents' names, and the amount the child can spend on each one, and the shop is organized into categories for siblings, mom and dad and even a section for pets. At least two children bought presents for lizards, and there are presents to buy for dogs and cats and other non-human family members. Kids really enjoy buying presents for them, Kondritz said.
For the younger kids, the parent volunteers help with budgeting so the child doesn't buy more than they can afford, but older students sometimes bring a calculator and make a math activity out of Christmas present shopping.
The items are ordered from Fun Services, said Mendi Kondritz, Kevin Kondritz's wife, and the company has worked with the school so long that no money is required up front. They ship items to the school, and the PTA members scan them through a tablet which keeps track of inventory. The company sends an invoice after the Santa shop closes for the year, and the PTA pays for what was sold, and sends back what wasn't. If they run out of something during the weeklong event, the company can usually get them more delivered the next day.
Some items, like the pet presents, are donated by families, and the shop keeps track of those sales separately.
"It lets them exercise a little independence and they get to learn a little bit about money and a budget and staying on task with a budget," Kevin Kondritz said. "They also get to pick out presents and spread some of their own Christmas cheer."
The room at the school used for the shop is usually a conference room, which the PTA turns into Winter Wonderland, with decorations and a lit-up plastic Santa and snowman, piped-in Christmas music and volunteers wearing Santa hats and festive sweaters. There's even a wrapping station, with child-friendly wrapping bags to make things go smoothly, and shopping bags so the kids can take their treasures home without giving away any surprises.
In the event that a child's own parent happens to be on duty as a helper when the child comes in to shop, that parent is ushered into the hallway while someone else helps the child.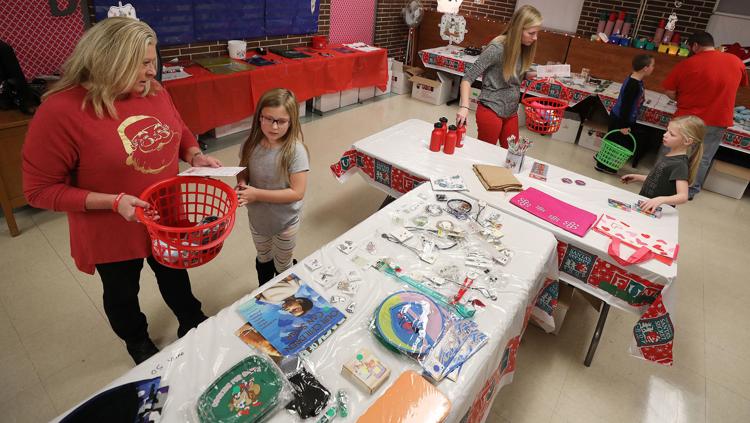 "It's been a tradition here," Mendi Kondritz said. "The principal (Laura Anderson) actually went to school here and she remembers it."