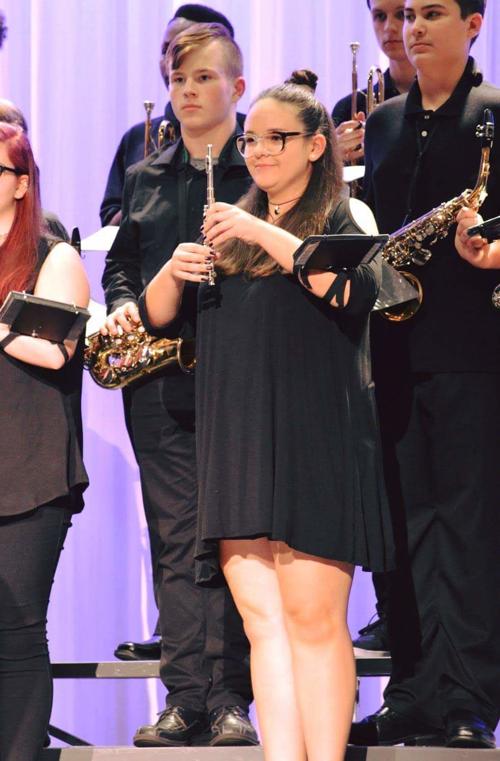 DECATUR — A wide streak of creativity is always required in the fine arts, but when a pandemic prevents musicians from working together in person, it's even more critical.
Eisenhower High School musicians, led by their teacher, Jennifer Morrow, have been working with Maryland-based composer Brian Balmages to create their own compositions based on snippets created by Balmages. The students recorded themselves playing one of the snippets, and used recordings from other students and the iPad app Garage Band to create unique works of their own.
"The project is called A Little Matrix Music," said student Anna Warner. "The basic idea of the project was to create your own song using all of the rhythmic, motif, and melodic cells. We were instructed to practice and record the cells, predominantly of our choice, then upload to a shared Google drive folder, so that our peers could have access to them to make their song."
"This is certainly an unusual time, but these elements of virtual learning and dabbling in electronics will be crucial to music education in the years to come," said Millikin student Max DiPasquale. "Having experienced this when I'm just about ready to move into teaching, it's valuable that I've had this experience to work with the technological aspects."
"Our job was more so to guide and assist the students as opposed to directing them," said Millikin student Ethyan DeLaughter. "We would work together with our students to come up with ideas and assist the Sound Team in making their projects by explaining various musical concepts, answering questions they had, showing them and describing the compositions we made, and offering commentary to help refine their own compositions."
Professional musicians, also, are learning to use technology to create during the pandemic, Balmages said. He recently recorded tracks for a piece and sent it to another musician in California, who will record his guitar parts and send it back, all over the internet. That's become a common practice.
"It's becoming more and more normal for musicians to collaborate across the globe without stepping on an airplane, and this is making that technology available to students, too," Balmages said. "A lot of young players assume, 'I'm going to have to get my one big break,' not realizing this is opening a new world of performance opportunities, whether it's video game music, string tracks for a pop star's album, contributions to a movie trailer, whatever it might be. This has opened up a new set of skills for kids to collaborate and create something new."
Balmages' friend Alex Shapiro, who lives in Washington state, created a curriculum called Putting the E in Ensemble, specifically to allow students to continue to work on their skills when they can't play together in person. She wrote the whole curriculum in a weekend at the request of another friend, Tim Salzman, who is director of bands at the University of Washington.
"Everybody has seen a vast number of groups putting together virtual ensembles: stars on Broadway, elementary and middle school bands and orchestras, and it's certainly enjoyable to watch," Balmages said. "The issue I was having was, it looks great on screen, but these kids are not experiencing a collaborative environment working with each other. They record their part and they're not engaged with each other."
This project meant they had to work together, as the Eisenhower band was divided into small groups who consulted each other as they created their individual compositions.
"There wasn't necessarily a correct answer or a wrong answer, it was more of a way to let us think outside the box and have fun creating something unique to ourselves," said Eisenhower student Matthew Clayton.
"Virtual learning has proven to be challenging for performing ensembles across the world as it is nearly impossible to recreate live group rehearsals and performances online," said Morrow, the Eisenhower teacher. "I have heard from almost all of the band and orchestra students that they just want to be able to rehearse and play music together with their friends again. This project is my way of bringing music making and collaboration into the virtual environment."
Jazmyn Schnetzler said the project helped her understand why Morrow tells them it's so important for each member of the ensemble to do their part to make the whole piece work.
"It also helped me see that there are more ways to make music than just sitting all together and performing on stage," Jazmyn said. "You can do so many other things to make a piece of music come together. I don't think it was really challenging as it was just different and something new to us. This whole remote learning thing is definitely something new that has been weird to get used to. I thought this experience was amazing. We got the chance to talk to Mr. Balmages firsthand and really experience his goal of A Little Matrix Music. It was something different to keep us engaged in band in these weird and difficult times and I think it definitely made an impact on me."
---
Valerie Wells' 5 most memorable stories from 2020
Valerie Wells' 5 most memorable stories from 2020
In a year when we all lost so much, there are still some things I wanted to remember. These are stories that stand out for me. 
Contact Valerie Wells at (217) 421-7982. Follow her on Twitter: @modgirlreporter