DECATUR — Isabella Weybright wants to play the guitar someday.
The viola is a string instrument, too, she said, and will be a good place to start until she's a little older and ready to tackle the guitar.
Learning any instrument remotely is a challenge. Normally, the teacher would be there to adjust a student's fingers to the correct position, help with posture and pointing out subtle changes in body and hand position to make playing improve.
"It's a combination of two things," she said. "On my end, I'm adjusting my teaching to select words carefully, so there are no questions what the student needs to do with their hand, and be as clear as possible with my younger students."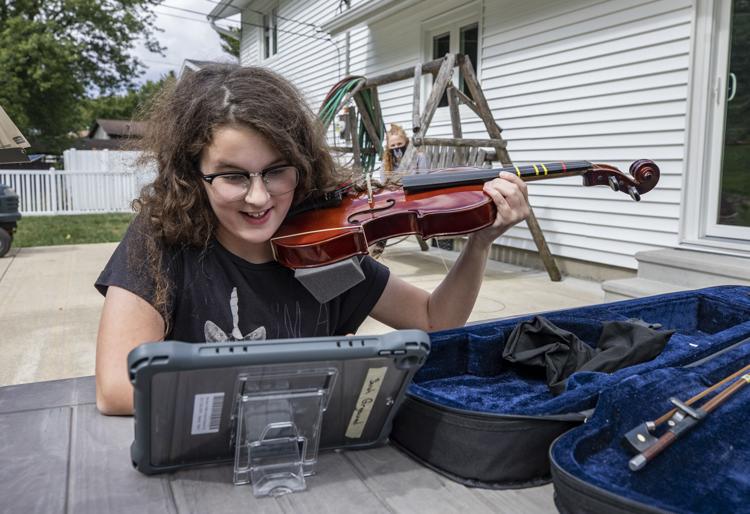 She teaches the Suzuki method, which is not focused on learning to read notes on a page at first, freeing the students to keep their eyes on her and copy her movements and instructions. The youngest students have an adult helper at home who attends the online lesson with them and can help the children. Lessons are twice a week in small groups for about 30 minutes each.
"The kids have been wonderful, the parents amazing, and the support unreal," Rodriguez said. "It's just wonderful to work with students in this context, and I'm pleased with their progress."
Sarah Greenwood, 9, has already tried composing her own music and it's only her first year learning to play an instrument. 
"I wrote this one song it was called 'Sleeping Dogs,'" Sarah said. "My dog gave me inspiration to write it because she likes sleeping on my bed." 
Sarah's 19-year-old sister, Gillian, has played the violin for some years, and is available to help when Sarah has questions. 
"We're not using the bow yet," Sarah said. "It's a good idea, because if you use the bow now, and you're not very good at it, you'll miss all the time to strum the instrument. It would kind of be a waste of time to do the bow now. I feel like I'm learning a lot, and have already started playing lots of songs."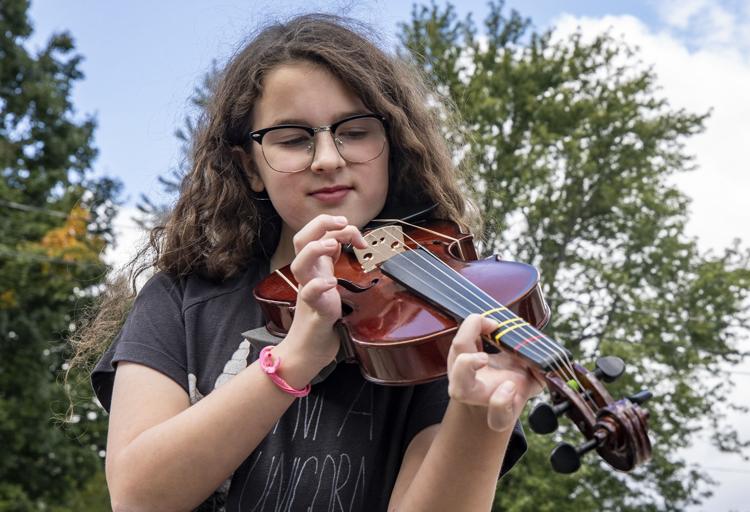 Jennifer Power's mother has a violin, but when her daughter, Katie, 9, wanted to join the orchestra class, that violin was too big for her. This is Katie's first year in the Montessori school. The family rented a violin the right size for Katie, and Rodriguez held a socially-distant in-person class to tune the kids' instruments, and give them some pointers on the tension they should have in the bow hair and how to adjust the shoulder rest. She also put tape on the violins' necks so the kids would know where to place their fingers, a common practice for beginning string players.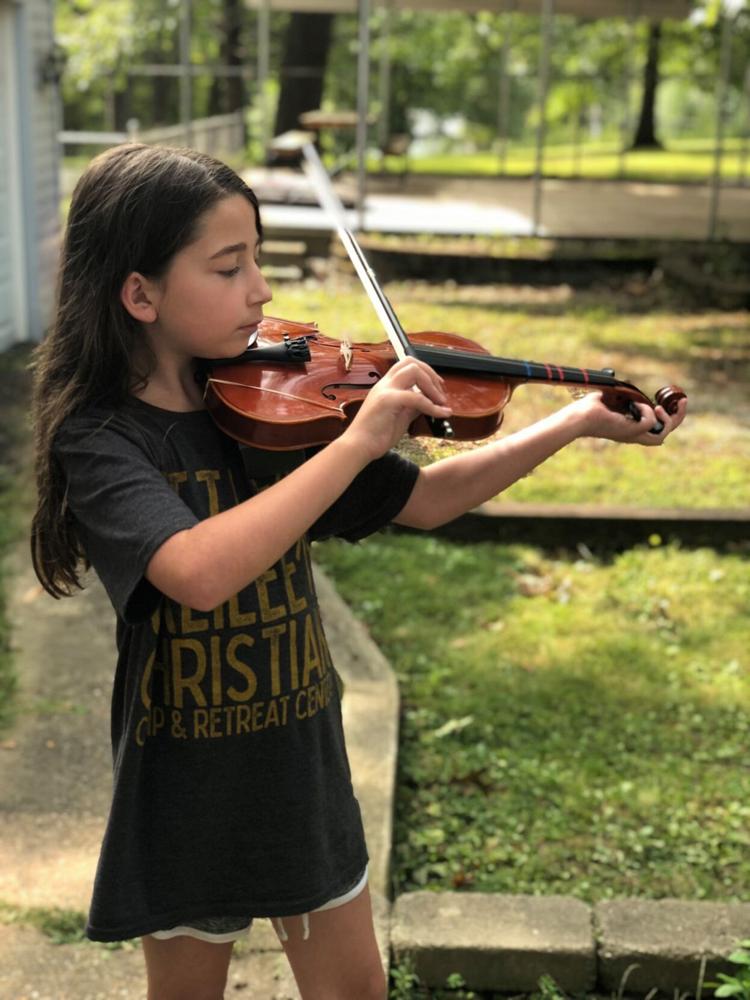 "She's enjoying it and it gives her an opportunity to learn something," Power said. "I'm sure in-person would be ideal, but given the circumstances, the instructor is competent and kind, and (Katie) is definitely learning. We're all learning to do things we didn't think we could do online."
Rodriguez has 80 students altogether, in all stages from the preschool class through eighth grade. Older students, who have been playing for a while, don't need the same specific assistance that the younger ones do.
Dwaine Goforth is glad he can learn no matter how he has to do it.
"I like it a lot," said the fourth-grader. "I decided to take orchestra because I thought it would be fun and it is fun."
Rodriguez is working on a plan to use videos of students playing individually and attach them together into one video to create a virtual performance.
"I'm just so thrilled that we're getting to do music right now," Rodriguez said. "Students are spending so much time connected virtually, learning via screen, that I think it's really nice to have something physical, tangible, to touch and manipulate. It's been great, and I'm so grateful to have the chance to work with them."
---
Illinois officials have released trick-or-treating guidelines. Here are the highlights.
---
Contact Valerie Wells at (217) 421-7982. Follow her on Twitter: @modgirlreporter
Be the first to know
Get local news delivered to your inbox!