DECATUR — Keeping the Sangamon River clean is an important part of the Macon County Conservation District's role, and each year on the Festival of Spring, volunteers fan out to pick up whatever trash they find, both large and small.
"One year, we found a motorcycle," said volunteer Marge Evans, who has been attending the event since it began in 1993. "Lots of tires are thrown in the river. All sorts of things. People think they don't want something, so they just throw it away, throw it out the window."
The problem with that, Evans said, is that junk and trash are harmful to the fish and mammals whose home is the river.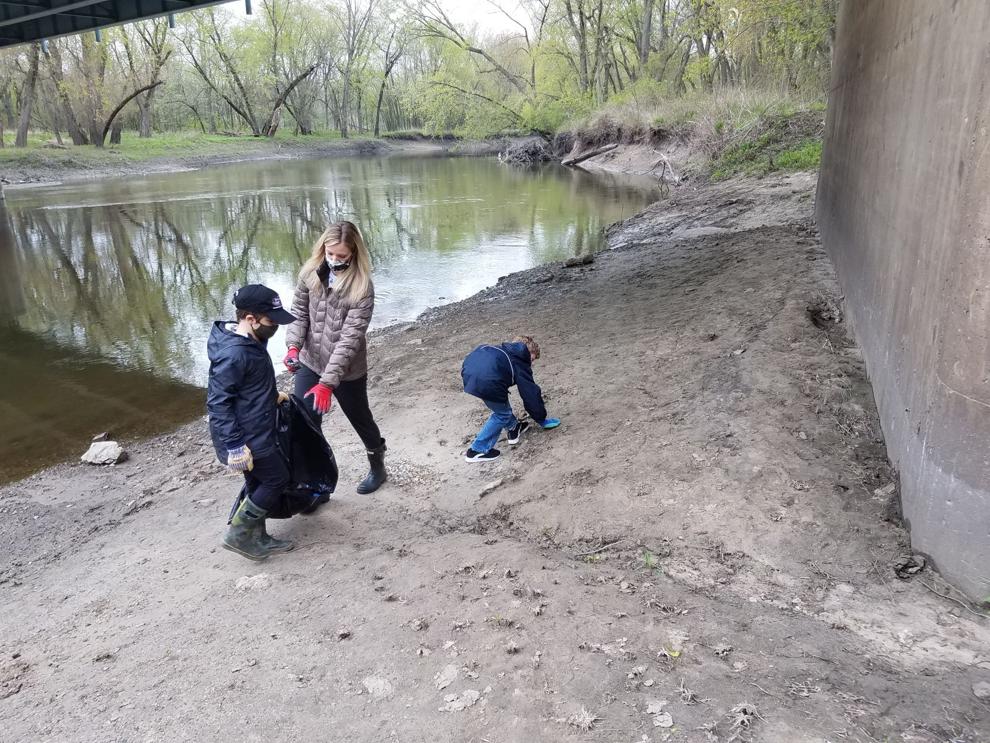 This year's event was held Saturday, and due to COVID-19 restrictions, a maximum of 40 volunteers, who had to wear masks, met at the canoe launch site on the far west side of Rock Springs Center to work on that section of the river. Normally, Evans said, volunteers gather at Rock Springs and are transported by bus to various sites along the river to clean up as large an area as possible.
Trucks come to collect the bags and junk when the volunteers complete their work, and dispose of it properly.
The maximum of 40 volunteers did turn up this year, many of them members and friends of Forsyth Cub Scout Troop 147.
Service is a significant aspect of scouting, and the Cub Scouts, in kindergarten through fifth grade, have to perform service projects to progress in rank. That's also true of Boy Scouts, and Lucas Jable, a Boy Scout of Tenderfoot rank, was there with his father, Jeff, who is the leader of the Cub Scout troop, in an effort to rise to the rank of Second Class.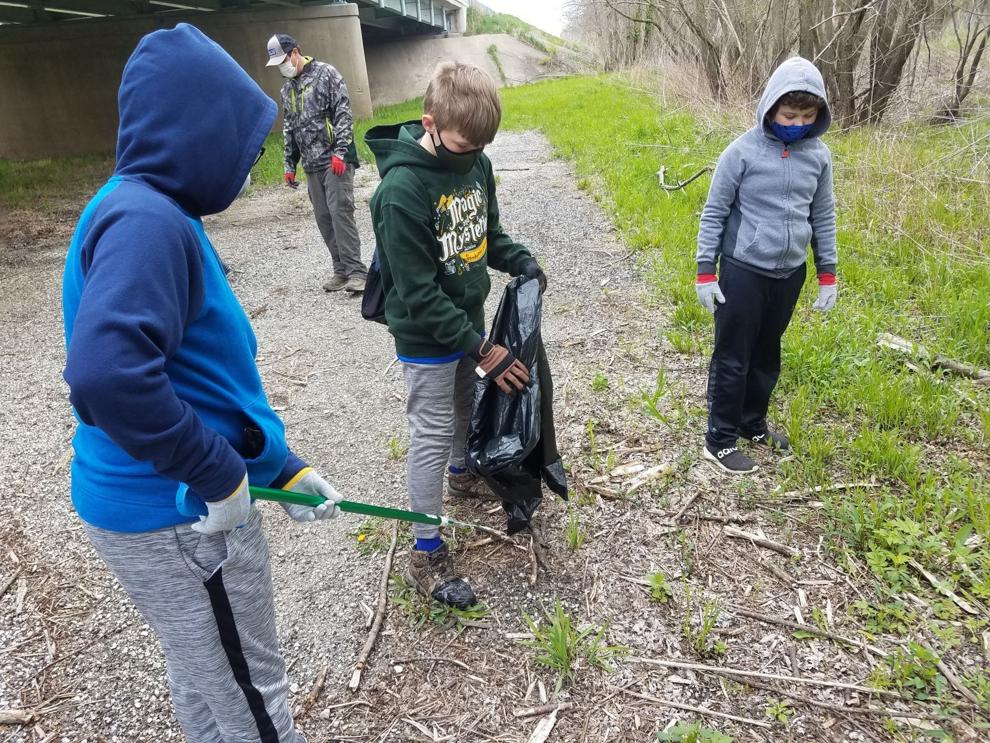 About 15 Cub Scouts, accompanied by parents and siblings, signed up for the event.
"Part of being a Cub Scout is giving service back to your community," said Jeff Jable. "This is a good opportunity for our scouts to get out and help keep our community clean and help pick up the trash that is strewn about."
Volunteers were told to dress "to get dirty" and to bring gloves, so when two little girls found "about a million" dead fish in the flood plain, according to Sadie Meek, whose brother is a member of the troop, they could scoop them up into their trash bag without having to touch them.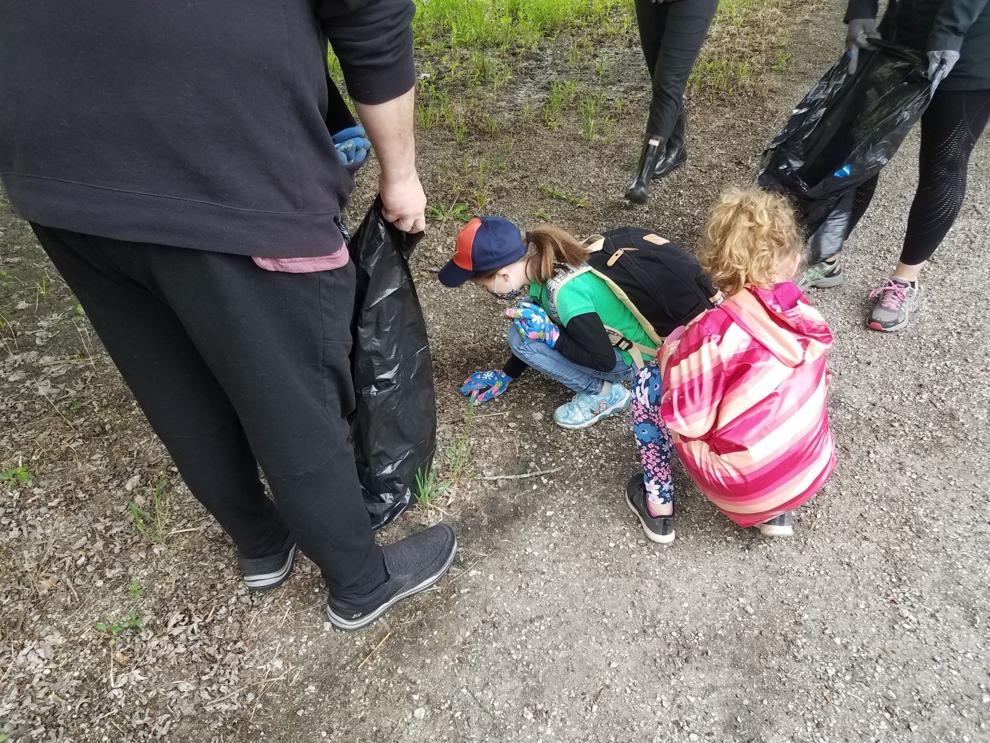 "We need to pick up trash so that we don't lose our oxygen," Sadie said.
In their roaming through the wooded area next to the river looking for trash, the girls also stumbled upon a tree that was obviously some creature's home. They didn't see the animal, but they heard its angry and frightened sounds coming from inside the tree and saw the freshly shredded bark at the roots, where the animal had chewed itself an entrance.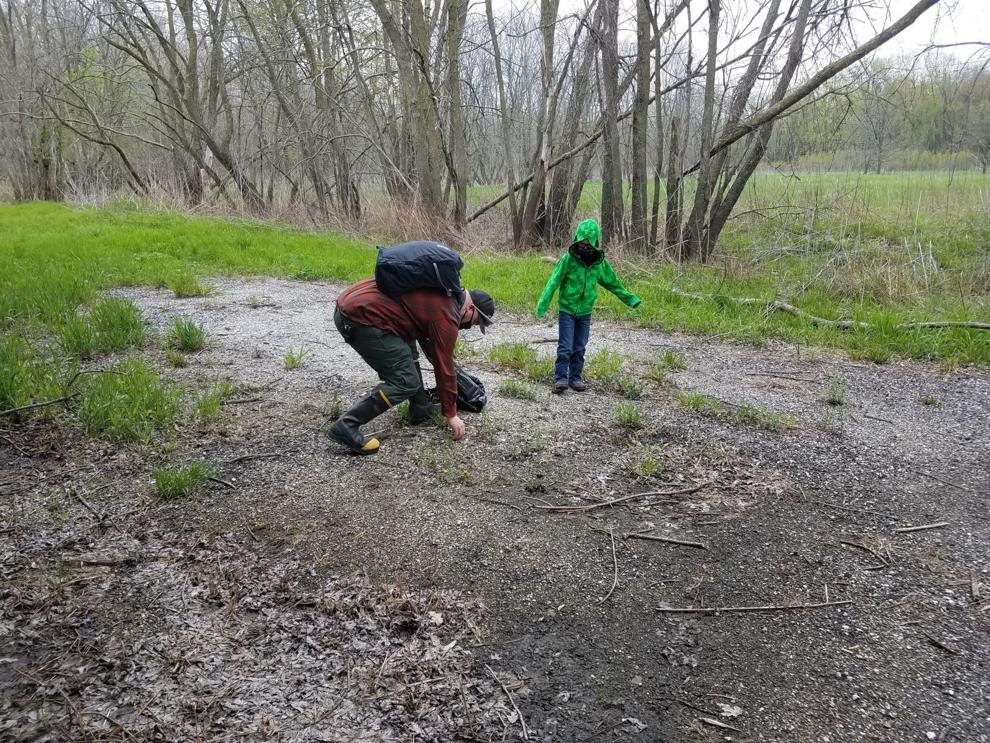 "We don't want to hurt other animals, because animals are helpful," said Addison Schutter, who is a member of the troop.
After realizing they were trespassing, the girls and their moms moved away.
"We're hoping to make it a cleaner, more beautiful place," Evans said.
---
Contact Valerie Wells at (217) 421-7982. Follow her on Twitter: @modgirlreporter