DECATUR — Kabedi Mulomede and Kaream Williams have several things in common.
Mulomede's father was born in the Democratic Republic of the Congo. Williams' parents were born in Jamaica. Both work for Decatur Public Schools: Mulomede is a secretary at the Montessori Academy for Peace; Williams teaches band and orchestra at Dennis School.
They also have differences. Mulomede is biracial. Her mother is white. Williams is a first-generation American whose parents and older siblings immigrated from Jamaica before he was born.
They're moderating a new middle school book club through the Decatur Public Library focused on conversations about race. The first book, "Harbor Me," by Jacqueline Woodson, was the topic on Wednesday, with the children attending via video conference.
"We found a book that kind of covers people who are the same age as people reading it, but we're hoping that can kind of open up a conversation, so instead of being scared about having these conversations, you can be more comfortable about talking about these things without being worried that you're going to be judged or anything like that," Mulomede said.
Mulomede said she's "super duper vocal" about civil rights and social justice. She's been a regular patron of the library since she was a small child and is an avid reader.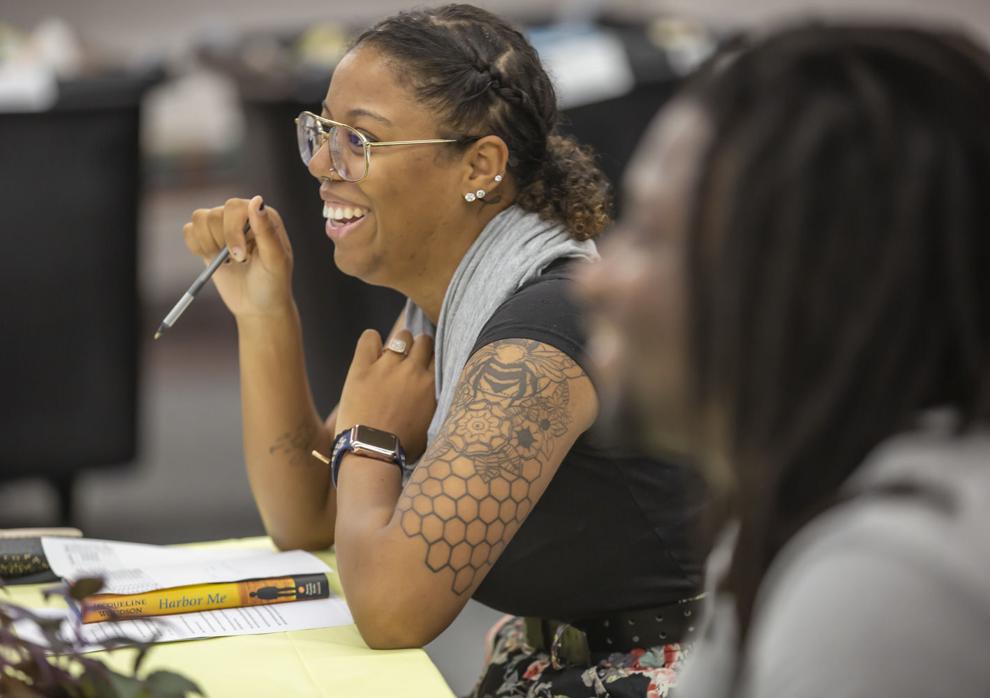 "I think people forget that yes, it's hard to talk about hard things with children, but those conversations are super duper important, still," she said. "Those conversations are important and I think that implementing a conversation about a book that we can all sort of relate to, identify with, because in this book there are a lot of characters that kids can say, 'I know someone like this' or 'I went through this myself,' and they can see they're not alone in their struggles or their experiences."
Susan Bishop, a library assistant in the children's department, said word was sent out to teachers in June to alert their students to the formation of the middle school book club, and she didn't know what to expect for a response. At that point, the library was still closed to the public. She was pleasantly surprised that 10 children signed up for Wednesday's discussion and is hopeful that even more will sign up for the next one in September.
The book for that discussion has not been chosen yet, though she has a couple of candidates. Mulomede and Williams will again host the discussion and if enough kids sign up, they might schedule more than one discussion to ensure that all the kids who want to talk will be able to. Registration will be available through the library's Facebook page and website.
Now that the library is open again, Bishop said, posters and fliers on the walls might get the word out as well as social media.
Woodson also wrote "Brown Girl Dreaming," and isn't afraid to tackle difficult topics, Mulomede said.
"I believe they chose me to be here because, being African-American, a lot of the students are also African-American and Latino," Williams said. He grew up in Waukegan, which has a large Latino population. "This book reminded me a lot of things I have encountered with my friends."
The forum comes amid a national conversation about race following the death of George Floyd in Minneapolis. 
The key to having these difficult conversations, Mulomede said, is to ask questions. If you're already friends, that should help.
"If you're asking questions, you're not making assumptions," she said. For example, if your friend says she feels uncomfortable in a situation, don't dismiss that feeling. Accept and ask how you can help and find out why your friend is uncomfortable. Asking "why do you feel this way?" and "what can I do?"
Another thing to remember, Williams added, is to listen and actually hear what the other person is saying.
"Share your experiences," he said. "If someone's upset, and they start to share their experiences, listen and empathize. Once you hear someone's experiences, you get another perspective on life."
Though the kids were a bit reluctant to talk at first, they soon opened up with the encouragement of Mulomede and Williams. 
"I learned the importance of listening to others and hearing their stories," said Allie Allgeier. "I realized the privilege we (white people) have. It's definitely with us, as much as we don't want it to be, unfortunately." 
---
12 photos from the Decatur area in the 1940s-1960s
Contact Valerie Wells at (217) 421-7982. Follow her on Twitter: @modgirlreporter