DECATUR — Over the last several days, Lutheran School Association elementary Principal Joel Witt and the Rev. Bill Grueninger of St. Paul's Lutheran Church have been in a social media competition.
First Grueninger posted a "campaign ad" video urging LSA students and families to vote for Witt to kiss a farm animal as part of a fundraiser at the school. "I'm Bill Grueninger and I approved the message," he wrote.
Witt countered with one of his own, urging people to donate to Grueninger's jar instead.
"I'm Bill Grueninger and I did not approve this message," the pastor replied on Facebook.
The high school students, helped by donations from the younger students, raise money annually for Share the Gift. Student government members use the money to shop for Christmas presents for kids in foster care through Lutheran Child and Family Services, and normally most of the money is raised through non-uniform days, when kids donate to wear casual clothes to school.
However, this year, families have enough to deal with due to COVID-19 and the restrictions, such as masks, that the students and staff are already under.
"Every day is dress down day this year," said Morgan Wayne, a high school senior.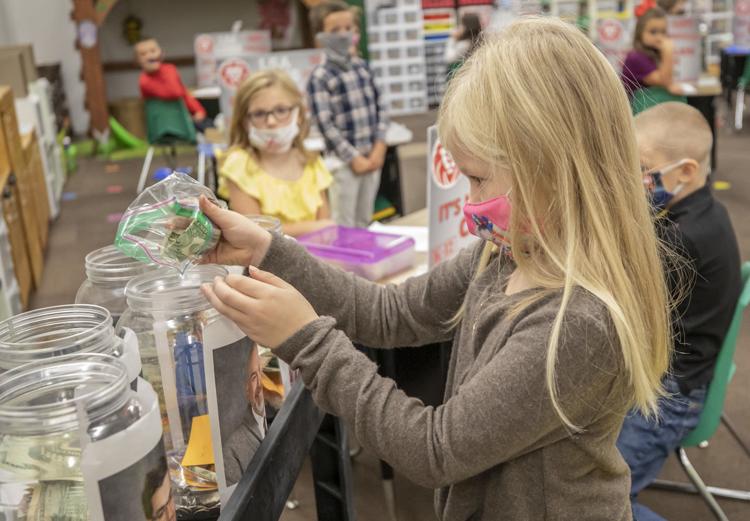 While some rules are still in place, such as no ripped jeans, students are wearing regular clothes to school and the hope is that will help them feel more comfortable in spite of the masks, said middle and high school Principal Allison Nolen.
"We're kind of manning the masks, so we can't really man everything else," Nolen said. "We're manning the masks this year and social distancing as opposed to the dress code."
As a result, the school community had to come up with another way to raise the money toward the $2,000 goal and Kiss a Farm Animal was born. Beginning with 12 staff members, including two of the Association pastors, jars were set out with the adults' photos attached and every morning, students can vote for their favorite by dropping money into the jar. As the contest has gone on, staff members raising the least money are taken out of contention, with the top three as of Oct. 15 remaining: Al Bardeleben, fifth and sixth grade teacher, with $688.67; Amy Yusko, seventh and eighth grade history teacher, with 520.75; and Grueninger and Witt tied for third, with $324.21 each.  With $2,266.05 raised so far, they've already exceeded their goal.
The contest will continue until Oct. 28, when a winner will be declared, but the animal to kiss will remain a mystery until Oct. 29, when the winner has to kiss that critter at an all-school assembly outdoors.
On Thursday, third-grader Ava Puckett brought a plastic sandwich bag of change to school for her donation and dropped a little into each jar, spreading the love around.
Morgan, the high school senior, is charged with the task of guarding the jars in the high school wing in the morning as arriving students drop in their donations, then rolling them on a cart to the classrooms of the younger grades for their donations. She could see that Bardeleben was way out in front, she said, indicating the jar with a twenty and a ten, among other donations, readily apparent.
"It's been pretty fun," Nolen said. "The kids are getting into it, the parents are getting into it, the church members are getting into it."
---
The Illinois graduated tax amendment explained
Contact Valerie Wells at (217) 421-7982. Follow her on Twitter: @modgirlreporter
Be the first to know
Get local news delivered to your inbox!