DECATUR — Millikin University's basketball team is really looking forward to playing some actual games, and new saliva-based COVID-19 testing which started at the university on Monday will help make that possible.
"We've been practicing since October and haven't played any games," said Calvin Fisher, a junior from Monticello. He was the first Millikin student in line for the new test.
The tests will be available 8 a.m. to noon daily in Dolson Hall, said Raphaella Prange, vice president of student affairs and student development. It's a polymerase chain reaction (PCR) test in partnership with SHIELD Illinois.
The test, developed at the University of Illinois, is awaiting U.S. Food and Drug Administration approval and the cost is significantly lower than other COVID-19 tests. It can also be administered by those without extensive medical training.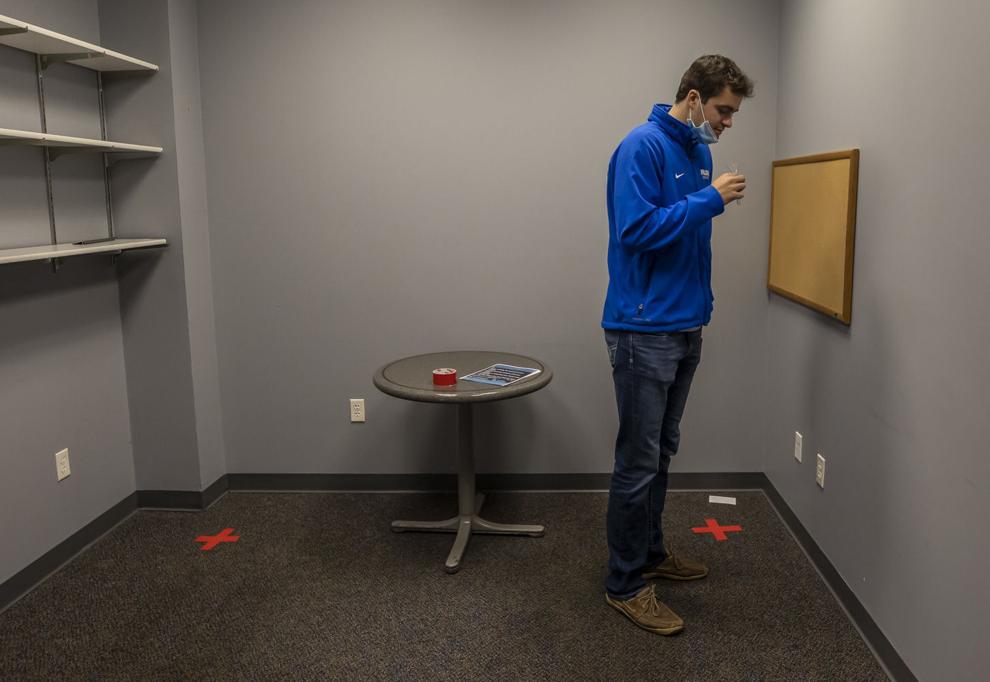 "Most saliva tests on the market are antigen-based tests, which are not as reliable," Prange said. "The difference with the saliva test is, it's much less invasive, which is less scary for folks and the results are available in between six and 12 hours, which is a fast turnaround. We have our own clinic on campus, as opposed to students going out into the community, and we can also make sure that students can participate in things like athletics, performing those tests to make sure that students are negative before participating in those experiences together."
PCR tests are considered the "gold standard" in COVID-19 testing, more likely to detect the virus and less likely to give a false positive reading. Students and staff will spit into a test tube, making the test less invasive — and less intimidating — than the typical nasal swab test, and HSHS St. Mary's Hospital will test the samples for the university.
Those getting the tests are instructed to refrain from eating, drinking (including water), brushing their teeth or using tobacco for at least an hour prior to the test.
This first week, Prange said, athletes and a few other students already on campus will be tested, with the rest of the students arriving next week to begin the spring term, and testing will ramp up then.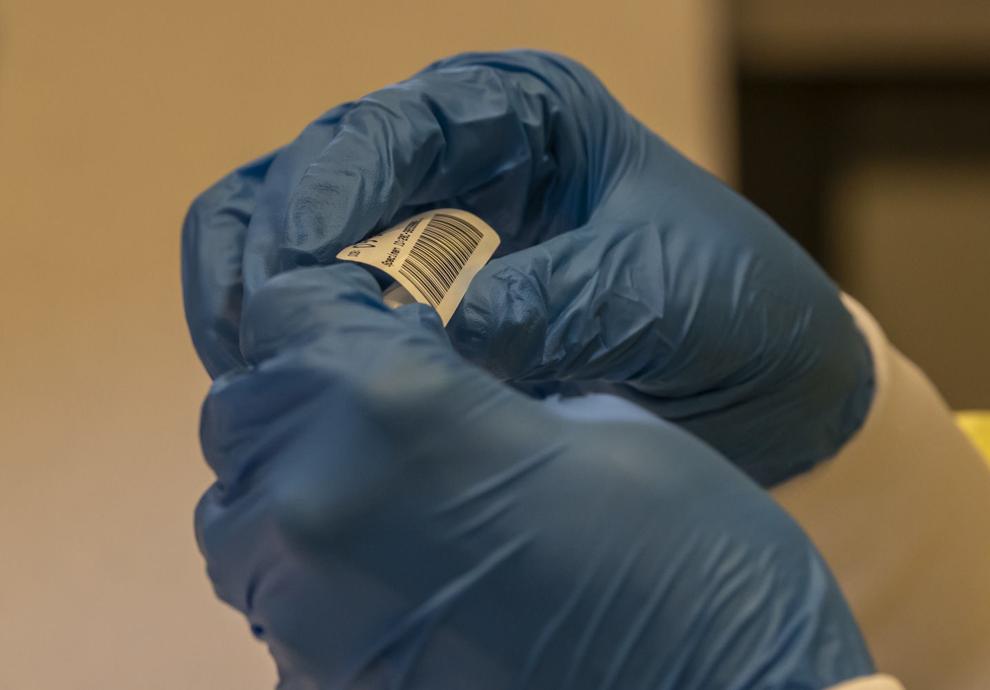 "We will continue surveillance testing, testing of our student athletes and theater and dance students for the rest of the term," she said. "We will be able to test asymptomatic students and students who are contact-traced to positive cases."
Students will also get some hands-on experience on the other side of the tube, helping give the tests, like Ritu Jas, a psychology major minoring in biology. She already has experience working at Crossing Healthcare giving COVID tests.
"I wanted to get involved in the community and it will financially help," she said.
Students like Jas suited up in masks, gloves and gowns to take the tests and were instructed in the information required to be logged with each test — name, address, phone, ethnicity and race, and birthday. Information on tests is shared with the Illinois Department of Public Health.
"We're the first two to have the opportunity to test on campus, which is a big plus for us, because we've been going downtown to the Civic Center to test, so this opportunity to test on campus is convenient, we're going to get results quicker," said basketball coach Mark Scherer. "So let's say I go on the road recruiting to a hot spot, I come back and test and isolate myself until that test comes back negative, so this is going to allow us to be a lot more productive."
---
Decatur's most historic homes 
7 of Decatur's most historic homes
Decatur has had its share of powerful families at a time when a person's status could be measured by the opulence of their homes. Names from the late 19th and early 20th centuries might have included Millikin, Powers or Oglesby. We refer to these homes as mansions still today, the cost of which to replicate would be out of the reach of all but the wealthiest.
Here are seven photos of some Decatur homes found in our archives.
Contact Valerie Wells at (217) 421-7982. Follow her on Twitter: @modgirlreporter