DECATUR — Students at both Decatur public high schools were among those who participated in a national movement to walk out of class to protest gun violence, one month after the shooting inside a high school in Parkland, Florida, that killed 17 people.
At Eisenhower High School, more than 100 students left class and demonstrated in front of the campus main entrance, locking arms in silence at 10 a.m. for the 17 minutes national organizers had called for in each time zone across the country. Students at MacArthur High School also left the building after administrators made an announcement at 10 a.m. during which the Florida victims' names were read followed by a moment of silence.
Decatur's demonstrations were among thousands across the country, although the district had also planned assemblies as an alternate activity. School officials said previously that students in Decatur would not be punished for participating.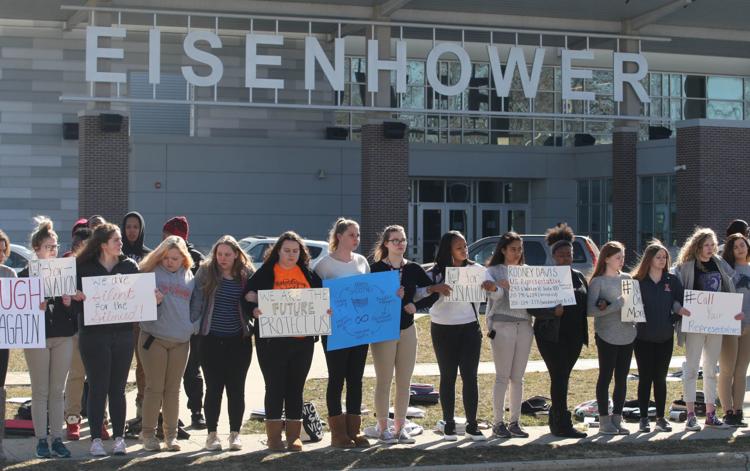 "We're seniors, we're old enough to vote, but nobody wants to pay attention to us," said Seven Sassano, an Eisenhower senior who was among an impassioned group of young women at the center of the demonstration. They held signs and did not talk to onlookers until the 17 minutes of silence had passed.
"We're the next generation, and we're not keeping this generation safe," she said. "We're not safe in our own schools." Calling the demonstration a "bipartisan walkout," Sassano said individual students had different ideas on how to solve the issue of gun violence in schools, but elected officials had so far failed to address the issue.
"We're an AP Government class, and not one of the people that are in office right now came to visit us when we invited them to come to talk to our class," Sassano said. "They're not looking at the students, they're not helping students. There's not one solution, there's multiple solutions. We have to all work together to fix this, (and) nobody's doing anything about it."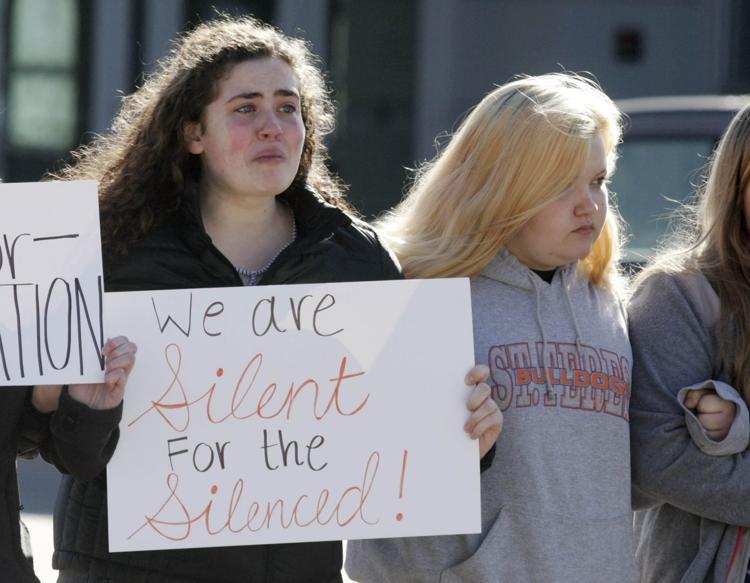 Decatur Public Schools Assistant Superintendent Michael Dugan said inside both MacArthur and Eisenhower other students chose to attend presentations in their respective auditoriums, while others chose to stay in class. "I think for civics and for kids expressing their citizenship — and for students not a part of the (walkout) — they (each) made a choice, and that's the choice they had," he said.
Dugan said school staff and faculty supervised students gathering in front of MacArthur High School, but administrators at Eisenhower had safety concerns due to traffic on South 16th Street. "We knew that some kids were going to want to go out of the building, our thing for that is we weren't going to stop it."
Sassano said school administrators asked the students to go to the auditorium or the back of campus, citing traffic concerns, but the students walked out the front door anyway.
"That wasn't the point of our walkout. It wasn't to go behind the school where we're hidden," she said. "It's not to go to an auditorium to watch a presentation. It is to come out here and be silent for those who were silenced."
"People can do a lot of talking in social media, but it takes change," said Nasia Lee, an Eisenhower senior who also participated in the 17 minutes of silence. "And change equals voting."
Dugan said students participating in the walkout would be marked down absent like any other unexcused absence, which does not carry discipline until a student racks up several such instances.
Consequences were more severe for seniors at Meridian High School in Macon. As in Decatur, the students received an unexcused absence for participating, but for senior students, that also means they have to take final exams for classes, something from which they are otherwise exempt.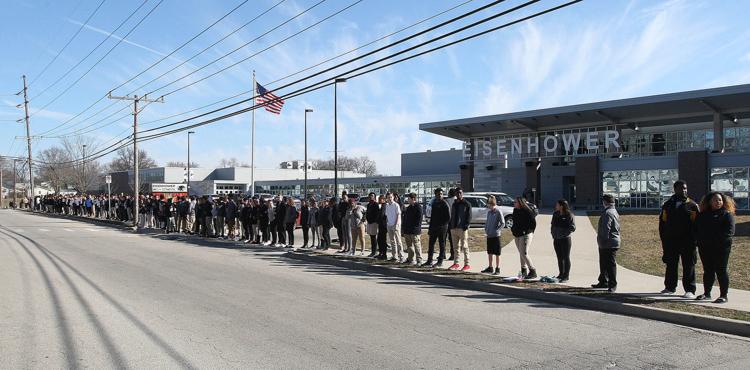 Meridian senior Corryn Brock said she was one of only 18 students to walk out of school for a memorial of the Parkland victims because many students feared repercussions.
"There were a lot of students that had quizzes that didn't (participate) because they would receive zeros on it," said Brock, who is taking part in an educational partnership program between the Herald & Review and Meridian through a journalism class this semester.
"National Walkout Day wasn't just a day of remembrance," said Meridian Superintendent Dan Brue. "It's also a protest of gun violence and for students to express their opinions for (elected officials) to do something about violence in school and so, then getting up and leaving school when its their job and responsibility to be in class at that time is something where there has to be some type of consequence for skipping out on what they were supposed to be doing at the time." 
"It's sort of unfair because it sort of deters (students) from doing what is a really kind gesture, because a lot of people I know didn't go out there because of the consequences," said another Meridian senior, Jake Deetz.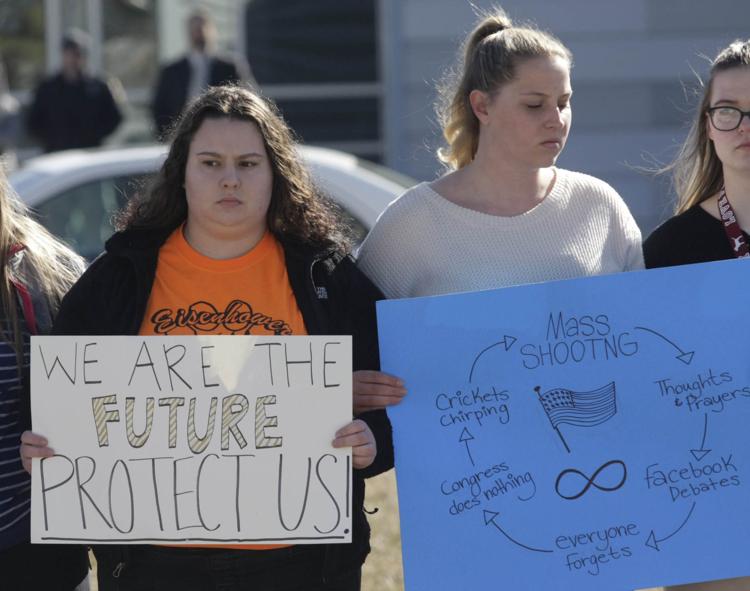 Though Deetz and Brock were aware of the consequences, they said they were still glad they went through with the walkout.
Brock and Deetz also said other students were harassing those who did end up walking out, including a photo of the students standing around during the memorial that was posted to the social media app Snapchat with an inappropriate caption.
Brue said he had not yet heard any reports of taunting at the high school. "If (students) are using social media during the school day or taking pictures during a school event, then there possibly could be consequences for it, and each of those cases are investigated individually and dealt with individually as well," he said.
"Meridian's just in an area where people are heavy believers in the Second Amendment," Brock said. "A lot of people thought that's what we were going out there for, but it's not," she said, clarifying that the demonstration was meant to honor the victims of the Florida shooting. 
In Clinton, 10 students walked out of class despite a warning from district officials that the action could lead to discipline.
Superintendent Curt Nettles said high school officials spoke with students interested in walking out last week and offered alternatives for the action, but the students were adamant about walking out.
"We weren't going to stop them, but we did tell them that standing up and disrupting class and leaving the building would lead to possible consequences," said Nettles.
He said leaving class was counted as an unexcused absence and "being truant from part of class is handled with an in-school suspension." Further misconduct could lead to barring students from participating in the senior class trip or prom, he said.
The students who chose to participate in the walkout were supervised by law enforcement.
"We felt it was important to be consistent with how we handle students' behavior. Otherwise, any kid could skip a class for whatever reason they think might be a good reason, so we wanted to be consistent with that," said Nettles.
Nettles said the school observed a moment of silence at the end of the day and read the names of the 17 victims of the Feb. 14 shooting at Parkland, Fla.
Decatur's demonstrations weren't limited to high school. Seventh-grader Symone Lee told the Herald & Review she and her cousin, Jami Keck, started the effort to organize a walkout at Garfield Montessori School, which included about 60 students. 
In a subsequent classroom discussion, "one of my friends, she said it well — we need to show the rest of the world that America is not a weak place, that everything we do isn't horrible, that we can show a united front, that we're not going let something bad that happened destroy our county, and stand up and help those in need," Symone said.
Mount Zion Superintendent Travis Roundcount told the Herald & Review about 100 students demonstrated inside the district high school's gymnasium with the understanding they would not be disciplined if they didn't leave the building.
In the Maroa-Forsyth School District, 12 students participated in a walkout and 75 middle school students met in the school cafeteria to discuss the issue with teachers and administration, according to Superintendent John Ahlemeyer.
At MacArthur in Decatur, sophomore Navaeh Alaniz, 16, and her friends, Angelina Walker, 16, and Kailey Wallar, 15, went further than simply leaving the school. The three girls had their own miniature march.
"We are trying to save the world one step at a time," Alaniz said.
The nationwide walkout was organized to encourage lawmakers to enforce stricter gun laws, but the three students had another reason for leaving their school.
"We are supporting the people who died," Alaniz said. "Not gun control. That doesn't make any sense. The guns don't control the people."
"The people control the guns," Wallar said. "We are supporting the 17 people who died."
The girls wanted to remember the students: "They had big dreams," Alaniz said.
"And their lives were taken so young," Walker said.
Herald & Review reporter Donnette Beckett and Herald & Review News Service reporter Julia Evelsizer contributed to this story.
National Walkout 3.14.18.jpg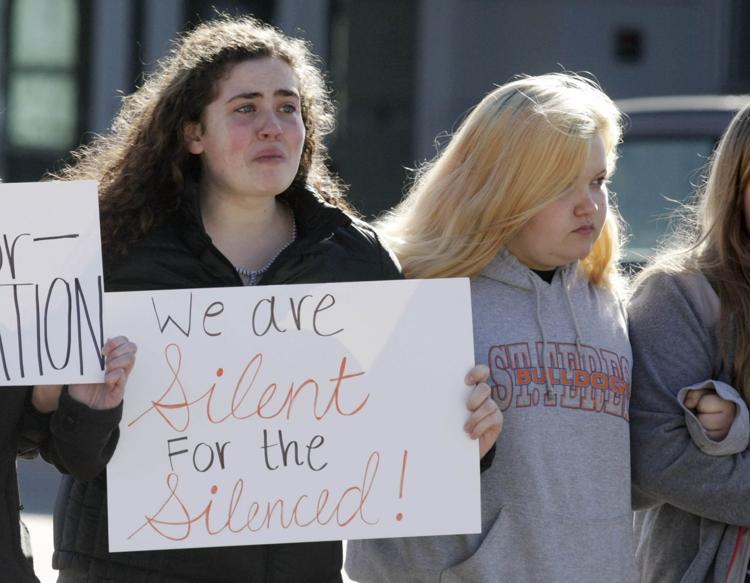 National Walkout 2 3.14.18.jpg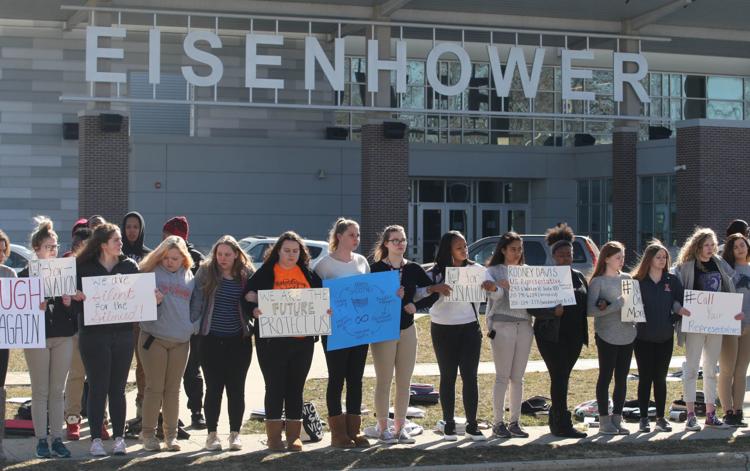 National Walkout 3 3.14.18.jpg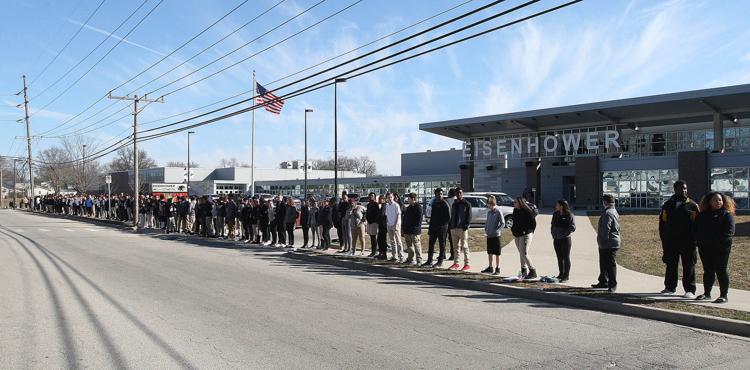 National Walkout 4 3.14.18.jpg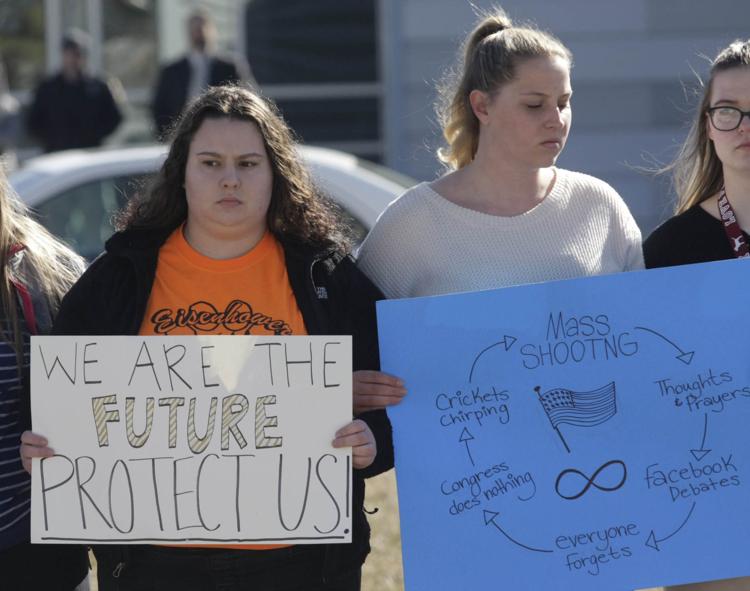 National Walkout 5 3.14.18.jpg
National Walkout 6 3.14.18.jpg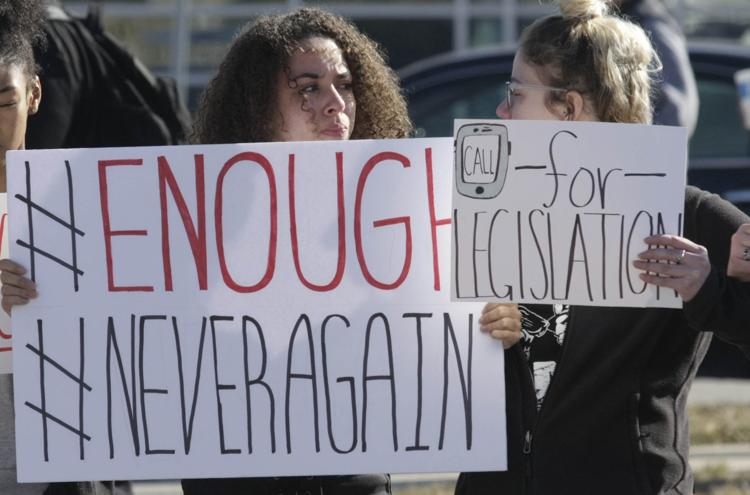 National Walkout 7 3.14.18.jpg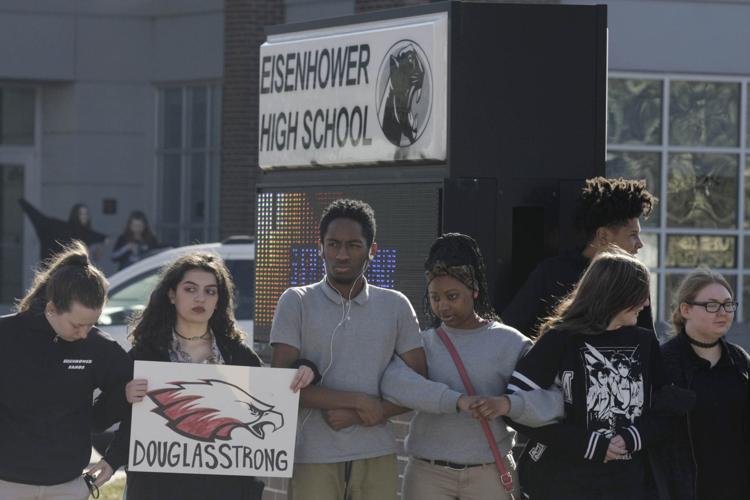 National Walkout 8 3.14.18.jpg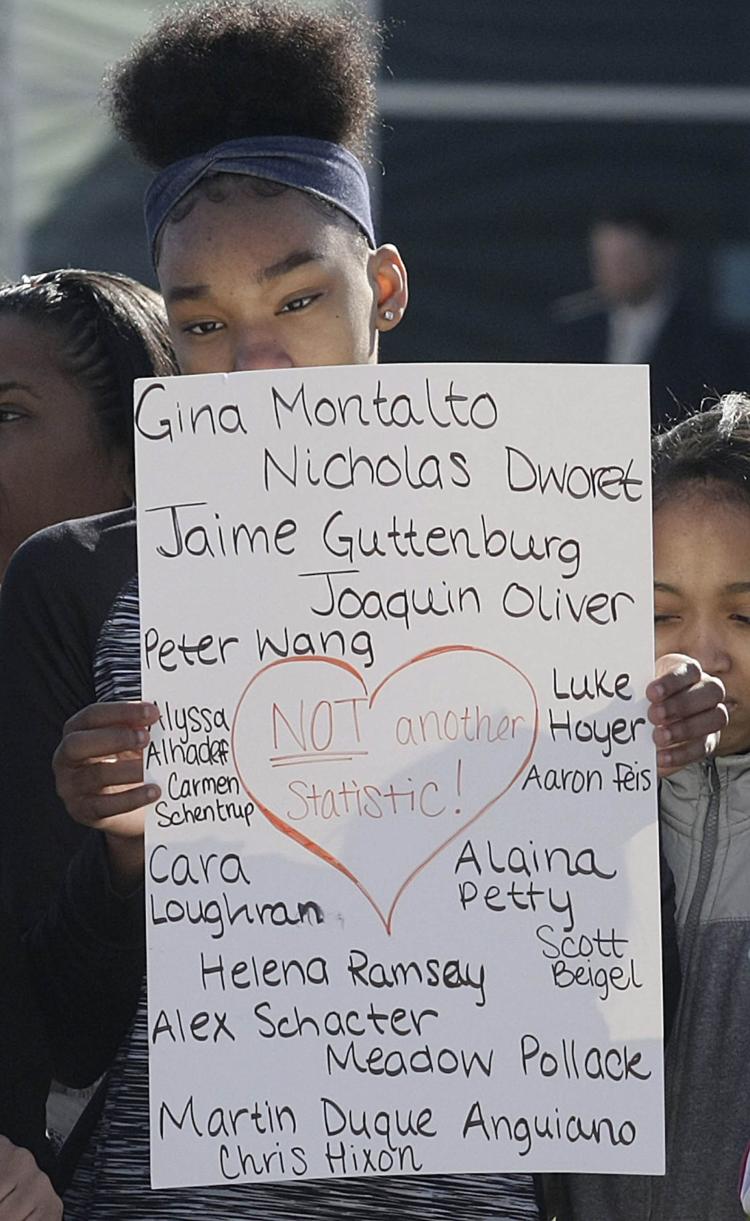 National Walkout 9 3.14.18.jpg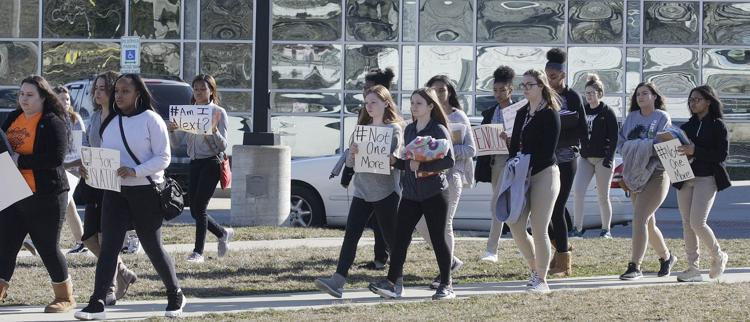 National Walkout 10 3.14.18.jpg

National Walkout 11 3.14.18.jpg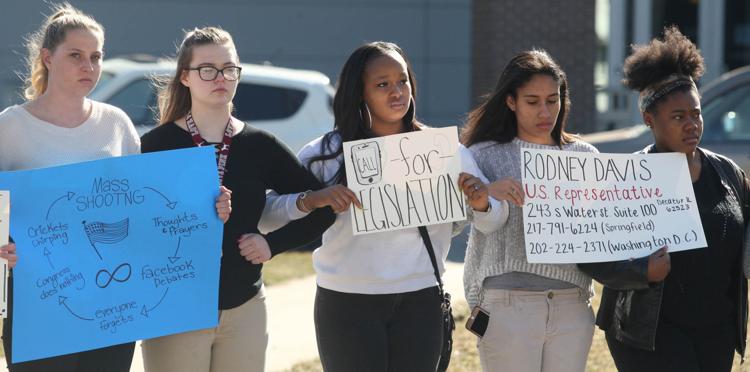 National Walkout 12 3.14.18.jpg