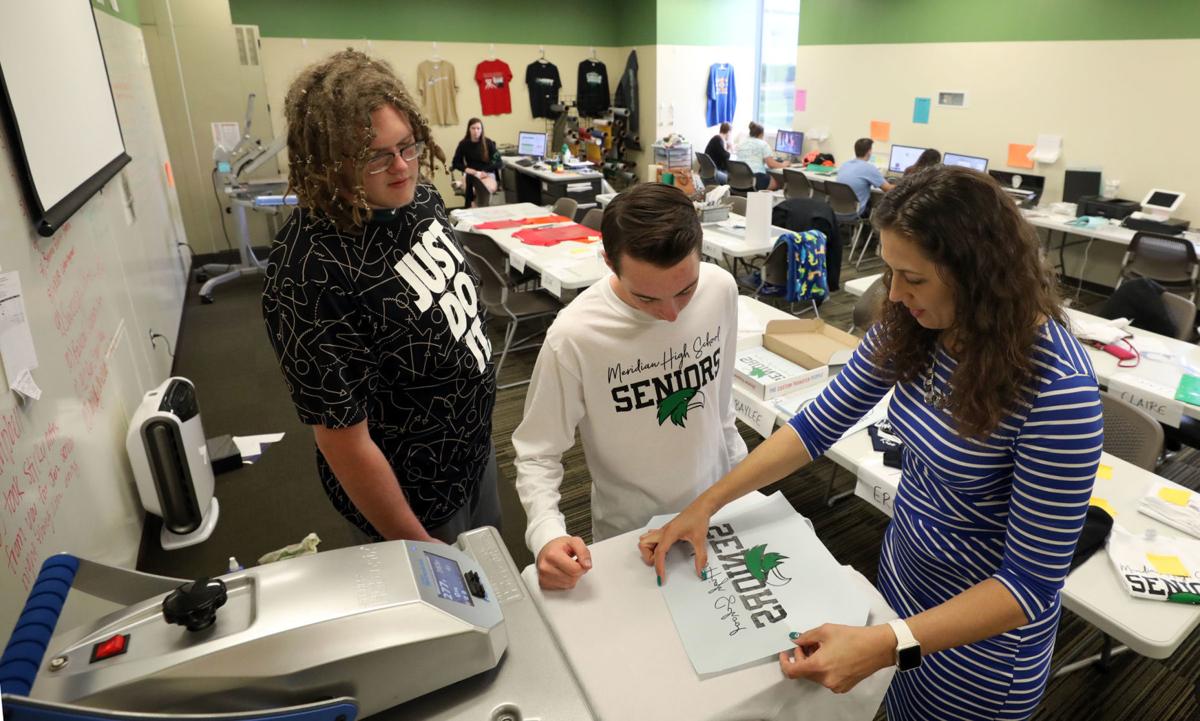 MACON — The seats in Tricia Campbell's classroom at Meridian High School are seldom in use. Students in her entrepreneurship class are far too busy filling orders, designing logos, using the embroidery or heat machine, and keeping the books for Impressive Designs.
"We heat press apparel," said Erin Fasick. "We design. We do our own accounting. We also embroider."
Campbell calls it a "nontraditional" class because it's not lecture/textbook/tests.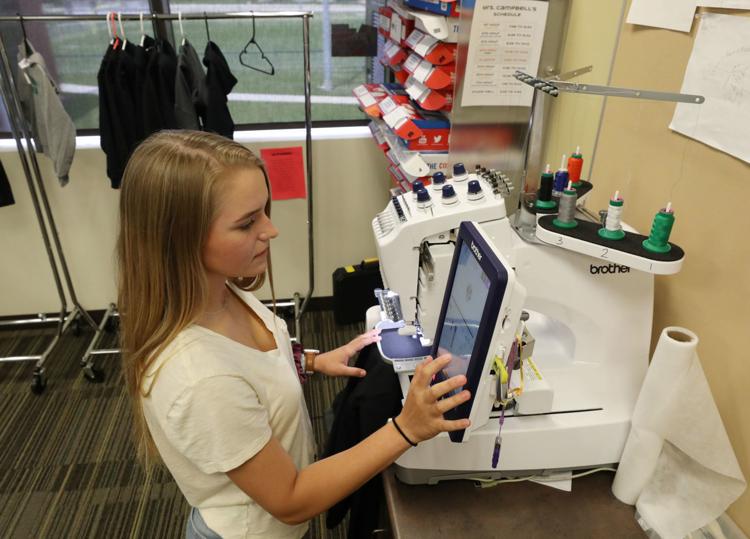 "It's hands-on, and the students run a business," Campbell said. "It started with an ADM Cares grant. I had the idea for this class because of my experience running a business, but we couldn't have started without the equipment. So we needed a heat press, which is $2,000. We needed those vinyl cutters that we have named Vanessa, Vinnie and Vito. We needed some operating cash to start with."
The ADM Cares grant took care of startup costs, and last year, when the class began, word got out to the coaches and booster club that students could make T-shirts and other items. By the time school started in the fall 2017, orders were already rolling in.
"I didn't have employees yet — these guys are the employees — I didn't have anyone with any skills, and we had orders to fill on the first day of school," Campbell said.
One of their first jobs was making marching band shirts, which had to be done immediately so the band would have the shirts to wear when marching at football games.
"Word of mouth has been our advertising, really," Campbell said. "I'd say we're busy with a shirt order every single day."
They've made headbands, hoodies, T-shirts for sports teams and homecoming and band, but some of their orders come from outside the school, too.
The business experience they're gaining is also valuable for getting jobs outside of Impressive Designs. Emma Jackson, a senior, told Cracker Barrel about her experience with the class business, and because students take turns being project managers, she even leadership experience. She said that helped her get hired.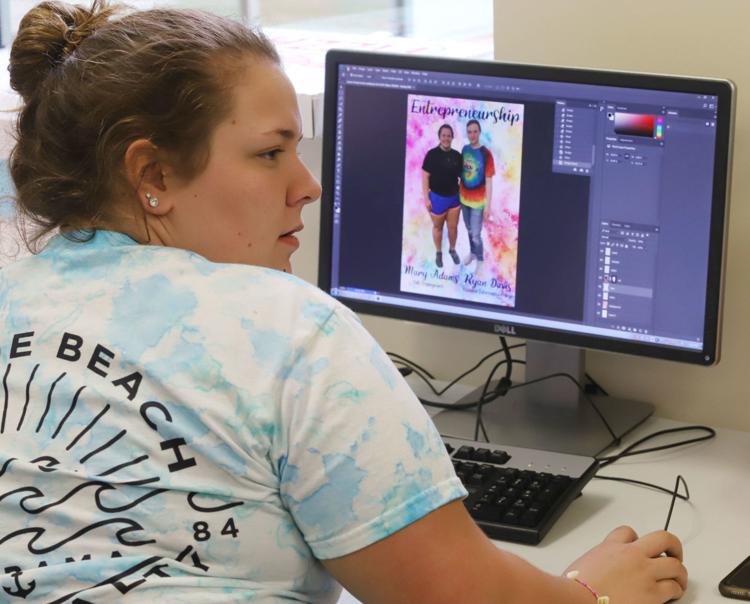 Students are dedicated enough to come in on evenings and weekends and come to school early. One former student, now in college, even called Campbell to ask if she needed help during summer break. 
"The students do every part of the process," Campbell said.
When a group needs to make an order, they email or contact the student business via its Facebook page. Campbell then assigns a project manager.
Recently Pistorius Farms contacted the class about an order, and senior Baylee Coffman was their project manager. She discussed design with Pistorius Farms, price and a timeline.
Once the order is complete and delivered, also by students, they collect payment and enter it into their records.
"We use the money to buy more supplies, or we go on a field trip," senior Erin Fasick said. "We just went to a trade show."
At the Decorated Apparel Expo in Tinley Park recently, they discovered a cornucopia of new products to make their business better. They were able to talk to vendors, learn about new ways of making transfers and test new products and software.
ADM representatives have visited a few times to see how the business is going, and as a result, the class got another grant this year, which allowed them to buy their embroidery machine, Campbell said.
Because it's a school-run business, it's tax-exempt, and profits can be plowed right back into the business, Erin said.
Contact Valerie Wells at (217) 421-7982. Follow her on Twitter: @modgirlreporter
Be the first to know
Get local news delivered to your inbox!