Decatur police Chief Jim Getz was hired shortly after the Littleton, Colorado, shooting in 1999 and training officers how to respond to active shooters became a quick priority. Getz said the attack showed changes needed to be made when it came to crisis management.
"We considered the Columbine shooting a lesson learned in not waiting for backup. We knew there needed to be training in place to eliminate the threat as soon as possible," he said.
Columbine, in which 13 were killed and 24 were injured within minutes near Denver, brought in an era of tragic school shootings, from Virginia Tech in 2007, Sandy Hook in 2012, and Parkland, Florida, and Santa Fe, Texas, last year.
The FBI estimates that more than 200 active shooter situations have happened since Columbine. Eight were in Illinois and a similar gun-related incident occurred two years ago at Mattoon High School when a 15-year-old student fired a gunshot inside the school.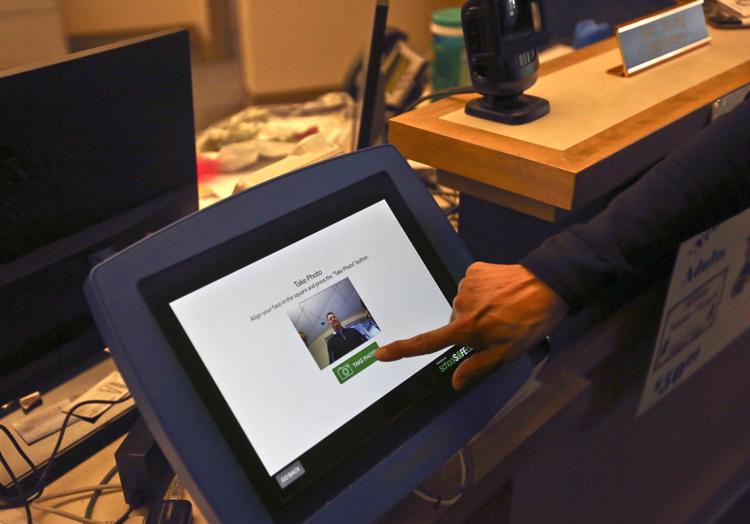 In response, schools have taken steps to fortify entrances and increase security measures, along with extensive ongoing training. 
Decatur police participate in active shooter training year-round. Sometimes it's done in school and public buildings to get them accustomed to layouts.
About 30 people from the Macon County Sheriff's Office, Decatur Police Department, Decatur Fire Department and Decatur Ambulance Service last year performed a training exercise on the campus of HSHS St. Mary's Hospital. That was in preparation of potential active shooter scenarios.
Getz said school resource officers in Macon County also are tasked with providing security and fostering good relationships with the students. Additionally, schools are required to complete an active shooter drill within the first 90 days of the school year. Students must be present in the building, all school personnel must participate and local law enforcement agencies must be present to observe.
Decatur public schools and surrounding districts also implemented and continue to make changes to crisis management policies and procedures after other incidents nationally.
"Hearing about an active shooter on the news is scary and overwhelming," Decatur Education Association President Chrissy Petitt said in a statement. "Typically when something hits the news, we debrief at some point shortly after and look over our protocols we had in place to make sure we are as prepared as we can be."
District Director of Operations Henry Walker said improving safety and security measures is an ongoing process but in recent years, the main focus has been tightening up security.
"We've installed a security system that provides two things: a way to track who comes in and out of the building and if the visitor is a registered sex offender," Walker said.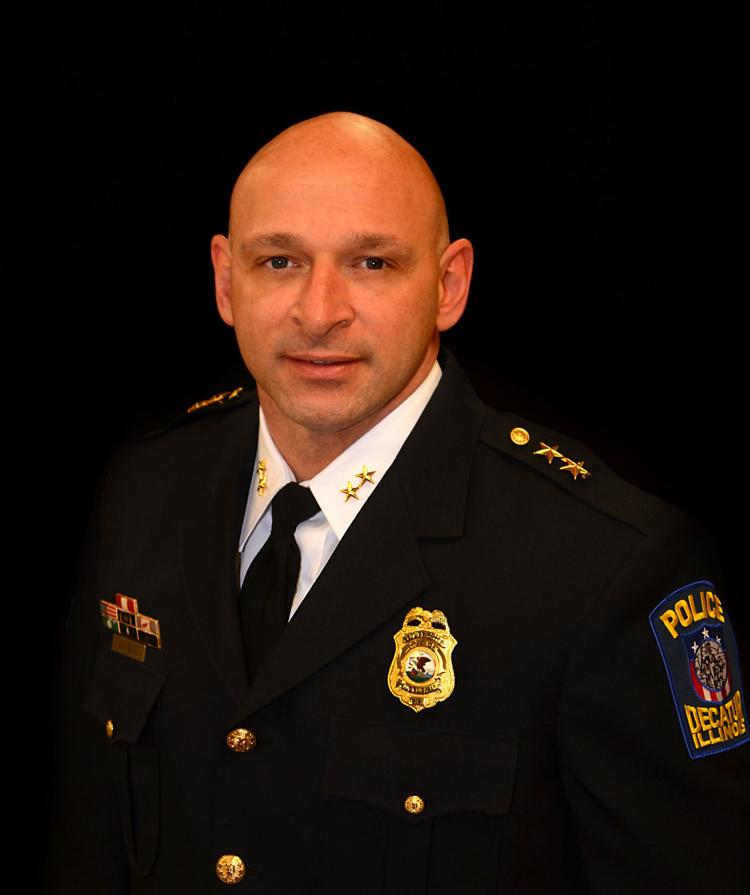 Visitors receive identification badges as a way to be checked in and out. All buildings are expected to have the security feature this fall.
A different approach to design
The system refers to there being multiple entries visitors have to go through using a buzz-in system rather than being able to just walk through the main entrance of a building as it was years ago.
"We have used this in every project we've done in Decatur," said Whitlock, whose office has worked on numerous school designs over the years. The post-Columbine sequence entryway will also be incorporated into the Thomas Jefferson Middle School project to be completed next year.
An example of this is Maroa-Forsyth High School, where the first set of new security features were installed last year. Visitors are first buzzed in at the main entrance and then have to go to the main office, which is also getting remote-access doors.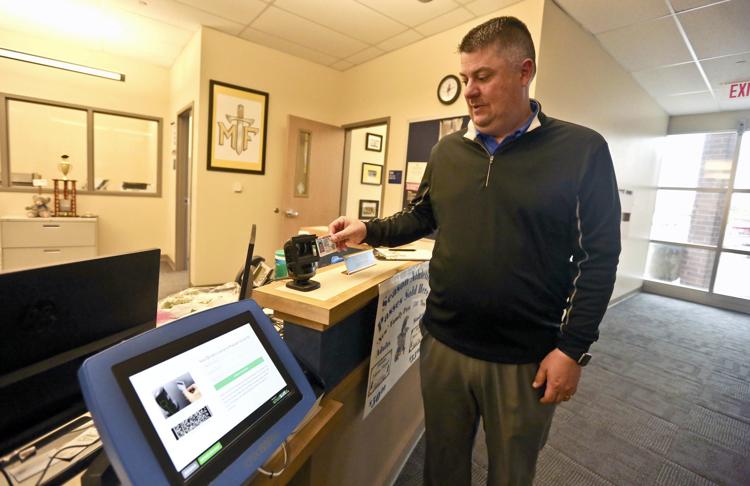 Visitors now have to check in using the kiosk at the secretary's desk that requires a scan of a state-issued I.D. The scanning system does an extensive background check and can flag things similar to the DPS system such as if the visitor is a registered sex offender. The kiosk prints a badge and prompts the visitor to download the security app that will allow them to check in from the parking lot for future visits. The badge expires after 24 hours.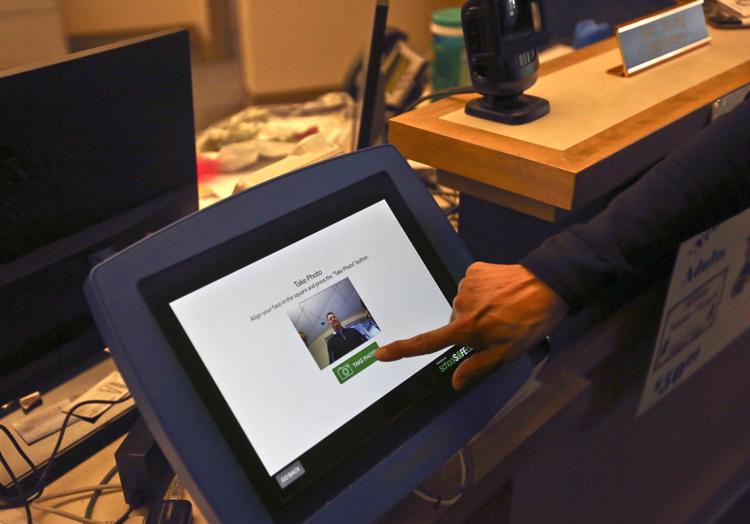 You have free articles remaining.
"This makes it so that if any visitor were to come through the doors one day, leave and get into trouble the next, we can deny them access to the building," Principal Brice Stewart said.
Stewart said education was changed forever after the Columbine shooting and it is every educator's worst nightmare.
"The best thing we can do is be properly equipped and prepared from every aspect including what is happening within the school's walls," Stewart said.
Similar to Decatur schools, Maroa-Forsyth High School staff now goes through training for students who might be experiencing trauma. The training consists of bringing in professionals who can speak about how to identify trauma and warning signs within children and teenagers.
Stewart said they recently hired an additional social worker and are putting together a committee that will help plan for crisis management and will address the security and safety needs in the district. The committee will consist of 36 parents, community members, students, staff and administrators.
The entryway system is not the only clue architects have taken from active shooter situations. Whitlock referred to the shooting at Sandy Hook in 2012 in which the gunman shot through the glass of the front door and entered the building.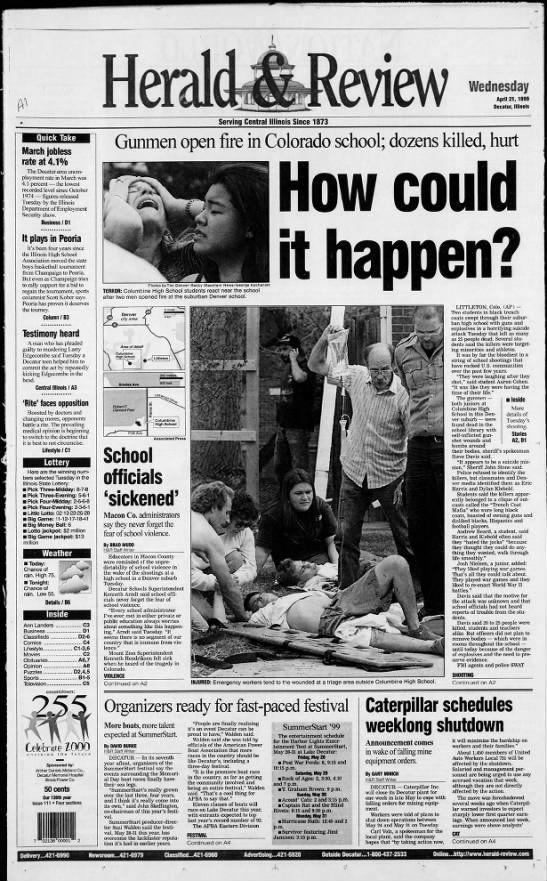 "The laminated windows won't allow that to happen," Whitlock said.
Future school projects might include installing the laminated windows that, while not bulletproof, will delay forced entry into a building.
'Remember how this all started'
Still, while school buildings have become physically safer in the past 20 years — featuring remote-controlled door locks, metal detectors, bulletproof glass doors and other sophisticated security measures — some experts say schools are not actually safer than they were on April 20, 1999. The availability of guns and the lack of mental health resources are some of the driving factors they feel the country has not properly addressed.
"Our schools are technically more secure, everybody is more trained, but it hasn't made us any safer," said Jillian Peterson, a criminology and criminal justice professor at Hamline University in Minnesota. "It's not actually having the impact that we wanted to have, so I think that's why we're hitting a point right now when people are saying, 'We need a shift in our strategy because this hasn't been working so far.'"
Marsha Levick, co-founder of the Juvenile Law Center, finds that turning schools into high-security facilities and training children for active shooter scenarios have created "a false level of security."
"Kids are doing all kinds of crazy drills," she said. "We are creating a generation in which we are making fear and concern for public safety part of their daily lives."
In the 2015-16 school year, the most recent period for which data is available, about 95 percent of schools had drilled students on lockdown procedures, according to a report released this month by the National Center for Educational Statistics. Critics say the practice can provoke anxiety or even traumatize children.
Levick said that school districts have been forced to take dollars from counseling to fund physical security measures and active shooter training.
The American School Counselor Association recommends a ratio of one counselor per 250 students. But the national average, as of 2016, was one counselor per 464 students.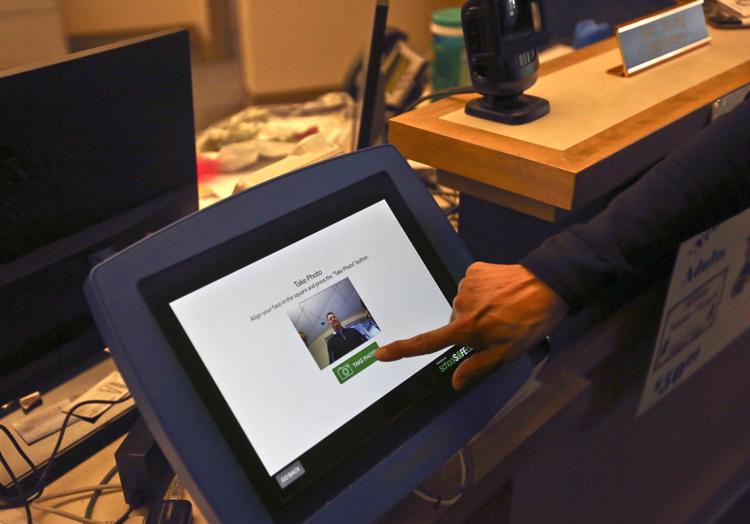 "We talk about and continue to talk about Columbine," Getz said. "We need to remember how this all started so we know what to do when it happens again."
The New York Daily News contributed to this report.
---
LOOKING BACK AT THE COLUMBINE SHOOTING