DECATUR — The men who would be the next Macon County sheriff are preparing for their first electoral battle.
Well, at least two of them are. Lt. Jon Butts and Lt. Tony "Chubby" Brown will first square off in Tuesday's primary for the Democratic nomination. Watching from the wings to see who he will face come the November election is another lieutenant with the office, Jim Root, who already has the Republican nomination in protective custody as he is running unopposed.
So, looking at the Democrats first, what's their vision for the top job? Butts, 52, a married man with three children, has been with the department since 1989 and is now the "administrative lieutenant," handling stuff like payroll, budget, records and contract negotiations, such as policing arrangements with outlying communities.
Butts has helped run the Macon County jail, served as the sergeant in charge of courthouse security, patrol commander, been a detective and served as chief of investigations and believes no one is more qualified than him to wear the sheriff's badge. He said a Sheriff Butts administration would involve reorganization centered on some key reforms. "I would give the jail back to the correctional officers," said Butts, citing an example.
He believes that jail staff haven't always got the respect they deserve and should have more autonomy in running their facility and tapping their own experience.
He'll also take a close look at how the sheriff office's court security division is operating with an eye on efficiency and effectiveness. Those are his watchwords for every aspect of the job and something he has been pondering as he finishes up a master's degree in organizational leadership.
Not only does he want taxpayers to feel like they are getting value for money, he said, but he also wants them to see and understand how protecting and serving works. Butts, who is in favor of body cameras, proposes a "Citizen's Academy" where the public will be invited to come in for a course on how the sheriff's office and law enforcement operates. Issues touched on will range from the difference between a felony and a misdemeanor to how the coroner does his job and how the police decide on issues like use of force.
He said the academy idea may come as a surprise to some, but he wants to win hearts and minds with the people who pay the bills. "It's about building relationships with the people we serve," he added.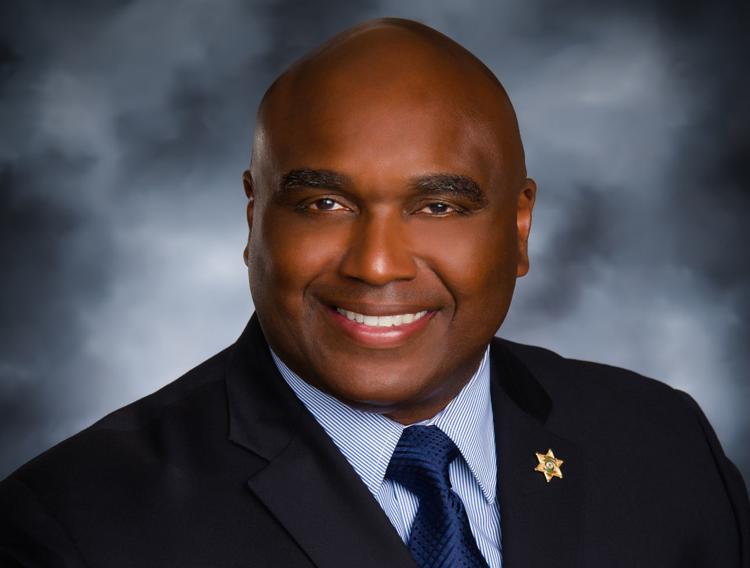 Lt. Tony "Chubby" Brown also wants a Sheriff Brown administration to do a lot of outreach, too, which he believes is necessary given the sometimes prickly relations between police and public. He also argues that few people are better suited for spearheading that outreach than himself.
Brown, 50, grew up in Decatur, where he was adopted as an infant. The "Chubby" nickname refers to the fact he was a 13-pound baby, not to the weightlifter's current body mass index. He has since rediscovered his biological family and it turns out he's the youngest of 10 children, and one of four now in some kind of law enforcement career.
He said law enforcement feels like it's part of his DNA, along with a strong sense of place.
"I want to be sheriff to bridge the gap between law enforcement and our community," he said. "Law enforcement is something I love dearly, and I love my community dearly."
He said Sheriff Brown's Job One will be to get out into that community, walking its streets, talking to its people but, more importantly, taking the time to listen. "The good Lord gave us one mouth but two ears, listening is invaluable," he explained.
An Army veteran, he joined the sheriff's office in 1990 as a corrections officer and served as a detective before being promoted to lieutenant in 2008. He said a Sheriff Brown administration will listen to voices and concerns from within the sheriff's office, too, and he shares Butts' view that the jail side of the office has not always been treated as well as the patrol side.
"Some feel like they've been overlooked, and we need to listen to them, too," said Brown. "I came from the jail side, and I never forget where I came from."
While the democratic process sorts out a successor, few sheriff's offices coast to coast can have had such an extraordinary interim caretaker in the top job as Sheriff Howard Buffett, the wealthy philanthropist with a soft spot for law enforcement. He took over in September when Sheriff Tom Schneider stepped down after 10 years service as sheriff.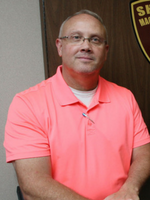 Both Brown and Butts praise Buffett, who is the son of billionaire investor Warren Buffett, and the generosity that has provided everything from vehicles to firearms. Most recently, Buffett has spent $1.3 million to upgrade parts of the Macon County Jail, in part because of consultant reports that found inadequate medical coverage for inmates. There have been at least two wrongful death lawsuits filed in connection with the jail in the past three years.
Both lieutenants realize their job as sheriff will be managing a post-Buffett office that will have to get by on its own. That will include some support from the Law Enforcement Safety Tax, which voters passed in 2017 to provide extra funding for the sheriff's office. The measure increased sales taxes by for every $100 of tangible goods. 
"Obviously, we have been very fortunate to have him and the things he's done for us," said Brown. "But we will have to wean ourselves off that and make sure we are preparing for the future. We were blessed by the taxpayers of Macon County who passed the Public Safety Tax and now we have to be good stewards of that money." 
Butts said the key to the future is planning for it, taking a careful look at budgeting and the most effective use of taxpayers' money without robbing them of essential services. "People who fail to plan are planning to fail, and I never want to do that," added Butts. "If we don't budget carefully and plan for the future, it will devour us."
Someone else who is planning for the future is their Republican opponent, Jim Root, 49. A Marine Corps veteran, he joined the sheriff's office in 1996, made sergeant in 2006 and was promoted lieutenant in 2009 and is now emergency manager in charge of the county's Emergency Management Agency.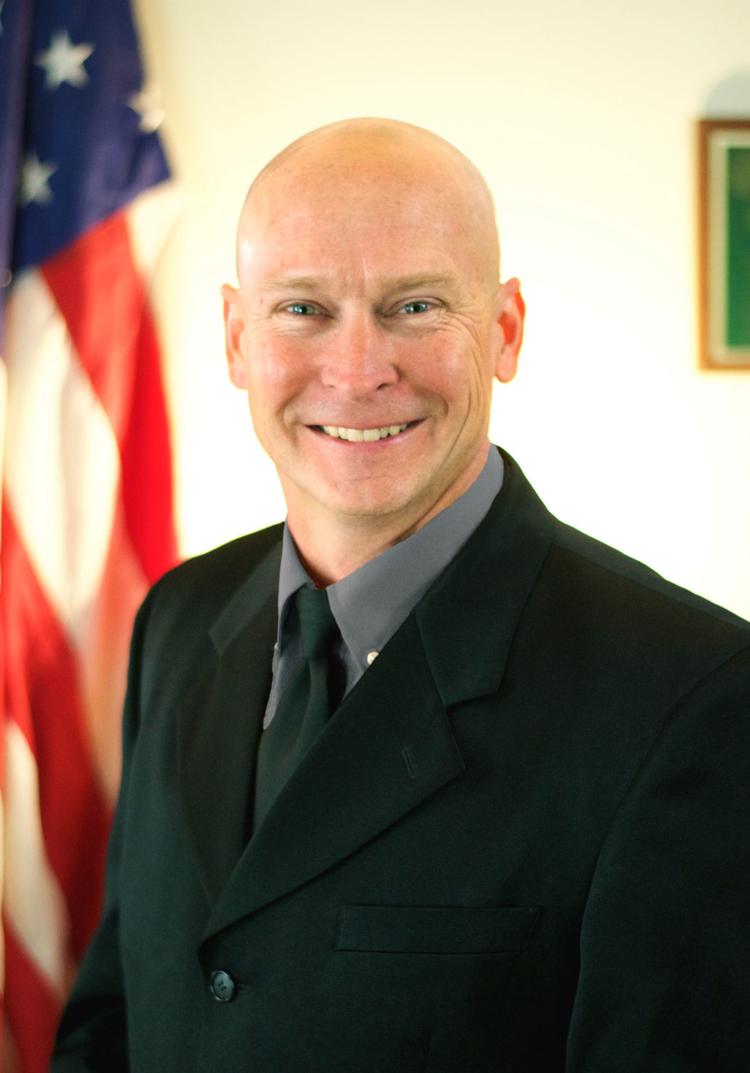 He also believes the sheriff's office must watch its budget carefully and he's interested in taking a deep look at how existing contracts, whether it be village policing services or serving papers, are handled. He said being a sound custodian of taxpayers' resources means making sure the sheriff's office isn't going into the red to provide those services.
"Once we understand what something is actually costing us, we can say, 'Hey, we're kind of of losing money on this one and it's costing us more to provide the service then what we're actually bringing in,'" said Root. "We need to make sure we're negotiating contracts in a fiscally responsible way on behalf of the sheriff's office."
Root bills himself as a good listener, too, and said Sheriff Root is going to be away from his desk and visiting every section of the sheriff's office, asking questions and listening carefully to the answers.
"The best way to understand how any department is running is to speak to the people who are actually making the parts move," he added. Root said everyone is served best by creating a free-flowing information feedback where employees are able to voice their concerns and know that they have the sheriff's ear.
"If you've got multiple people telling you that something is broke, not working right, then there has to be something you can do to either fix it or at least look into why it's not running the way it's supposed to," he explained. "Some of those mechanisms (for fixing things) are not really in place right now."
All three candidates for sheriff know each other well, respect each other, and share that particular bond of law enforcement officers. Root said he has no customized campaign strategy based on which Democratic opponent he will face, but believes the best way to win is to just be himself.
"I think the majority of the men and women I work with know that I am a very fair person," he said.
Photos: Central Illinois goes to the polls
Voters in Central Illinois cast their ballots in local, state and national races in Tuesday's primary. Many polling places reported a high turnout of voters. 
"I've been in a leadership role with the sheriff's office pretty much most of my career, whether it was leading the deputies as union president or being a sergeant on the street or even lieutenant in my current position. There is a lot of men and women in the office who believe in me and believe I would make a very good leader, and I tend to agree with them."