DECATUR — Ten years ago, advocates launched a national campaign called "Spread the Word to End the Word" to encourage inclusiveness and banish a derogatory term for people with developmental disabilities.
On Wednesday, people served by Macon Resources Inc. took that message into three Decatur high schools, asking students to treat others with respect and kindness regardless of race, disability or other factors.
"Even though you have a disability, you can still advocate for people with disabilities," said Carl Nave, one of those served by MRI.
The nonprofit organization, which provides services to promote growth and independence for people with disabilities, set up tables at Eisenhower High School, MacArthur High School and St. Teresa High School.
MRI President and CEO Amy Bliefnick said that after a decade and millions of pledges made nationally, some have asked, what's next?
"This campaign is much more proactive to spread the word of inclusion for all people," she said.
Students were asked to pledge that they would work on inclusion by inviting people of all abilities into their lives, social scenes and athletic teams.
"Days like this are really important," Bliefnick said. "(Students) can get to know who people are and see their abilities."
At Eisenhower High School, MRI representatives sat at a table with a banner in the cafeteria. Students who signed the pledge were given a sticker, necklace and ball.
"Once (people) realize everyone is important and everyone needs to be heard," Nave said, "they will finally realize 'hey, maybe we need to change a few things.'"
Shannon Stiner, one of the MRI representatives, said that to her, inclusion means respect.
It could also be as simple as asking someone to sit with you at lunch, said fellow representative Matthew Gregory.
Dorothy Reed and Lureen Krause, also served by MRI, agreed that their feelings have been hurt in the past when people did not include them.
Krause said a goal for the day was to encourage students to not pick on people who are different.
"We are human beings too," she said.
Eisenhower Principal Amy Zahm-Duncheon said the school jumped at the opportunity to host the organization. The school already has a program called "Panther Pals," which Zahm-Duncheon said pairs National Honor Society members with students with disabilities.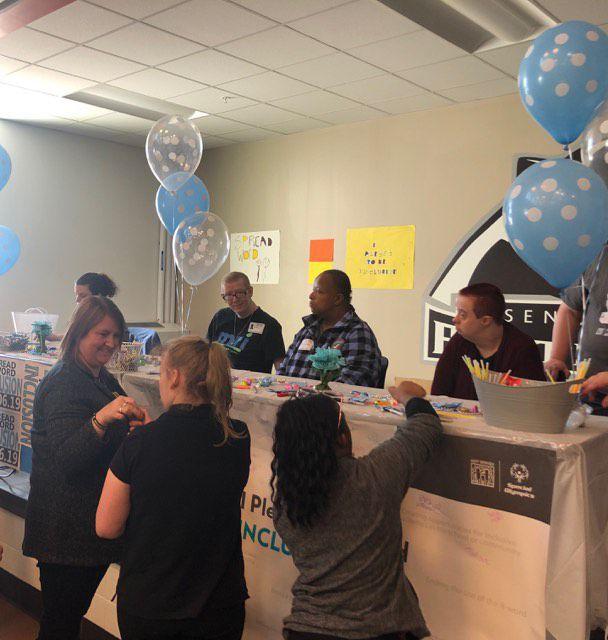 "It's really good for both sides," she said. "We really feel like we're inclusive here, so we just want to spread the word."
José Medina, president of NHS and a senior, said being a part of the Panther Pal program has given him the opportunity to meet so many people he would not have met otherwise.
"It goes past them just being Panther Pals. That's just the name of the program," he said. "They're just our friends now. They're our classmates. There's no difference."
Inclusion is particularly important in high school, because that is when students branch off and form their own groups, said he said.
Markesha Jackson, a senior at EHS and NHS vice president, said people are not defined by their disabilities, and she sees far beyond that. Having MRI come to the school helps engage the students with becoming more aware and accepting of others, she said.
"We don't want to make them feel like they're different," Jackson said, "because they're not."