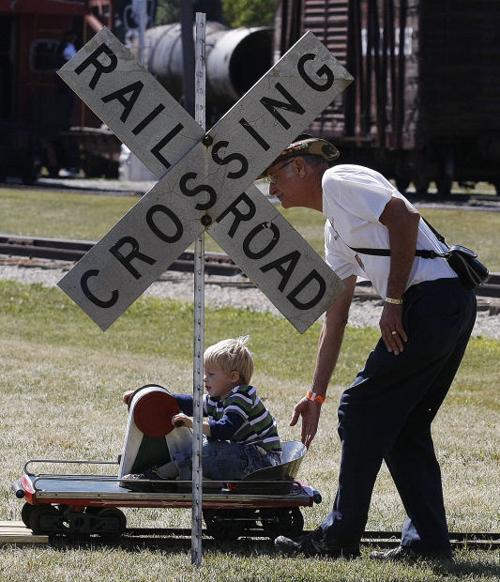 MONTICELLO — With the scream of a whistle and the chuff-chuff of steam, the glory days of travel chugged back for an encore weekend at the Monticello Railway Museum.
The museum's Railroad Days started Saturday and ran through Sunday with vintage carriages pulled by veteran locomotives like a 1907 steam-powered engine and a more modern monster from the age of diesel, a 1953 Wabash locomotive packing 1,600 horsepower.
Amid the shunting engines, shrill whistles and bustling uniformed volunteers who run the museum, passengers embarked and disembarked from trips out into the countryside Sunday afternoon and enjoyed warm fall weather that was close to perfect. Railroad Days is a major fundraiser for the museum and the weekend audience was estimated to number in the thousands.
Visitors with children in tow found lawn tractor "trains" pulling cars made of barrels were waiting to whisk laughing small passengers on journeys around the museum grounds, while hot dogs, hamburgers and polish sausage were cooked up fresh on the platform to feed them. Displays of miniature steam trains and tiny steam engines competed with much larger attractions such as the new Stair Tower, a just opened "interlocking tower" like the ones of old where railroad men pulled giant levers to switch trains from one track to another.
This $25,000 project is another nod to creating the look and feel of railroading as it once was, but the museum doesn't believe the past is the only thing to look forward to. Bill Crisp, the Railroad Days event chairman, said the museum hosts visits by University of Illinois civil engineering students who come out to learn how track was laid back in the day and how it's laid now with the latest mechanical techniques and using new materials such as concrete ties.
Crisp said many of those students could have a future in railroads which shift vast amounts of freight traffic and are playing host to a renaissance in passenger travel. "More and more people are traveling on Amtrak," said Crisp, 38, a locomotive engineer in his day job working out of Decatur for Norfolk Southern Corp. "There is a revival in rail travel."
Trish Guarasci is already a believer. She came from her Taylorville home with her pet Yorkie "Kimmy" to enjoy the train rides and said it's the only way to go. "I took my first train ride five years ago when I went first class to Chicago and I only paid like $22 both ways," recalled Guarasci, 45. "I had a reclining seat and the trip was very smooth; I've done it several times since and I love the train."