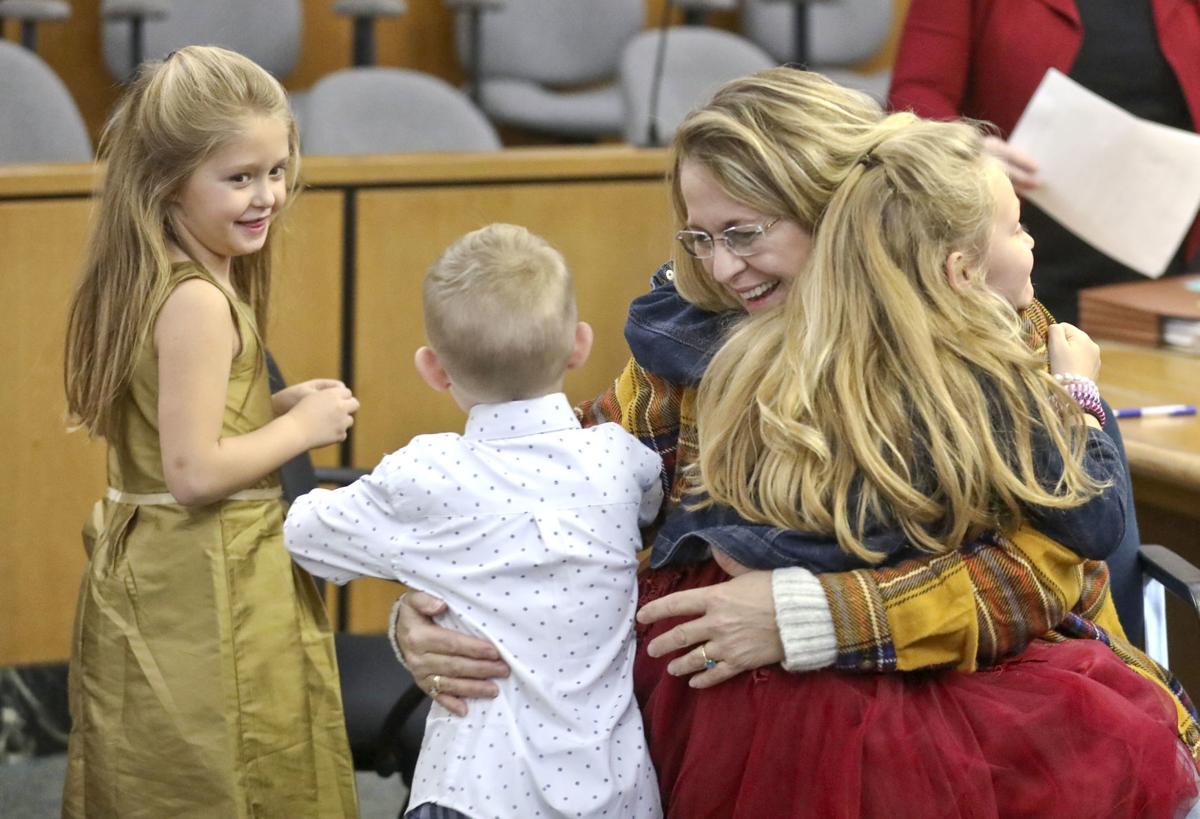 DECATUR — A long, difficult process, fueled by hope and faith, met a sweet end as Jacque Danneberger's five grandchildren rushed into her arms, laughing as they embraced the woman who fought for years to adopt them. 
Macon County Judge Thomas Little signed the judgment order for adoption on Tuesday afternoon, capping a journey that began in June 2016 when Danneberger began caring for the children: 10-year-old Aila, 9-year-old Mykael, 7-year-old Zoe, 6-year-old Rozilynn and 5-year-old Nathaniel.
Danneberger described the past years as emotional, but full of growth.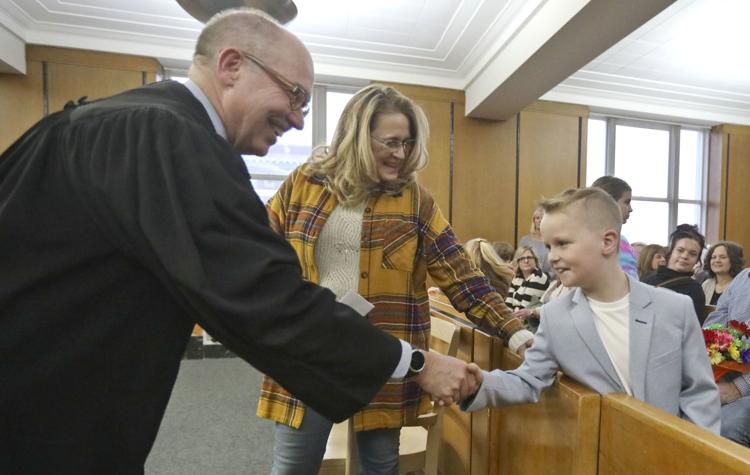 "This truly took a village for us to have this day," she said, acknowledging family, friends, church family and teachers in the courtroom. Danneberger directed the close of her speech to the children, concluding with Aila's favorite words: "Never give up."
The hearing gave the family a new starting point and long-awaited "family ever after" celebration, which will continue Sunday during a celebration at Lampstand Church.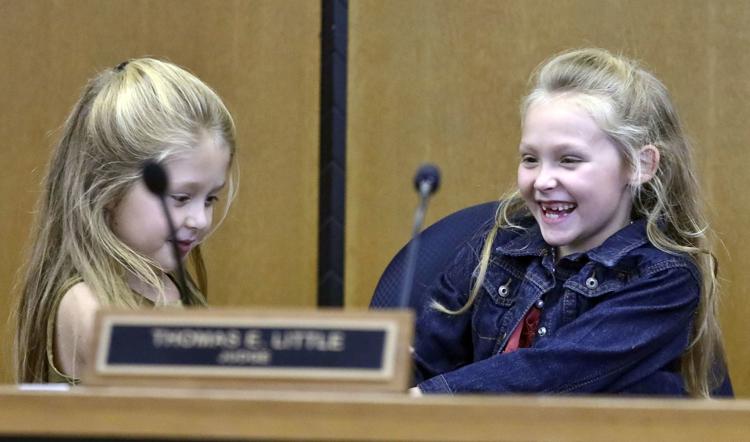 The siblings came to Danneberger's Decatur home as a foster placement through the Department of Child and Family Services. They arrived with few possessions, she said. Despite the upcoming challenge, Danneberger said she knew she needed to fight for the children.
"I literally spent hours holding and holding and holding them tight," she said. "...I am giving my whole self to my grand-babies, and I don't regret any of it."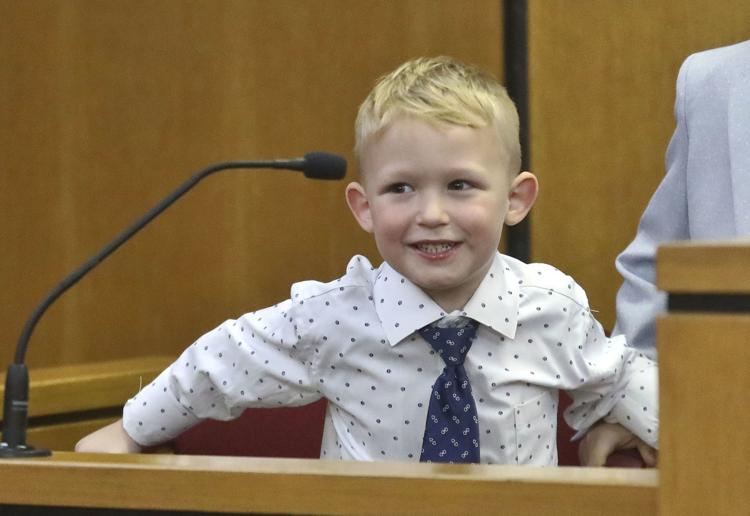 Essentially becoming a single mother to five small children overnight, Danneberger was overwhelmed at first. Her friends and church family were eager to offer support, offering to babysit for four weeks before the children could get into a daycare program. Caseworkers with DCFS and the Macon County Court-Appointed Special Advocates (CASA) helped Danneberger throughout the legal process and treated her like a friend, she said. 
The siblings have come a long way. They attend St. Patrick School in Decatur, where they have support: Principal Nick Blackburn and the Rev. John Burnette, the parish priest, sat in the courtroom Tuesday.
"They've been through a lot of turmoil," Blackburn said. "It's great they can have something stable at school and now something stable with Jacque. It's amazing."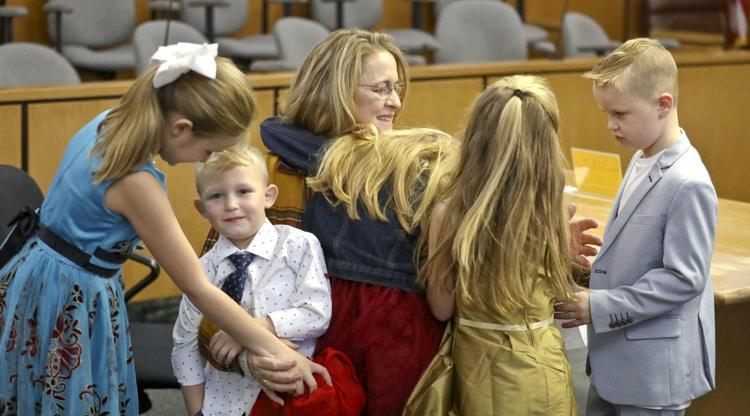 Danneberger said the siblings have grown into tightly bonded, smart children who have a strong love for each other, Danneberger said. She can see the progress when she looks at old photos, comparing the images to the children she sees now. 
"We have a lot to be thankful for," she said.
Speaking in court, 9-year-old Mykael shared what he was thankful for, which included people who care about him and his siblings, church family, friends, school and education, life and "Mema," a nickname the five siblings call Jacque.
You have free articles remaining.
Mykael is a survivor of clear cell sarcoma of the kidney, a rare type of childhood cancer, and has been cancer-free for six years.
"I am thankful for life," he said. "I am a miracle because I survived cancer."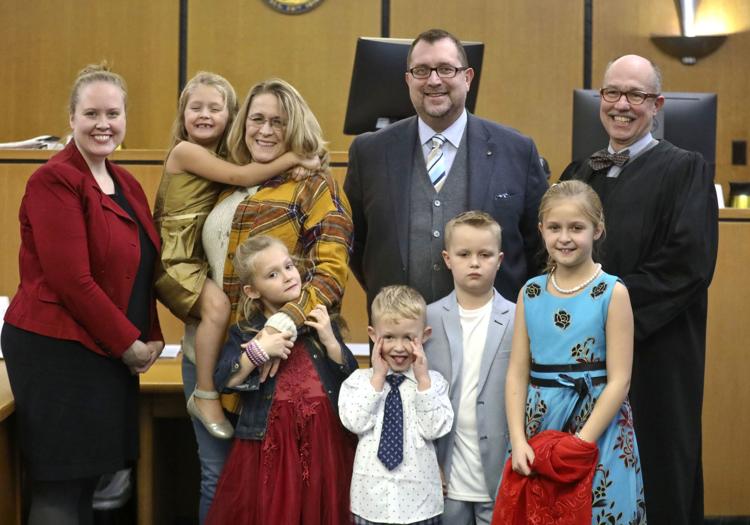 The Dannebergers will celebrate their "family ever after" at the church on Sunday, an event custom-made for the children. Their favorite foods, tacos and sundaes, will be served. The children chose the outfits they will wear, the songs they will sing and photos they want displayed during the service.
The Rev. John Morthland of Lampstand Church said the children's story could have become a tragic one if not for Danneberger. Instead, he said, the situation turned out to be "a miracle of God." 
"I've been blessed to be involved since day one with this family," Morthland said. 
The family drew on their own experiences to create "The Lollipop Closet," a charitable organization run through the Decatur church. The effort collects new backpacks to fill with pajamas, socks, underwear, a biblical scripture and a lollipop. The items are packed and given to DCFS to provide to kids in the system.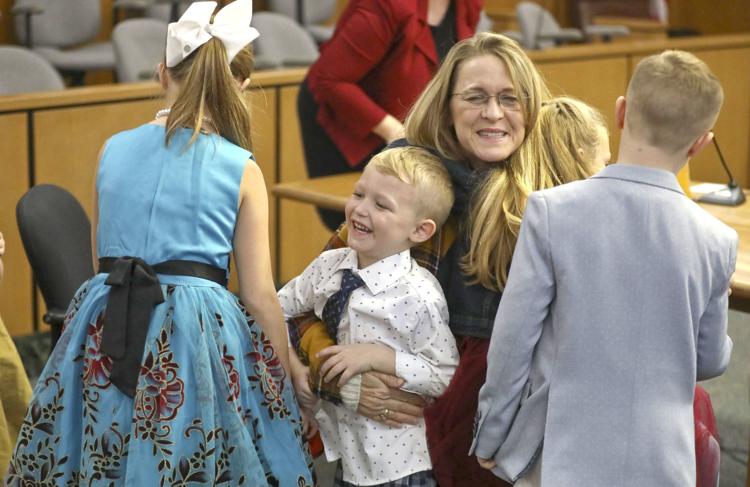 "I want them to give back from what they have endured," she said. "...They're always wanting to give to people. They came with nothing, and they were thrilled to have little things that other people don't think about."
The siblings chose the name "because lollipops make them happy," Danneberger said.
Knowing she's having a positive impact on the children's lives and introducing them to new opportunities have proven very rewarding, Danneberger said.
"We're just blessed in so many ways," she said. "It's not what we don't have, it's everything; I mean, we have gained so much. And they are all doing so well."
---
History photos: Decatur celebrates Thanksgiving
Holiday happiness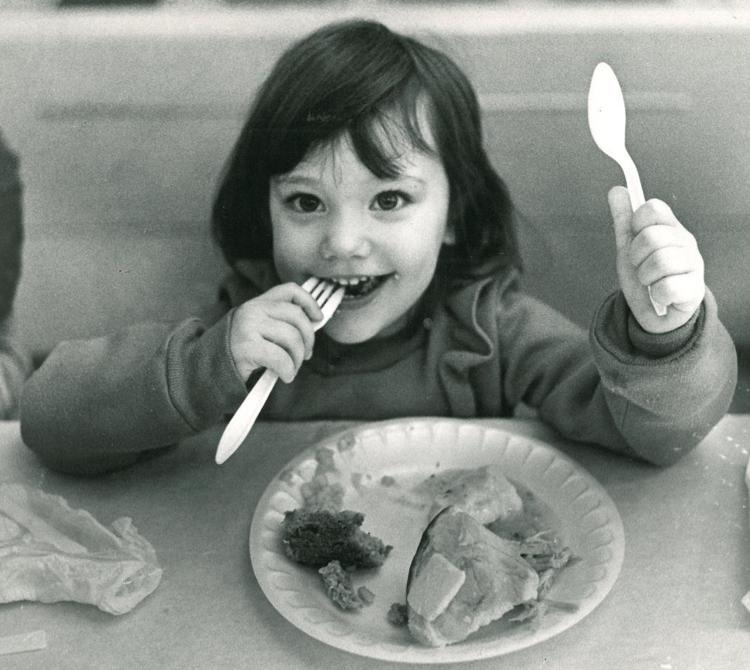 1984 Community Thanksgiving Luncheon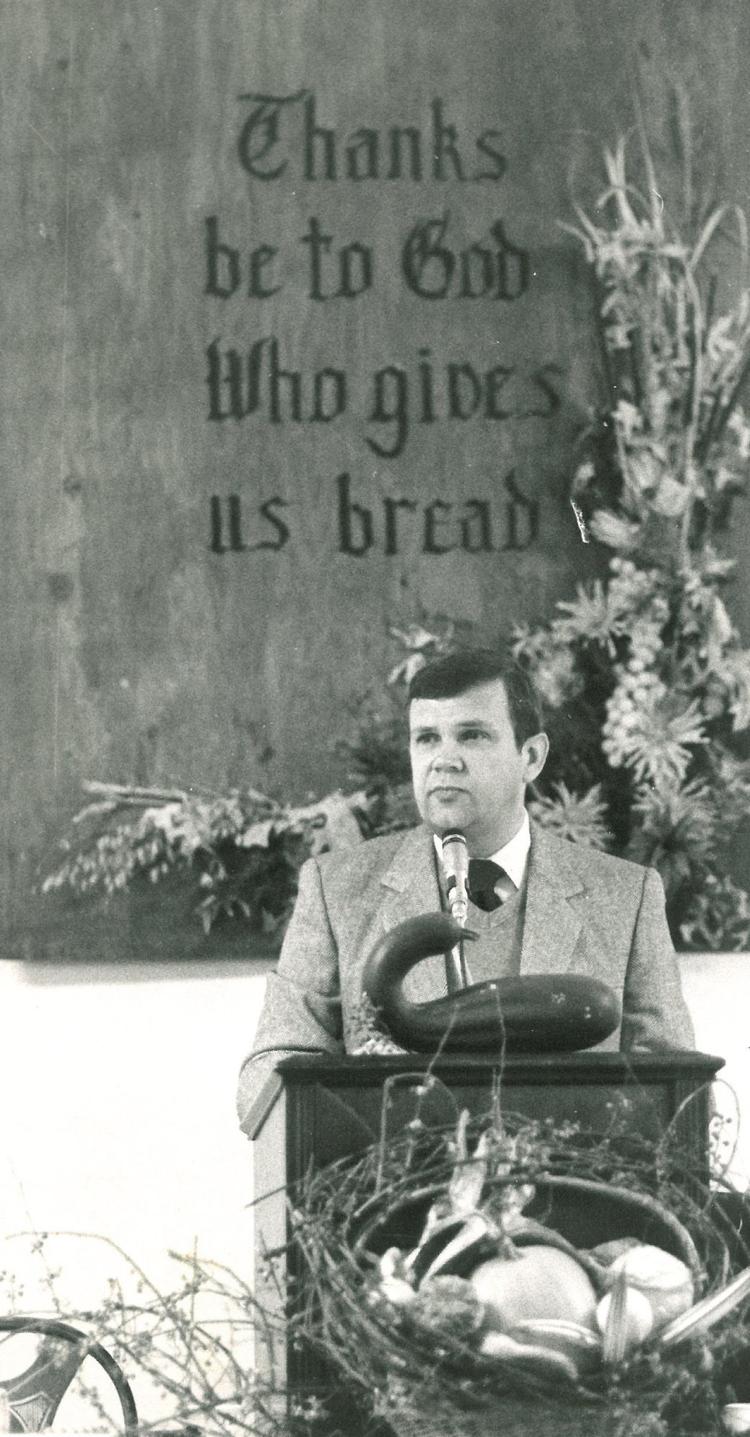 Good Samaritan Inn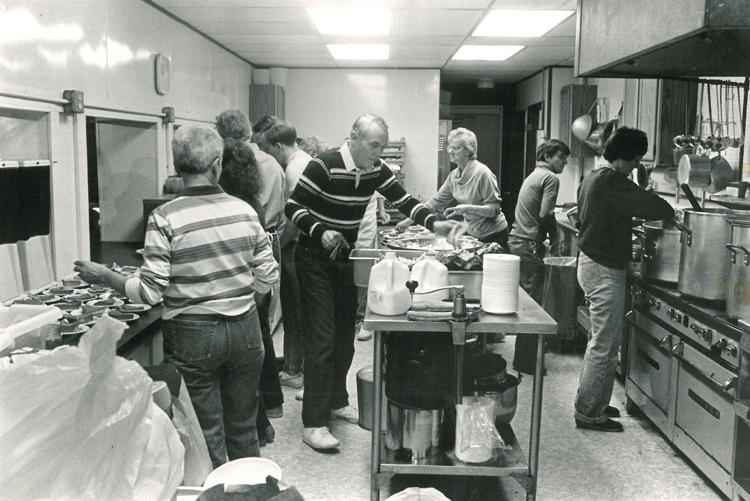 Long Creek dinner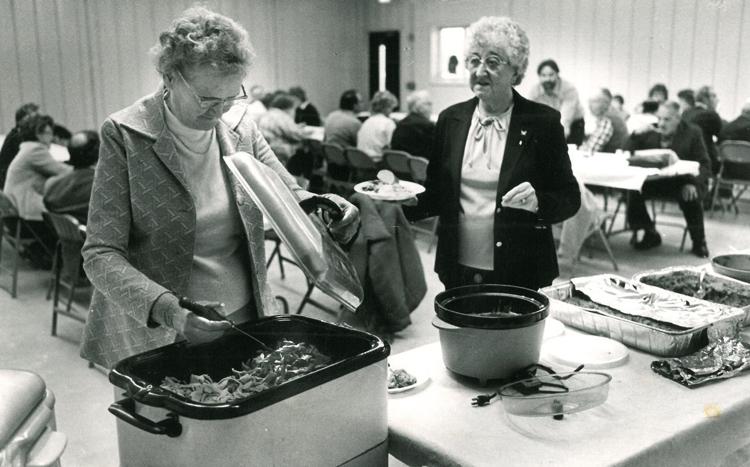 Dinner at the old Cisco Grade School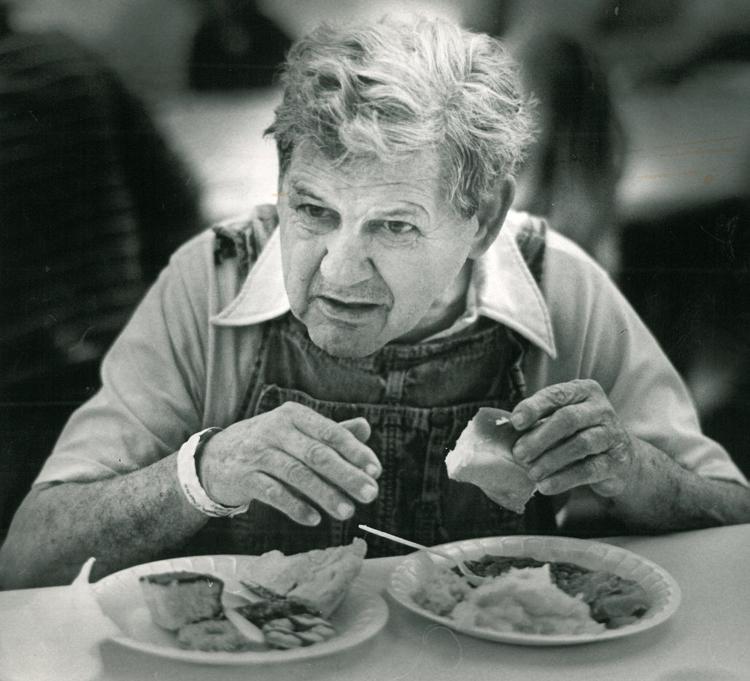 Good Samaritan Inn dinner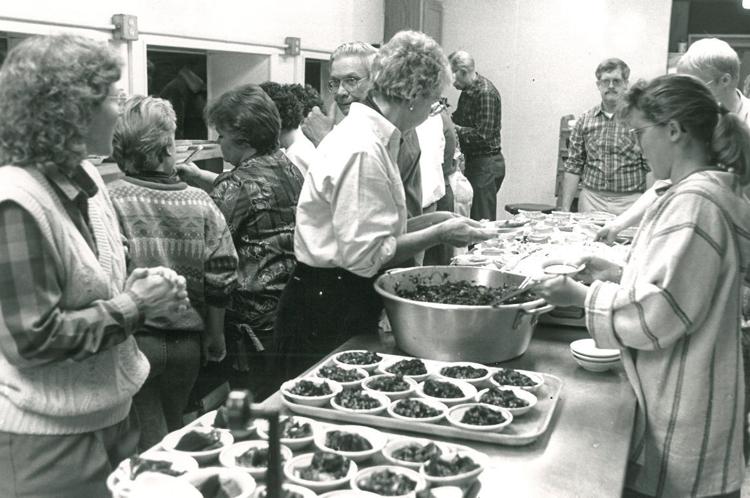 Turkeys await carving
Preparing 150 meals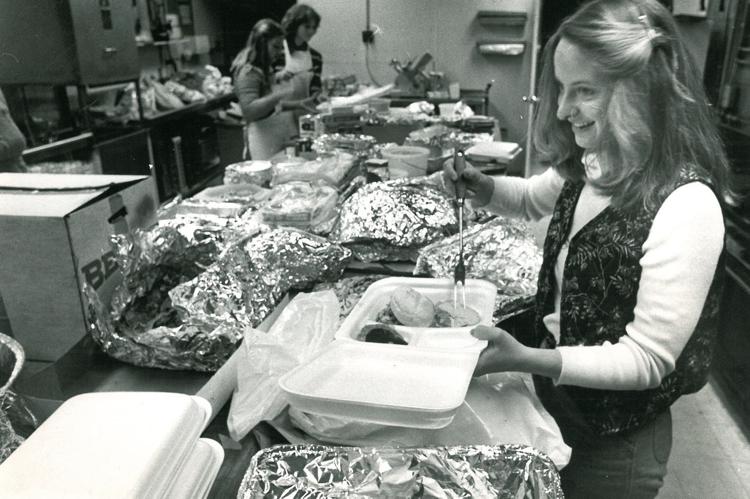 St. Mary's Hospital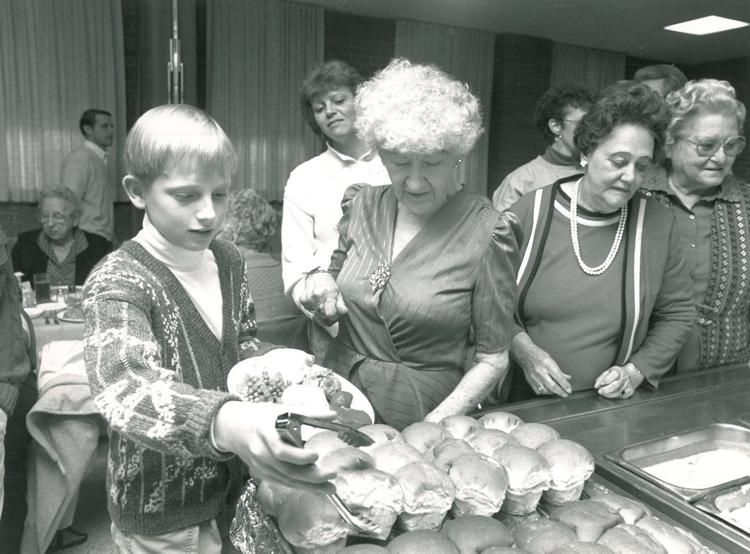 For This We Give Thanks
Dishing it out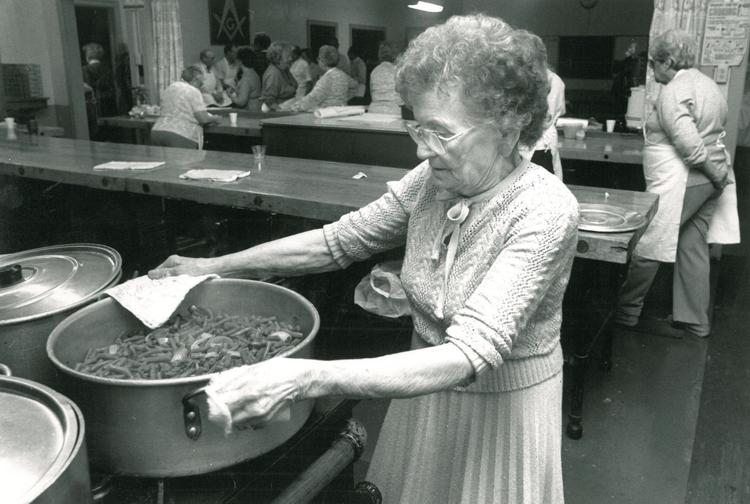 St. Teresa Mission Club

Serving coffee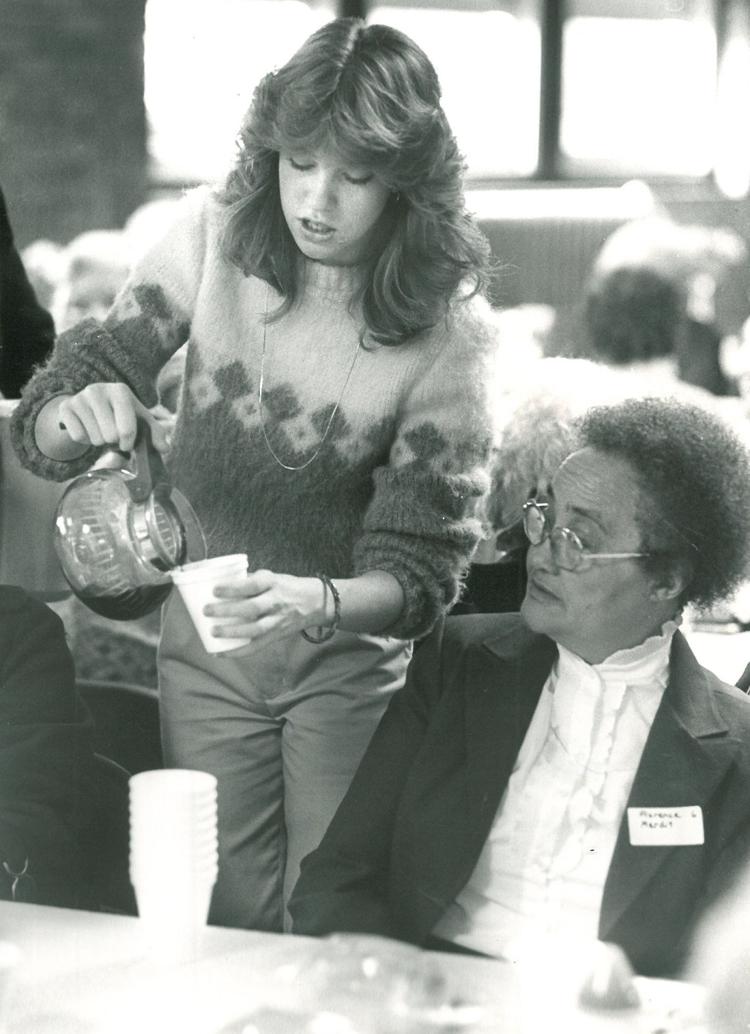 Thanksgiving feast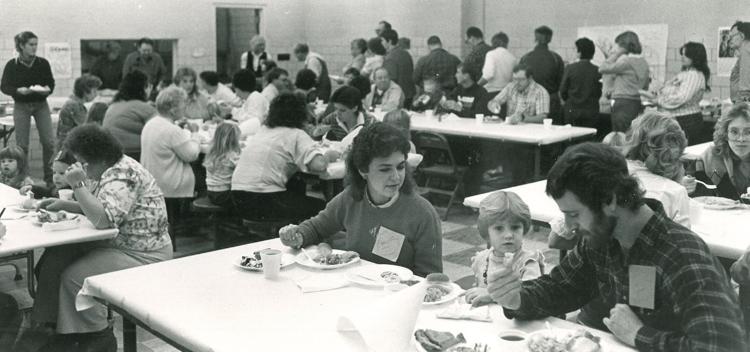 Roast turkey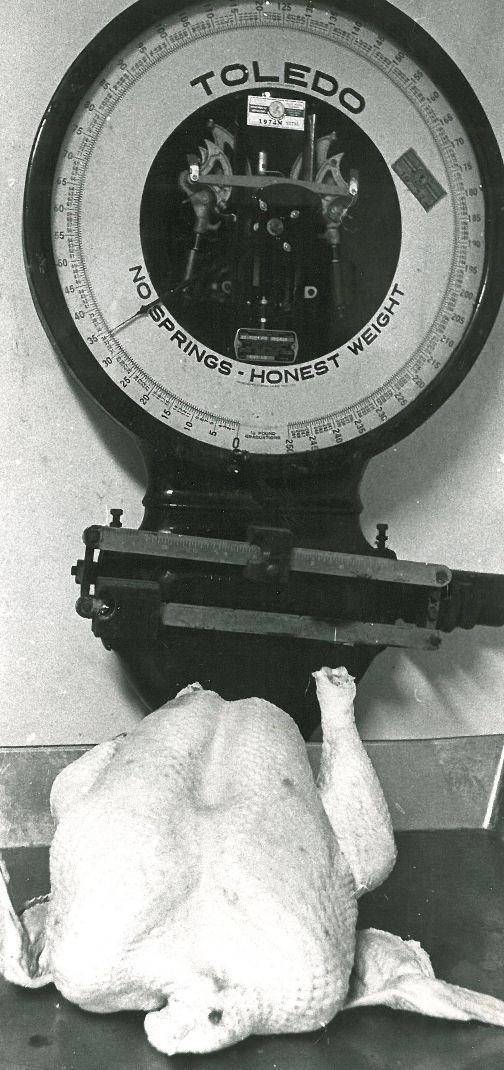 Thanksgiving socializing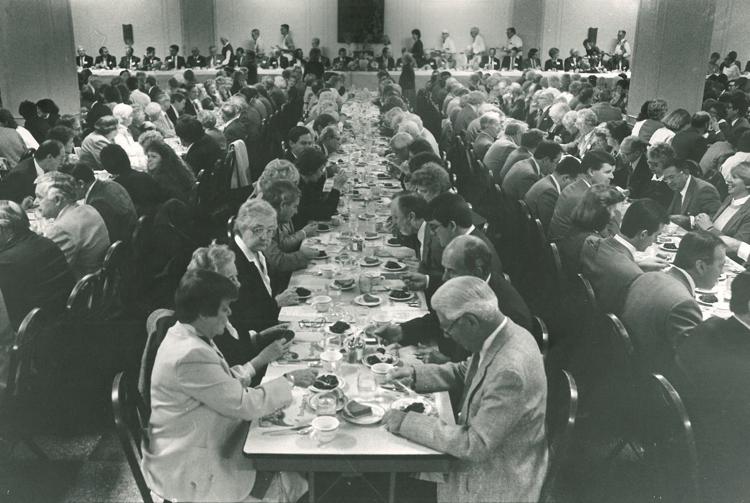 Enjoying dinner
Holiday helpings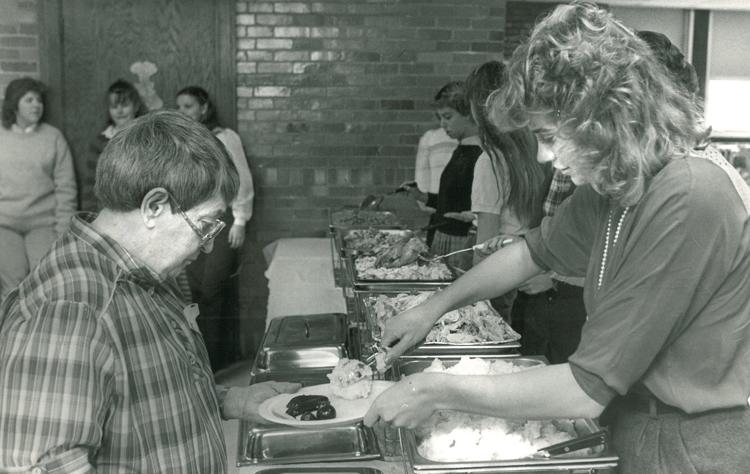 Pilgrim spirit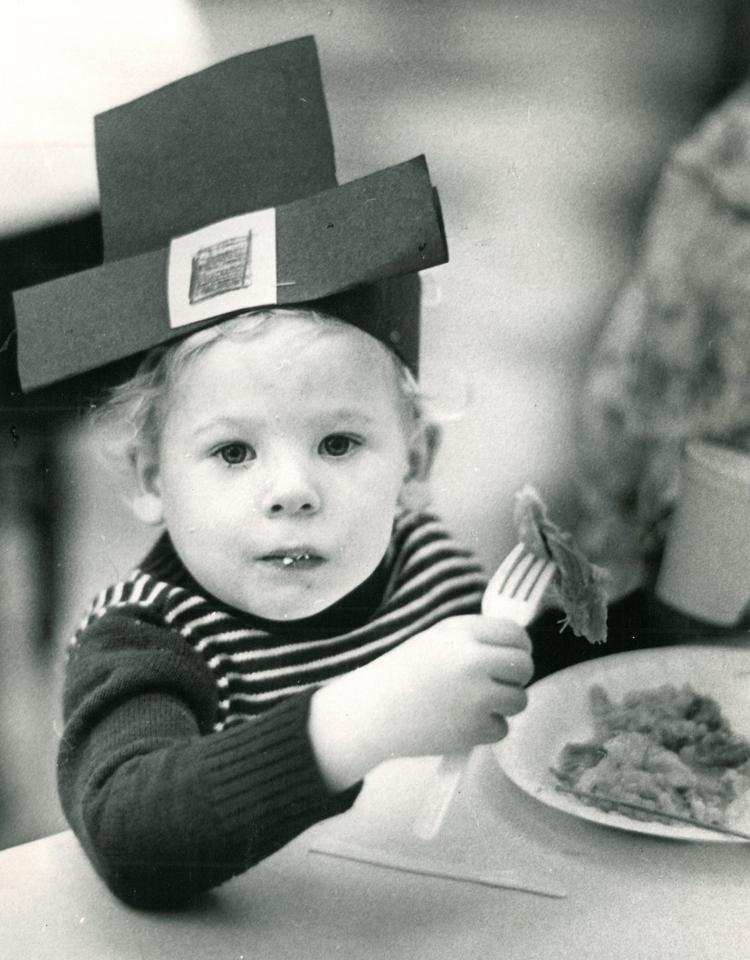 Community Thanksgiving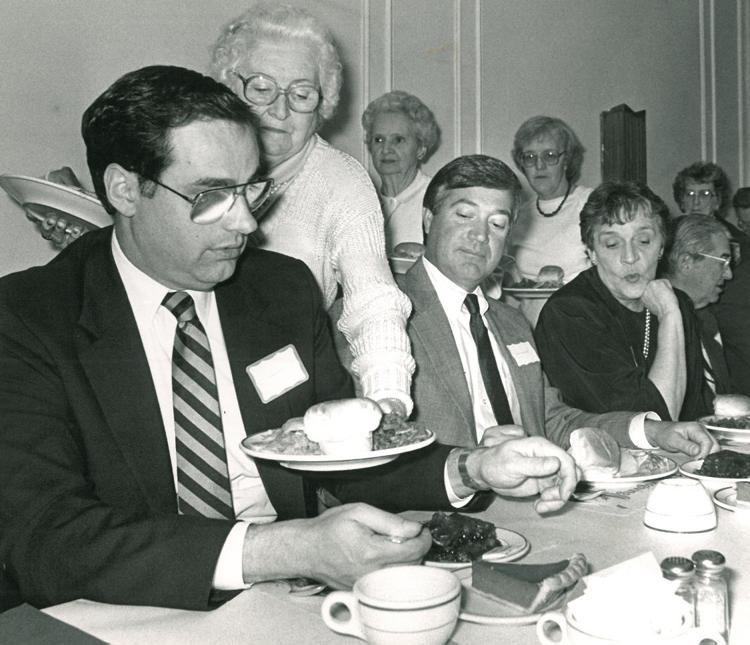 St. Mary's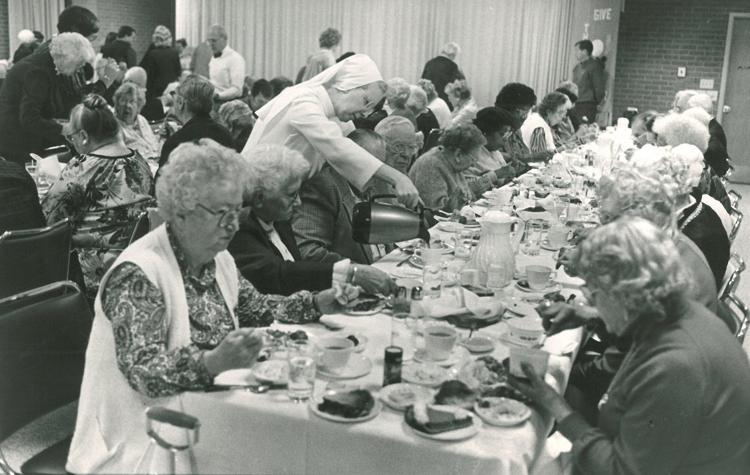 Bring on the turkey!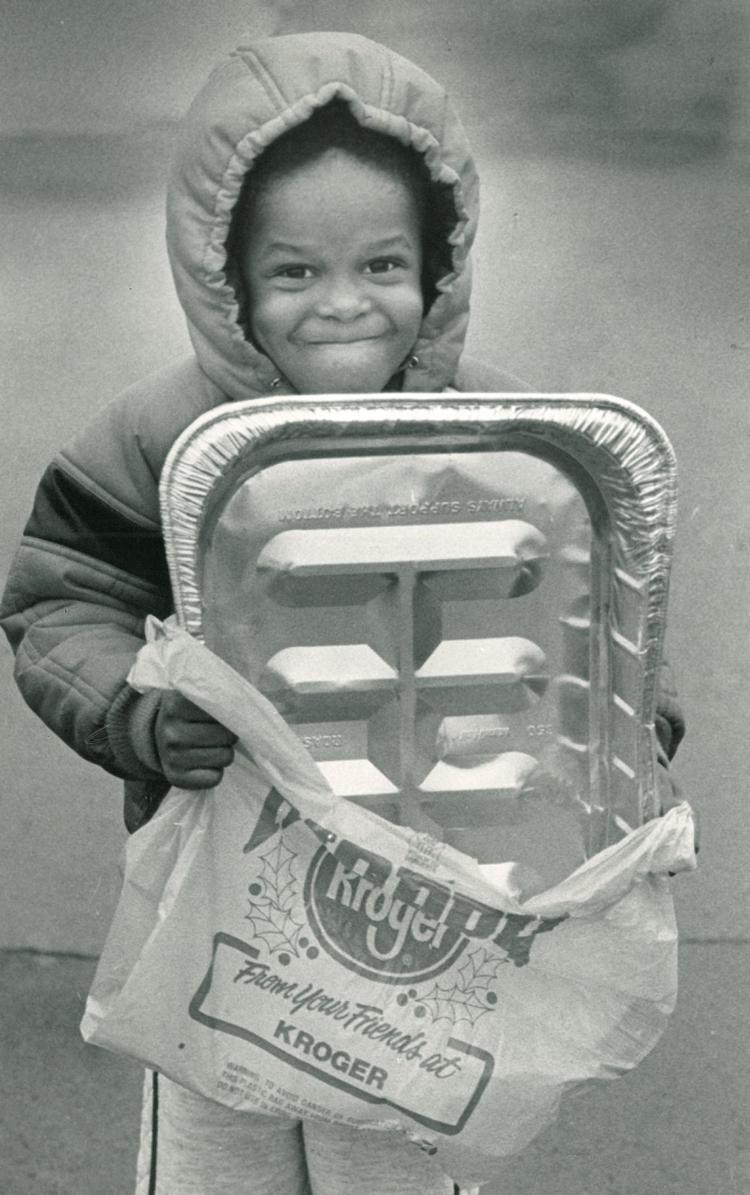 Helping out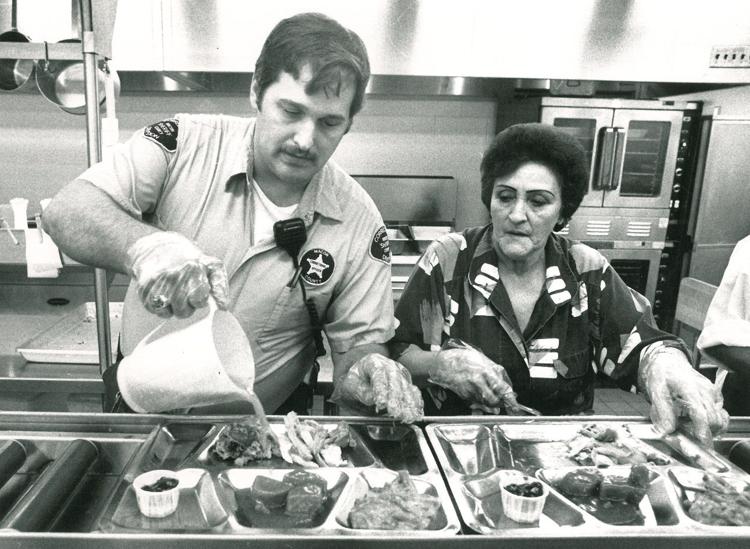 Contact Kennedy Nolen at (217) 421-6985. Follow her on Twitter: @KNolenWrites