DECATUR — Farmers of all ages were having a good time during the first day of the Farm Progress Show.
Andy Bailey brought his 3-year-old son, Adam, from Indiana to the sprawling agriculture show, sometimes called the "Super Bowl of farming." Father and son were allowed to participate in various activities that included diggers, checking engines and playing with animals.
"I got to play in the corn," the little boy said.
Adam gazed at the displays he doesn't get to see elsewhere. "He is interested in the Michelin Man," his dad said.
"Why is he giving the thumbs up?," Adam asked about the two-story inflatable character near the center of Progress City USA, adjacent to Richland Community College. 
An early-morning cold front that moved through the area was cause for some concern among organizers in the hours leading up to the start of the show.
"It was pretty nerve-wracking," said Matt Jungmann, show director, citing concern that high winds could cause damage to the displays.
Fortunately, the front moved through without incident, keeping intact Decatur's streak of no rain falling during show hours. This year marks the eighth time the show has been held on Decatur's northeast side. 
"That's pretty unbelievable," Jungmann said, adding "Mother Nature is doing her part" this year to provide beautiful weather for the remainder of the show.
Rain leading up the show did cause the cancellation of the popular field demonstrations on Tuesday. Rick Wild, show site manager, said the fields have been cleared for demonstrations on Wednesday.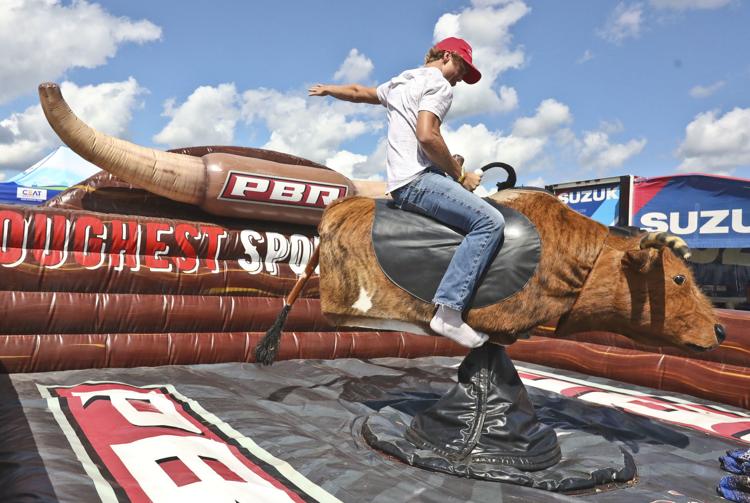 Even without the field demonstrations, there were plenty of activities to keep people occupied.
"A lot of business is done on the fairways," said Steve Mitorfski, the Channel brand ambassador directing visitors to play a round of miniature golf.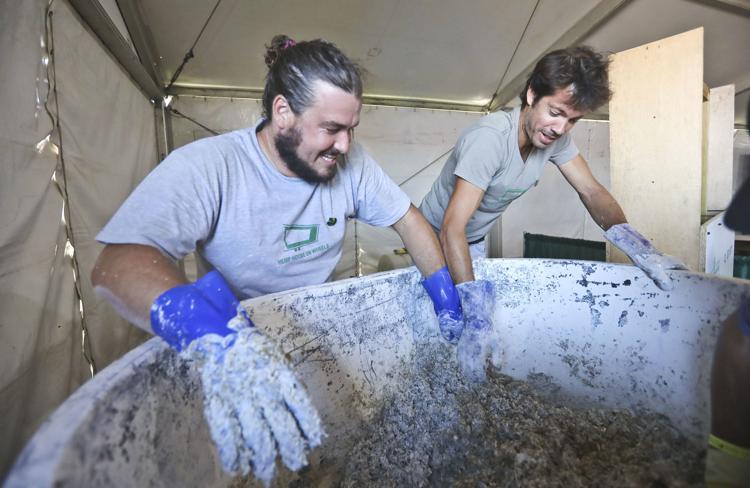 The golf holes were separated by the various categories of Channel's farm businesses, including pest and drought protection.
Bayer employees Jessica Patterson and Karen Behrens took a break Tuesday afternoon to hit the links. "We thought we would get out and see what it is all about," Patterson said, referring to the show. 
Although the women don't consider themselves golfers, they appreciated the opportunity.
"The golf is not going well, but the rest of Farm Progress is going great," Behrens said.
Lindsay Starwalt, from Greenup, attended the Farm Progress Show on the first day and walked away with plenty of merchandise. Along with a couple of buckets, she found several T-shirts, bags, cups, bottle openers and key chains.
"Almost everything," she said.
You have free articles remaining.
Starwalt had her favorites and was looking for more.
"Living on a farm, we use buckets all the time," she said. "So any size will help."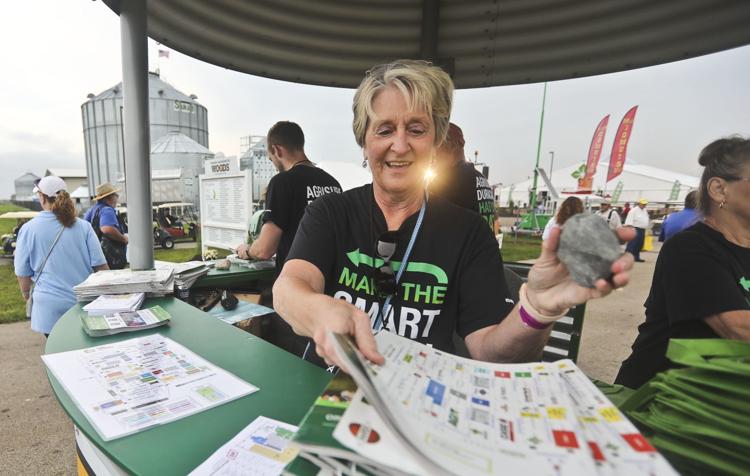 Visitors could easily find the typical free gifts, but unique handouts were a draw for many. Balloon animal hats caught the visitors' attention around the Corteva building on Central Progress Avenue.
"I saw someone with the Viking hat and I said I've got to have one of those," said George Brown, 14, an FFA member from Knoxville, Illinois. "It's awesome"
"I said, 'give me the most ridiculous thing you got,'" said classmate Chris Carpenter, 14. He didn't have a clue what it was he was wearing.
The duo bookended Brandon Hahn, who wasn't wearing a balloon hat and was described by Carpenter as the "sensible one."
Once the visitors made their way into the area, they stopped to find more items and a chance to rest.
"The layout is supposed to be pretty relaxing," said Luke Davies, an area lead for Illinois Corteva Agriscience. "It's not just for information."
According to Doug Reynolds, U.S. marketing communications lead for Corteva, the business is still new to the agriculture industry. The company provides various forms of crop protection. Creative merchandise is important.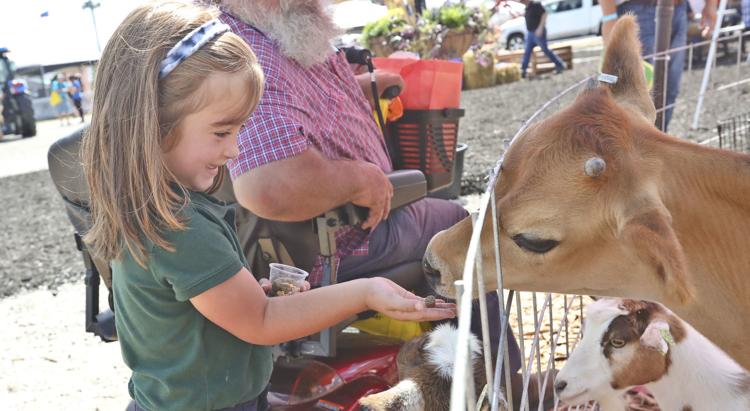 "Having a strong presence in this show, where you have about 150,000 attendees over a three-day period, it is important for them to learn about who we are and what we do," he said. "They start to become familiar with us."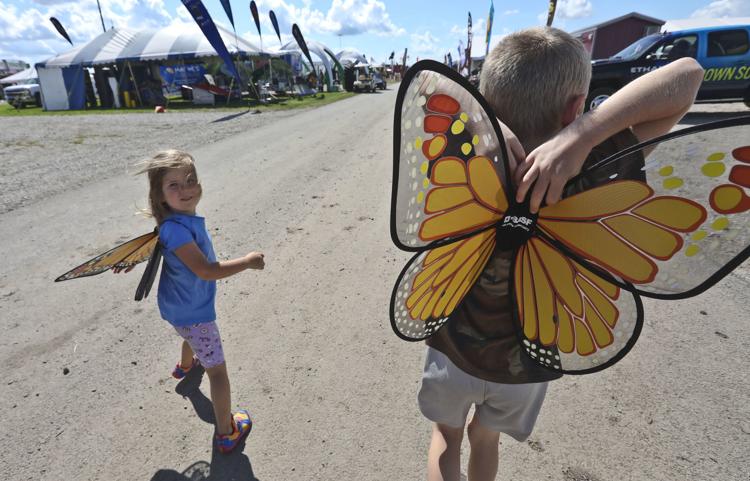 Hope Stuart, 4, brought her parents, as well as her 4-month-old little brother, Jonathan, and two-year-old little sister, Faith, from Michigan. Hope's father, Thomas, is a tenth-generation farmer. "I've been here four times," he said about the Decatur Farm Progress Show.
He and his wife, Elizabeth, wanted their children to understand their family business at an early age. However, it didn't take much coaxing for their children to find something to entertain them.
"They love climbing on the tractors," their mother said. "All the little fun things, it shows them this is a great livelihood."
The Stuarts said they are worried about the plight of family farms.
"We aren't seeing the younger generations coming up anymore," Elizabeth Stuart said. "So we want to give them the opportunity to look at and possibly pursue it if they want to."
Scott Perry contributed to this story.