DECATUR — Lynelle Smith, 62, made a pair of lavender gloves that had the look of store-bought. She knitted black lace for an ornate touch.
"It's no different than making a pair of socks," she said. "It's kind of fun to make."
Smith is one of the experienced and talented knitters at Tuesday's Knit Nite, the Decatur Area Arts Council's weekly knitting group. She has been knitting for more than 55 years.
"There's not too much I can't tackle," she said.
Although her work is intricate and creative, Smith does what she can to make sure newbies are comfortable and ready to learn.
"Just have fun with it," she said. "And if you make a mistake, I always call it an enhancement of the pattern."
Tonda Atchason has been the go-to person for the Knit Nite group for 15 years. The group meets on the Decatur Area Arts Council's second floor at 7 p.m. every Tuesday. Throughout their existence, they have had a steady membership of about 12 knitters.
"In the summertime, it's more than that," Atchason said.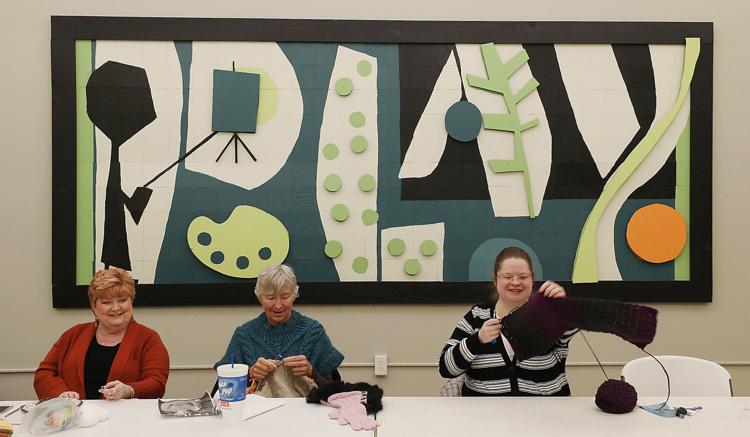 New knitters be warned: Once you get started, you won't want to stop.
"I have been in a lot of women's groups," Atchason said. "This is probably one of the best I have ever belonged to."
Some of knitters use simple techniques in creating scarves, blankets or wash clothes. Others knit more complicated pieces, such as gloves.
"There are some beautiful things that people do," Atchason said. "I'm not one of those people."
One of the group's appeals is the expertise available to knitters of all skill level.
"We have talented knitters," Atchason said. "They will put down what they are doing to teach you to knit, show you how to knit, to help you with a pattern, to help anyway that they can."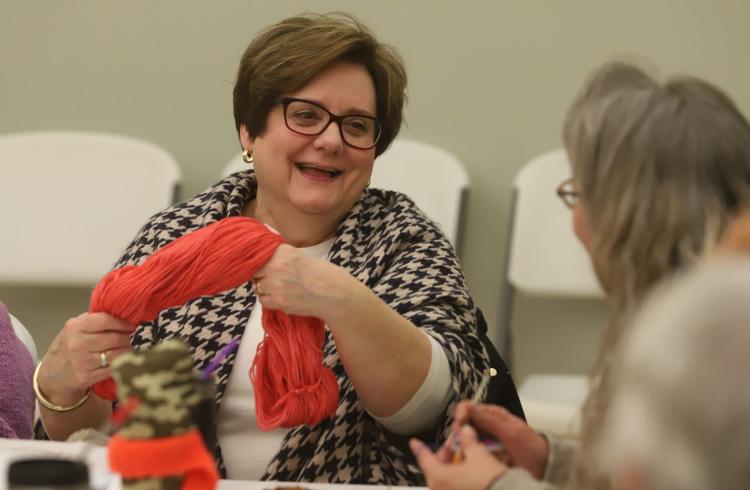 The end product is interesting, but the process in getting there is most of the fun, group members agree. The knitters work on their projects, but they use the two-hour meetings to talk about children, husbands and current events and celebrate any occasion with food.
Knit Nite is filled with women, but men are welcomed to attend as well. For example, a group of Millikin University men have joined previously. The only alteration to the meeting is the subject matter.
"We talk about our pets," Rebecca Robinson said.
Beginners are welcome. They will need to bring needles and yarn "and the desire to learn," Atchason said.
Members of the Decatur Area Arts Council can attend for free. Those wanting to try out Knit Nite can for $3 a visit.
The weekly meetings are designed to help encourage other knitters.
"They get the basics," Atchason said. "But we will give you the bug."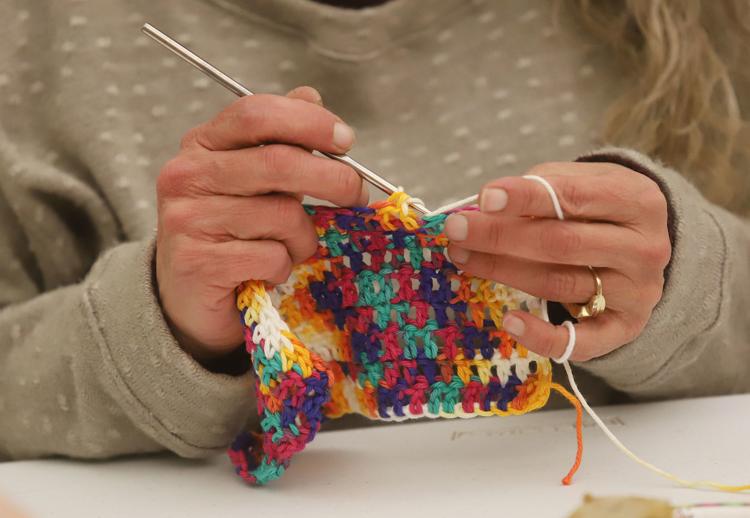 According to the knitters, the hobby can be expensive or economical. A stocking cap can be made with one skein, or ball of yarn, for less than $5. Others have created items from original patterns with $60 of yarn.
"You don't do these things to save money," Betty Wheatley said.
"And you don't do them to sell them and make money," Robinson added. "You will never get paid for your time."
Robinson had a stroke less than a year ago. She took a break but returned to Knit Nite recently.
"I come because it is a good peer group," she said. "This group is the most open, the most accepting."
Kathy Trusner, 67, attended her first Knit Nite in 2004. She soon learned there was more to the meetings than making a scarf and she wrapped herself in the opportunity.
"It's more of the camaraderie of the women," she said. "This is mindless knitting."
Knitting is only one of the hobbies Priscilla French uses to create interesting pieces. She also looms, crochets, paints and does Japanese braiding. She also does double-knitting, or two layer fabrics with knitting on both sides.
"I can't do that here," she said. "With the pattern, I have to count continuously. I can't visit and count at the same time."
Although French can create unique projects on her own, she prefers to attend Knit Nite.
"This is a good place to meet other people with my addiction," she said. "You have to be with other fiber-holics."