This is a developing story from the Herald & Review newsroom.
UPDATE AT 8:15 P.M.
The Decatur & Macon County Animal Shelter Foundation says its Fido Scurry 5K and color run/walk is canceled due to further rain and flooding expected on Saturday. Wags & Waves, which allows dog owners to let their pets swim in the Fairview Family Aquatic Center pool, has been rescheduled to Sunday. 
Those who registered to participate in the Fido Scurry will be allowed one free entry into next year's event in lieu of a reimbursement. Wags & Waves begins at 11 a.m. Sunday. 
UPDATE AT 4:45 P.M.
Heavy rain forecasts for Saturday forced the cancellation of the Rise for Climate March, which was to take place in Decatur. Instead, organizers say the event has been turned into an indoor rally that will be held from 2 p.m. to 3 p.m. at Old King's Orchard Community Center, 815 N. Church Street. 
Sandra Lindberg said she and other event organizers had been keeping close watch of weather radars in hopes that they could "skate through" the weather, but there was no such luck.
"We were talking about the fact that this (the heavy rain) is a climate change event," said Lindberg, the chair of Sustain Our Natural Areas, a subcommittee of the non-profit Community Environmental Council of Macon County.
"This storm and a number of storms that we've been getting in the area are fallout from the hurricanes in the Gulf, and they're increasing. Even though it's sad that we don't get to march, this illustrates why we're having the rally."
Decatur is one of many communities around the nation participating in Rise events, which aim to address climate change issues and educate citizens on how they can help combat it locally. 
UPDATE AT 4:27 P.M. 
The Macon County Conservation District says Sand Creek Conservation Area and the southern half of Fort Daniel are closed due to heavy rain.
---
The National Weather Service has issued a Flash Flood Warning for Central Illinois.
UNTIL 8 P.M. FRIDAY
PIATT COUNTY IN CENTRAL ILLINOIS...
VERMILION COUNTY IN EAST CENTRAL ILLINOIS...
CHAMPAIGN COUNTY IN EAST CENTRAL ILLINOIS...
NORTHEASTERN MACON COUNTY IN CENTRAL ILLINOIS...
UNTIL 6:15 FRIDAY
SOUTHEASTERN MENARD COUNTY IN CENTRAL ILLINOIS...
SOUTHERN LOGAN COUNTY IN CENTRAL ILLINOIS...
NORTHEASTERN SANGAMON COUNTY IN CENTRAL ILLINOIS...
SOUTHWESTERN DE WITT COUNTY IN CENTRAL ILLINOIS...
NORTHWESTERN MACON COUNTY IN CENTRAL ILLINOIS...
As of 3:30 p.m., no high school football games had been canceled.
---
UPDATE AT 3:45 P.M.
Randy Callison, the city's forestry and property maintenance supervisor, said barricades had been put up at locations that are prone to flooding — including the North Main Street underpass just south of East Green Street and the underpass at South Oakland Avenue and West Main Street near Millikin University. 
The rain had started to slow down around 3:45, Callison said, allowing some flooded roadways time to drain.
For the rest of the evening, city troubleshooting crews will be on call to handle any flooding that may occur, he said. Callison said that anyone who comes across a flooded roadway should notify Decatur police by calling their non-emergency number, (217) 424-2711. 
"I want to reiterate, if you come up on deep water where you can't see the pavement, don't go in it," Callison said. "You'll end up either risking your life or having to call a tow truck."
---
Heavy rainfall may create flash flooding starting tonight and into Sunday morning in Central Illinois, according to a Flash Flood Watch from the National Weather Service in Lincoln.
Four to 6 inches of rain are possible between today and Sunday. Isolated thunderstorms are also possible, according to the weather service. Temperatures will peak at the mid to upper 60s over the weekend.
"Sometimes, if it comes down slow enough we can handle a lot of rain, but in this situation it is going to be a prolonged period of heavy rains," said Ernie Goetsch, a weather service meteorologist 
Remnants of Tropical Storm Gordon along the Gulf Coast will arrive in Central Illinois on Saturday, bringing multiple periods of heavy rain, Goetsch said. The greatest chances for flooding will be areas that experience large amounts of rain falling quickly multiple times or even one time, he said.
The Flash Flood Watch is for Cass, Champaign, Christian, Clark, Clay, Coles, Crawford, Cumberland, DeWitt, Douglas, Edgar, Effingham, Jasper, Lawrence, Logan, Macon, Menard, Morgan, Moultrie, Piatt, Richland, Sangamon, Shelby and Vermilion counties.
The best advice for flash flooding is to stay away from flooded roads, Goetsch said. This is the most dangerous place to be because cars can be swept away with the water.
"Most deaths occur from flash flooding from driving into flooded roadways, so turn around don't drown," he said. "That is the best thing to do is if you see water over the road turn around."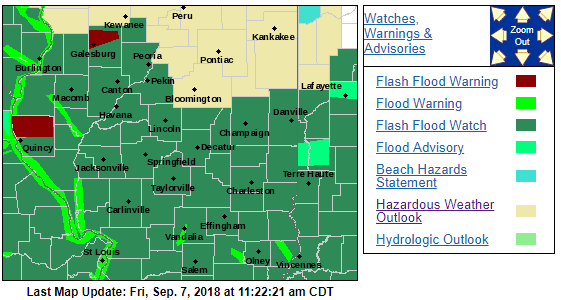 Central Illinois does not experience flash flooding like residents who live near the Mississippi River and Illinois River, said Tammy Esposito, assistant Macon County Emergency Management Agency manager.
"A lot of what we experience here is water-covered roadways in low lying areas, street flooding in town," she said. "When we have the volume of water that is expected, it is slow to drain."
Residents may experience basement flooding, Esposito said, and appliances in basements or other electronic items can create an electrocution risk for people in the water, she said.
Heavy rains can add extra work for the response system because cars get stuck in flooded roadways and need assistance, she said. As little as 2 feet of water can pick up a car and sweep it with the current, Esposito said.
The emergency management team keeps a close eye on rainfall amounts, she said. Emergency management works with the city of Decatur Public Works Department and the Macon County Highway Department to know the status or roads throughout the county. Stevens Creek and the Sangamon River are prone to flooding, Esposito said, and underpasses also fill with water. But flooding can occur anywhere, she added.
"It is a wait-and-see thing, because you don't know exactly where your problems are going to end up being," she said. "It could rain really hard in Forsyth and not at all in Macon."
The agency's general advice is to be careful driving. Drivers should use their vehicle headlights and go slowly, she said. They should also turn around if they encounter a flooded road.
Rural roads are especially dangerous, because the roads are more likely to be washed out by heavy rains, , Esposito said. Water sits on country roads and makes it impossible to tell if a road is intact or if it has holes or is eroded, she said.
"It can be very dangerous," she said. "We've had times where people have driven their trucks into a flooded way, and then there is a hole they ended up in."
Some area events have been canceled, changed or rescheduled due to the weather forecast. 
The Special Olympics Outdoor Sports Festival is cancelled. 
The Rise for Climate rally will be held indoors at Old King's Orchard community center from 1:30 p.m. to 3:30 p.m. 
Golf Fore Kids' Sake was rescheduled to Friday, Sept. 21
PIATT COUNTY IN CENTRAL ILLINOIS...
VERMILION COUNTY IN EAST CENTRAL ILLINOIS...
CHAMPAIGN COUNTY IN EAST CENTRAL ILLINOIS...
NORTHEASTERN MACON COUNTY IN CENTRAL ILLINOIS...