---
DECATUR — The Chicago Bears proved you really can go home again, and everybody loves you for it. 
The storied National Football League franchise returned to celebrate its roots in Decatur with a two-day 100th birthday salute to both its extraordinary history and its legions of downstate fans.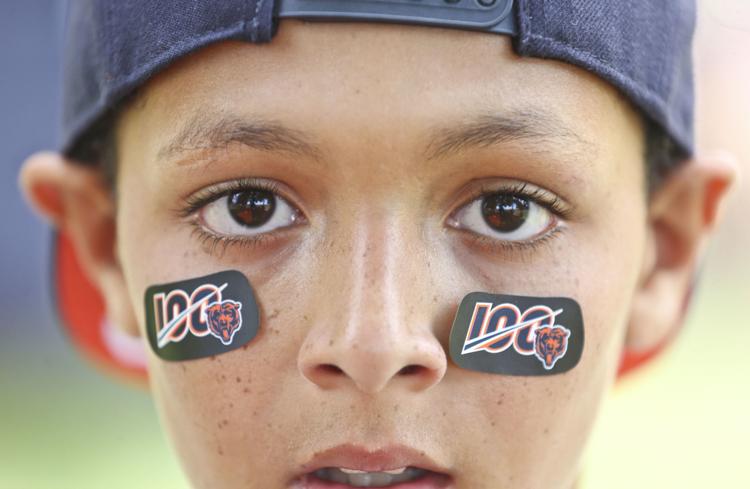 And those fans, from infants to retirees, men, women and children, turned out in droves Sunday for events centered in and around the Decatur Civic Center that featured games, celebrity player autographs and a look back at the century that saw the Bears first hit the turf in 1919 as the Decatur Staleys, an A.E. Staley factory team. 
"Finally, it's about time they came back to Decatur where it all started," said diehard fan Jordan Moore, 27, who couldn't stop smiling. He was there with his family that included kids Micah, 6, and 3-year-old Holly because he wanted them to see, hear and feel a little bit of that sense of historical occasion. 
"It began here, it all started here, it really did," he added. "And now it's so cool to see all this happening. And the team this year is looking good — I believe we're going all the way this season."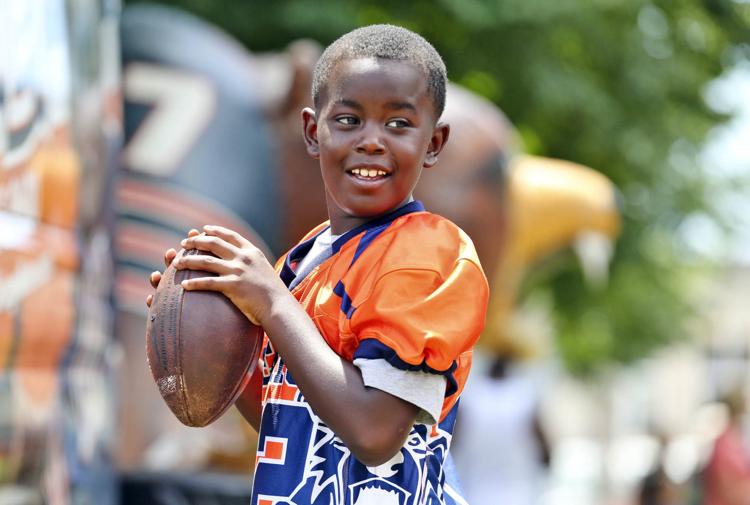 The Bears roadshow caravan had rolled into town Saturday with a training camp for local high school students and then came Sunday's "Return to Decatur" day-long package of events. There as a little bit of something for everyone, from performing drum bands and face painting for the little ones to games and activities and more red meat football stuff for the serious fan.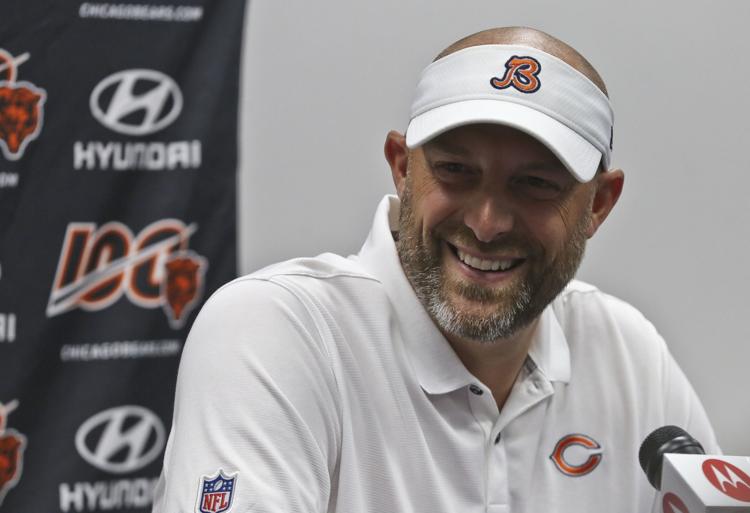 A panel discussion in the Civic Center at 3 p.m. featured Hall of Fame writer Don Pierson, Bears Chairman George H. McCaskey and celebrated Bears alumnus Lance Briggs to talk about the Chicago Bears Centennial Scrapbook. Priced at $55, everything you ever wanted to know about Da Bears is da here, right down to those century-old Decatur roots. 
McCaskey had paid fulsome tribute to his team's Decatur beginnings, celebrating the generous foresight of A.E. Staley, an industrial genius, who gave his support to the football dreams of player-coach George Halas, the man who created the Staleys and morphed them into the Bears. 
"Without Mr. Staley's vision and his entrepreneurial spirit, the Bears would not be here," said McCaskey, Halas' grandson. "So we are very grateful to have had our start in this great town -- and it's great to be back to celebrate our centennial right here in Decatur."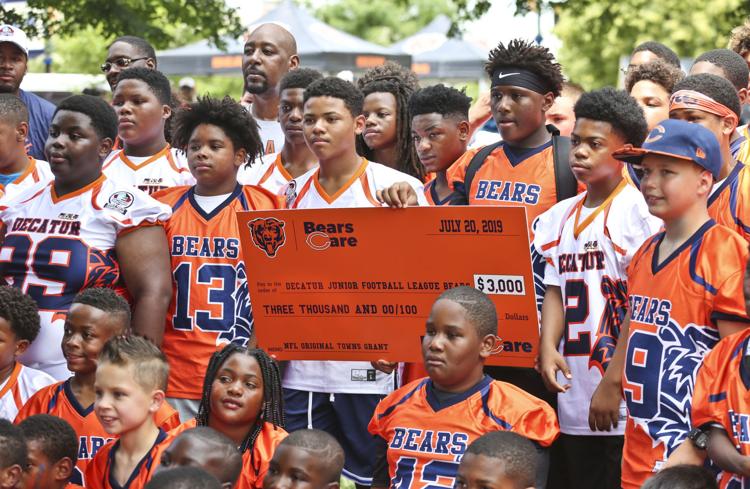 That was met with thunderous applause as the crowd filling the Civic Center Main Arena lapped up an hour-long discussion featuring the Bear necessities of fandom: great moments in Bears history and the great players who made that history, such as Lance Briggs. 
Many of the fans who came to drink it all in Sunday have their own personal Bears history — passionate support for the team that is passed on from father to son. Love of the team for these true believes is like religion: it's a spiritual thing, based on belief and joy. "I just grew up with them: My dad is a major fan, my grandpa, everybody," said Ben Townsend, who came to town from his Chatham home and spoke while holding the hand of son Levi, 4. 
"Supporting the Bears is a lot of fun and we try to get to as many Bears events as we can throughout the year," Townsend added. "We go to the training camp and we try to go to one game each year."
Standing nearby was his 52-year-old father Tim Townsend, who drove over from his home in Springfield. He said it was satisfying to see the Bears acknowledge their Decatur birthplace and it was nice not to have to drive up to Chicago to acknowledge them. 
"And my whole family are Bears fans," he added. "Well, except my brother, who is a Packers fan. But we don't talk about him."
Decatur Mom Markina Young brought along twin 9-year-old sons Kamari and Kendell to enjoy the Bears spectacle and to give them a close-up look at the giddy professional heights available for players with the talent. "Both my boys play in the Decatur JFL, and they play for the Decatur Bears," she said with a grin. "And they're just so excited to see all of this."
Some parents have grown concerned about the cost the magnificent game, whether played by the Bears or anyone else, can exact on its players in terms of injuries. But Young, whose oldest boy Dejour Bradford started when he was 8 and now plays college ball at aged 20, has no such qualms. 
"Football has never done my kids any harm," she said. "We love the game… and we love the Bears." 
GALLERY: Bears celebrate Decatur roots
---
GALLERY: Looking back at the Decatur roots of the Chicago Bears 🏈