DECATUR — Decatur native Elizabeth Birch has always been interested in the thrilling adventures life has to offer.
"I like roller coasters. I don't scream," she said. "I find them funny."
It's this character trait that encouraged the 2016 Eisenhower High School graduate to pursue her love of flying — but not just any flying.
Birch, 20, is an aerobatic pilot. She competes in national contests with her University of North Dakota Aerobatics Team.
"I'm in the plane, not on it," she clarified.
Aerobatics are stunts performed. "You can go upside down, do loops, rolls," Birch said. "Just doing things like you would see in air shows."
During competitions, the pilot is required to perform certain maneuvers and sequences. "We do three flights per competition," Birch said.
The events are separated into five pilot categories: primary, sportsman, intermediate, advanced and unlimited. In a year, Birch has moved to the second level in the sportsman category.
During her childhood in Decatur, Birch worked hard at whatever sport or activity she did. "Most sports except for volleyball and basketball," she said.
Soccer, track, softball, golf, bowling, hockey, football and ballet were just a few of her activities.
"And she still got straight As," said her father, Mark Birch.
Birch believes had she focused on any one of the sports, she may have received a scholarship. Instead she found a love with aviation, an interest her father had as a child as well.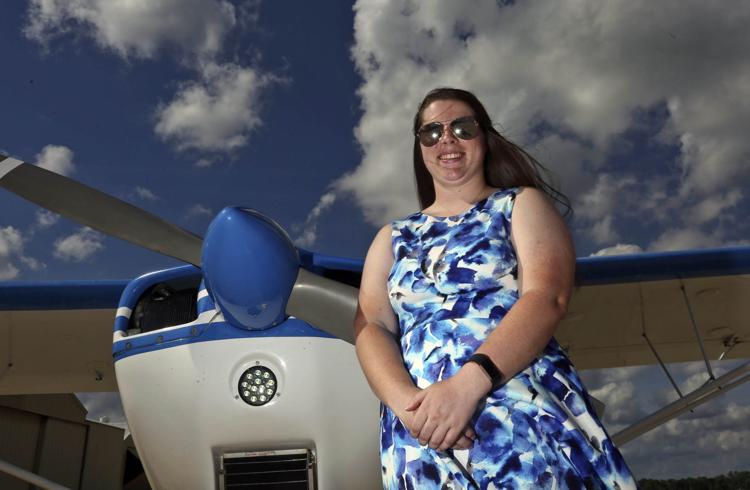 "That was one of my lifelong dreams at her age," he said. "But you had to start with 20/20 vision. That ended my idea of being a pilot."
Birch and her family lived in the country, leaving the siblings as their only playmates. She is the only daughter in a family of six. "She always tried to keep up with her brothers," her mother Laura Birch said. "She is used to being around boys."
As a student at Eisenhower, Birch was involved with as many activities as possible. "She wants to do it all," Laura Birch said. "But I'm glad I don't have a lot of pilots in the family."
Her parents were open to their daughter trying different interests. While she was visiting a museum in Oshkosh, Wisconsin, as a child, she was given a free flight with the Young Eagles, a program designed to introduce youth to aviation.
"Once I did my first flight when I was 12, I came back to my parents and said 'I want to be a pilot'," Birch said.
She began researching her options, studying the military, schools and scholarships. The decisions led her to the North Dakota college.
One of her first flights in a twin-engine airplane in Decatur was at 15 years old. "The pilot wanted to take me flying to see if I was pilot material, if I would get airsick, if I could handle it, if I could learn," Birch said.
The pilot performed what Birch calls G-drops. "Where you pull the controls back, then push them forward, and everything floats," she said. "I was just giggling the whole entire time."
She asked her mother recently what she remembered about that time in their lives. "She said she thought it was just a phase," Birch said. "All 12-year-olds, saying they want to do something, they always change their mind the next week."
Birch worked to obtain her pilot's licence in Decatur and Champaign airports. She became a member of the national organization, Experimental Aircraft Association chapter. The EAA awarded Birch a scholarship while in high school.
However, she didn't begin aerobatic flying until April 2017. Birch became interested after she saw an advertisement for an introductory class at her college.
With only a year under her belt, she is already winning. Her latest competition was in June in which she won first place. She was also the only female to compete.
"That's common," Birch said.
The current University of North Dakota Aerobatic team consists of eight members with only two females.
Birch said she has experienced competitors analyzing her before the flights. "Sometimes I do feel like I'm treated differently," she said. "Some people see it as, if a judge finds out that there's a girl in the cockpit, then they might score you differently."
However, her team flies the same airplane. The competition judges have a difficult time seeing the gender of the pilot.
Birch explained the strength needed to fly airplanes comes from the lower body, not the upper body. Having control of your body will prevent the pilot from passing out or getting sick.
"You tense your legs to keep the blood from flowing to your feet," she said. "Everything feels heavy, so all the blood from your head goes down to your feet."
Safety is important to the flight instruction. Therefore, Birch has a trainer with her during the aerobatic flights.
Many of the pilots from the college have been able to find jobs with commercial airlines. "There is a pilot shortage right now," Birch said. "Everyone is retiring."
The Eisenhower graduate plans to do the same after she graduates in December. "A four-year program in two and a half years," she noted.
Although Birch will pay the bills as a commercial pilot, she plans to use her earnings to pay for her passion. "Expensive hobbies come with good paying jobs," she said.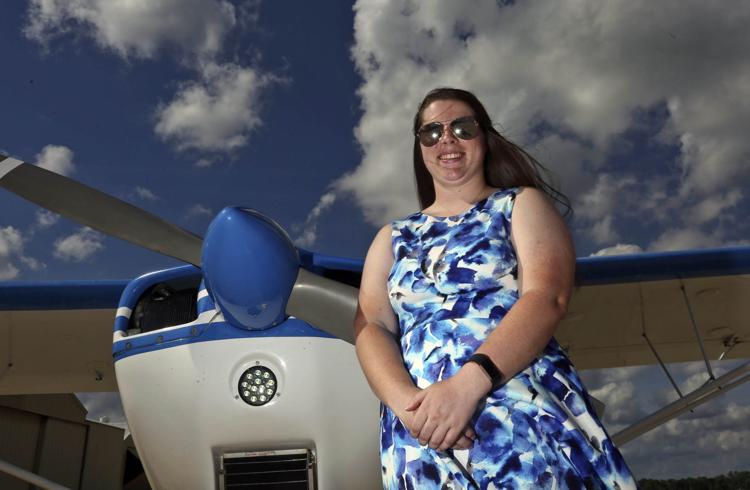 In a few months, Birch will begin working as a certified flight instructor. Since she began college in the fall of 2016, she has obtained various flight licenses, including commercial, multi-engine and teaching.
Her family encouraged their only daughter to take up flying, specifically the aerobatics. Mark Birch has a future date with his daughter after she receives her aerobatic license. He has been promised he will be the first passenger to do a loop with her in the airplane.
"My thought was, as a pilot, to learn how to handle a plane and doing things that it doesn't normally do, that is a good thing," her mother said. "Now, watching her do it, that's a little nerve-racking."