MONTICELLO — Owners of a historic one-room schoolhouse outside Monticello say they will give it away to anyone who will move it to a new location after their plans to use the 129-year-old building for an art studio didn't work out. 
Cindy Darnell and her mother, Jena Clifton, bought the Dighton School House outside of town in an auction last spring, but soon it became clear the building required extensive, costly renovations.
First, they tried to sell the schoolhouse for $20,000, but it sat on the market for months with no serious offers. Now, they hope someone will take the schoolhouse for free so they won't have to tear it down.
"It's a beautiful location," she said. "So we initially thought it would be a great place to remodel and have classes out there because you are right there in nature."
The white, wooden structure, built in 1889, was a school until the Monticello School District consolidated in the 1940s. Since then, the property has served as a meeting place for social gatherings, a nature retreat and fishing spot, according Herald & Review archives.
The building is one and a half stories with a kitchen, bathroom and two rooms in a loft upstairs. It is located at 1005 E. 1765 North Road, about one mile east of Monticello.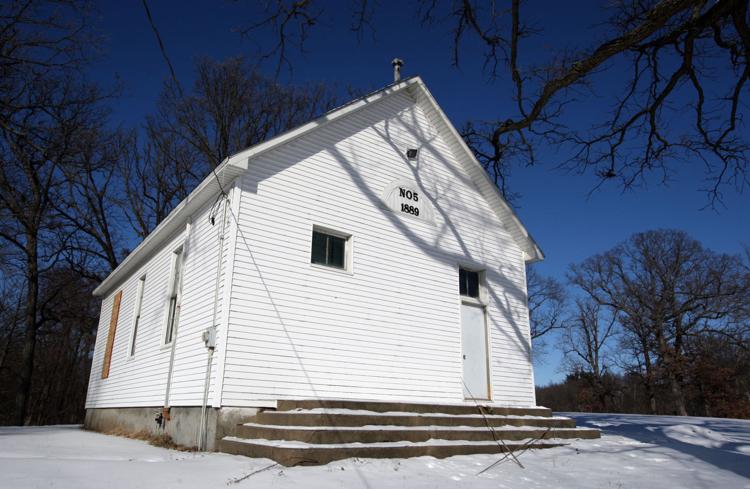 Originally, Darnell envisioned the school house as the location for her new pottery business, Catalyst Creative Studio & Gallery, which is now located at 818 S. Market St., former home of Napa Auto Parts.
"And then we found the bats," she said. "I love bats; I love bats. We saw them once the ceiling came down, and we were thinking there were twenty or thirty but it turned out there were quite a few more — hundreds."
The bats were living inside the walls of the structure. To make it safe, plaster needs to be removed and an enzyme applied, but that would cost a few thousand dollars, Darnell said.
"It wasn't going to be feasible for us, financially, to take down the walls and clean it the way it needed to be cleaned," she said.
Darnell posted the home on Craigslist in the fall and received a few inquiries, and one serious buyer that ultimately pulled out.
"We would very much like to see it preserved," Darnell said.
So far, seven families have shown interest. One couple thought about turning it into a location for weddings. But no serious offers have been made, Darnell said. 
The building needs to be moved before it deteriorates, Darnell said. The potential cost of moving the schoolhouse varies, but the estimate to get it lifted off the base is between $5,000 and $7,000, Darnell said.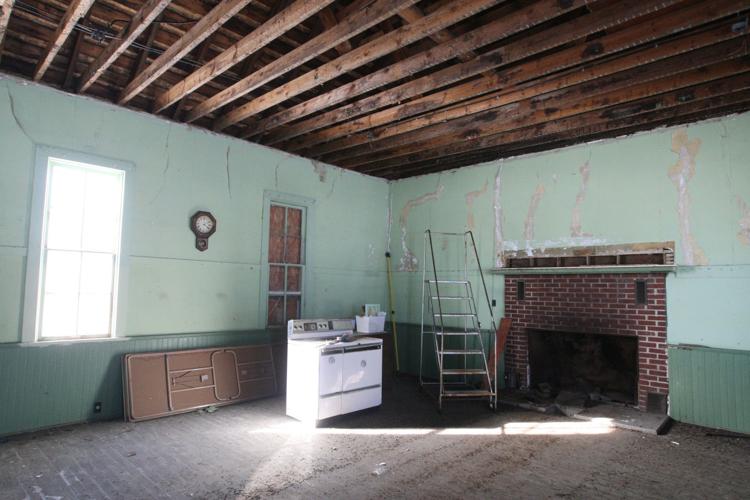 One factor that would affect the price is how many power lines have to be moved, she said. Another option could be to disassemble the structure and put it back together somewhere else, although Darnell thinks it would hold up well in a move. 
"It is made with old wood, so it is much denser than today's pine," she said.
Darnell said the building has been inspected and is structurally sound. The floors are in pretty good shape with less than five feet total that need to be replaced, she said.
One person who hopes the community can save the historic schoolhouse is Jackie Butler, who worked as a caregiver and housekeeper for the building's previous owners, Dorothy and Bob Miller. Butler hopes the community can come together and save the property.
"It would be nice if the community could come together, and everybody could pitch in a little," she said. "Rather than being torn down, I would love to see it moved."
The Millers, who owned the property for 30 years, were well known around Monticello as avid Sages fans. There are seats reserved in their names at the Miller gym, which is used by the elementary and high school students also named after them, Butler said.
Bob Miller, who died in July, was a longtime owner of the Dairy Bar, a local spot for food, ice cream and gossip, according to the Herald & Review archives. He was also a member of the Monticello school board. Dorothy Miller died in 2008.  
The family also supported Sages athletes by celebrating their accomplishments at the schoolhouse, which they used as a cabin.
"They had dinners out there, a lot of steak dinners out there for cheerleaders, the football team, the basketball team," Butler said. "So many people had such great times out there."
The lake on the property was always well-stocked with fish, Butler remembered, which provided many fun memories for her and her family who would camp on the property during the summer.
"You always caught fish," she said. "My best day I caught 52 fish in one day."
As they search for someone to move the building, Clifton and Darnell are moving forward with other plans. Clifton plans to build a home on the property, and Darnell has received 35 students for art classes at her new art shop in Monticello. She said she was surprised and excited by the reception to her new business, which will also offer studio time for experienced potters and parties for both children and adults. 
"I think there is a lot of creativity in Monticello, and I think that can be overshadowed sometimes," Darnell said.
Anyone who is interested in the house or the business can contact Darnell at (618) 518-0470. 
Butler said she knows how much the cabin meant to Bob Miller, and she hopes it will find a permanent location where it will be enjoyed and maintained. 
It will be sad to see it moved from the property, Butler said, but that is better than the alternative of it being torn down.