ARGENTA — If you're going to have an event called Argenta IceFest, you want it to be cold.
"According to our (ice) carver, 26 (degrees) is ideal," said Dawn Decker, the event coordinator. "There's a little melting going on from the sun, but it's OK. It's not too bad."
This was the third year for the event, begun by the Argenta in Motion community group as a way to promote the town and get people together in spite of the cold.
"We started up about four years ago," Decker said of Argenta in Motion. "Now it's grown from the first year, when we had about 20 sculptures and the vendor fair and the wine-tasting tent, and it's grown from that. Now we've added an Ice Breaker Challenge (race) and we have sled dogs this year, and a barrel train for the kids. We have activities for everybody, old and young."
A notable feature of the event is live carving demonstrations by gold and bronze medalist Aaric Kendall, an Argenta resident who spends most of his time traveling to festivals and competitions to wield his ice-carving skills. He won the medals in the Cultural Olympiad held in conjunction with the Winter Olympics and learned ice carving at the Culinary Institute of America in Hyde Park, NY.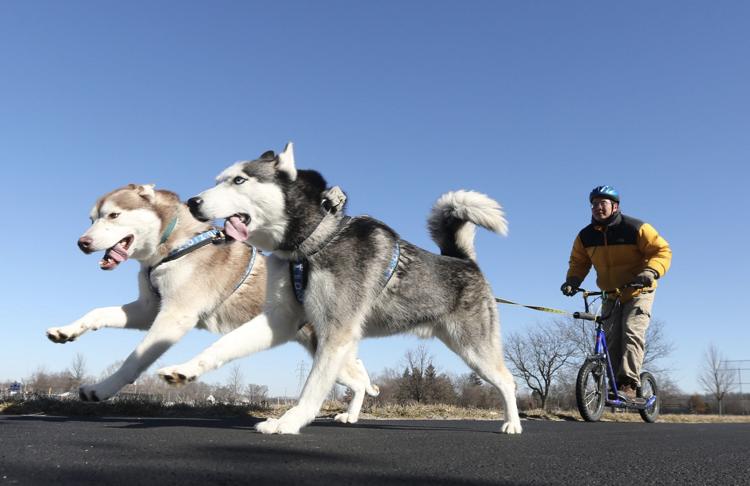 This year was the first time attending for Shelley Shafer, who recently moved back to Argenta and wanted to reconnect with the community.
"I wanted to come and see what Argenta has to offer," she said. "The ice sculptures were cool."
The Ice Breaker Challenge race really is a challenge, said race official Scott Broyles.
"This is a really awesome, unique race," he said. "It's kind of like a Spartan race blended with a CrossFit workout. With our race, you have to flip tires, swing a sledgehammer, you had to carry a keg, you had a sandbag carry, we had a 'hero carry' where you had to carry your partner.
"We had a run involved with it, then they finish off with a wheelbarrow race where one partner is in the wheelbarrow and the other one is running with them and then we have two trikes, and each partner would get on one of the trikes. This is really unique to this area, because there's nobody else in the Midwest who is putting on a race like ours today."
The winners were Team Barry from 121 Fitness in Mount Zion, comprised of Rex Barry and Zack Kistenfeger, who each received a foot-shaped first place medal and a traveling trophy that will be kept at 121 Fitness until next year's winners are declared.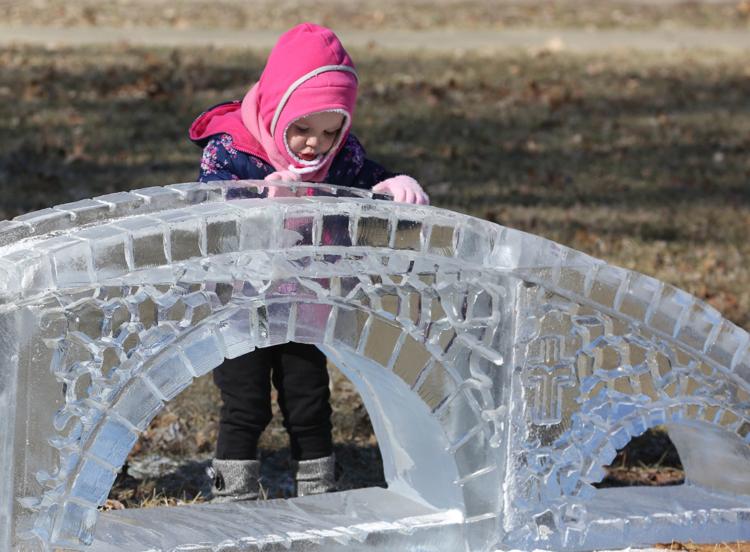 "We just do a lot of cardio every day," Kistenfeger said of their training, though both men laughed about the impossibility of training specifically for a race with such variety involved.
"We go to the gym every morning," Barry said. "That's about it."
A relatively new feature of the event was the chili cook-off, a people's choice contest where patrons get a sample of all the different offerings and choose their favorite. The winners were Matt Hauersperger in first place; Noelle Handley in second; and Becky Kendall in third.
Gary and Jan Sickbert of rural Argenta said they didn't mind the cold day.
"It's a wonderful event," Jan Sickbert said. "We were here for the first one three years ago and we were here when Aaric Kendall was getting ready to go to the Olympics and we watched him practice carving. It's a good thing for us."