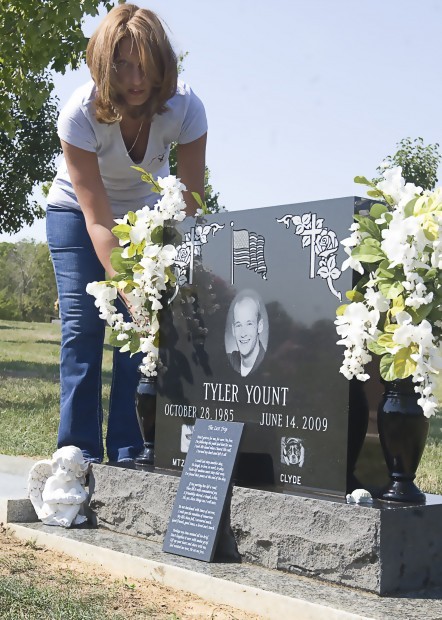 MOUNT ZION — Kathy Burkham is gradually emerging from the deep tunnel of grief that has engulfed her for the past three years.
Her 23-year-old son, Tyler Yount, died from a drug overdose on June 14, 2009, at a time when it appeared he might have finally overcome his struggles with addiction.
Burkham, 48, said she recently received an emotional lift by meeting with others who have suffered similar losses.
On Aug. 31, she drove to Peru to attend an Overdose Awareness Day event organized by a woman who lost her 26-year-old son to a heroin overdose last November.
The event attracted more than 200 people, some of whom spoke of their own tragedies. The participants commiserated with each other, walked together and released balloons in memory of their loved ones.
"It was the most moving, touching day," Burkham said. "I drove away feeling like I belonged in that city with those people. Nobody was judging you."
Burkham, who is planning a similar event at Mount Zion's Fletcher Park this Aug. 31, said she recently began to understand how serious and widespread the addiction problem is among young people.
"I think the war on drugs is a complete failure," Burkham said, adding that she believes incarcerating nonviolent drug offenders often cripples the addicts further by taking away their self-esteem.
Tyler's death was especially shocking to his mother because she believed he was drug-free for more than 11 months and was looking forward to celebrating his one-year victory over addiction on July 7, 2009.
"Maybe there was a relapse or something," Burkham said. "I think he bought drugs from someone he didn't know. He had no idea what was in them, what a deadly mixture it was. He died alone in a hotel room."
When Burkham attended the coroner's inquest, she was told by Macon County Coroner Michael Day that many parents did not want to know the details surrounding narcotics deaths.
"I told him I wanted to know every detail," Burkham said. "I needed to know."
Burkham received a report from the Illinois State Police Forensic Science Laboratory, which showed that her son's blood and urine contained cocaine, morphine, methamphetamine, amphetamine and metabolized heroin.
"He died of cocaine/heroin overdose," Burkham said. "And I was horrified at hearing the word 'heroin.' "
Yount, who was always more a follower than a leader, began smoking marijuana at a young age. He especially followed an older relative, who introduced him to the drug.
"Tyler was very smart," Burkham said. "He would not study, but he would still make all B's. If he had studied, he could have made straight A's."
He had a group of friends who used drugs.
"At first, you know something is different with your kid, but you don't know what it is," Burkham said. "When you find out they're using hard drugs, there's disbelief, then anger. You are naive in thinking they can just quit. It was probably an addiction before I realized he couldn't stop."
Yount joined the Army when he was 17. He was trained as a medic and a paratrooper.
"He was the youngest person in his unit to go airborne," Burkham said.
While in the Army, he discovered crack cocaine, which led to his general discharge, honorable conditions, following a drug test. He had served in the Army for almost two years.
You have free articles remaining.
"I was so disappointed," Burkham said. "That's when I knew he used crack cocaine. As a mom, for the longest time, I wasn't thinking my son was a drug addict. I can't tell you when I accepted the fact he was a drug addict. It's such a blur."
After returning home, Yount bounced in and out of rehabilitation programs in Decatur, Champaign and Springfield.
He landed a job at a Decatur construction company. Burkham believes the drug dealer who sold him the drugs that killed him worked for a different contractor at the same site.
"Looking back, that was probably the worst thing that happened to him," Burkham said.
In the aftermath of her son's death, Burkham went into an emotional tailspin from which she does not expect to fully recover.
"You never get over it," she said. "I'm such a different person than I was when he left. There are days you don't feel like getting out of bed."
Although grief is her constant companion, she acknowledges that she receives abundant support from her faith, family and friends.
"I never lost my faith," Burkham said. "Tyler was buried on a Thursday, and we were in church on Sunday morning. A lot of people in our church reached out to me."
Burkham credits her husband, Mike, for holding her up throughout the ordeal.
"He is the best," she said. "It is not easy watching your spouse going through this. He is the most dedicated, devoted, understanding and compassionate person."
Mike Burkham, Yount's stepfather since he was 9, said he would like young people to understand that when they waste their own lives, they are also taking their loved ones down with them. He said he had no idea how much his life would change because of Yount's death.
"There's not a week goes by that we don't go to the cemetery, sometimes three, four or five times a week." Mike Burkham said, adding that they frequently clean the headstone and the gravesite. "That's all you have left to do."
He said the hardest time was immediately after hearing of Yount's death, which was totally unexpected.
"The first year, we just existed," he said. "Just put one foot in front of another. Losing a child is probably the hardest thing."
He and Kathy Burkham attended counseling, but they didn't get much out of it.
"I think the best counseling is talking to people who have been through the same thing," Mike Burkham said. "I know a lot of marriages fall apart over something like this because people can't deal with grief."
Mike Burkham said Kathy really wants to help others who have undergone similar traumatic experiences.
There was a grim irony to the timing of Yount's death, just when it seemed like he was on the right track. He began attending Richland Community College five months earlier.
"He told me he never felt he belonged anywhere more than in the classroom," Burkham said. "He wanted to be normal. He wanted to be a husband and to be a father. He wanted what everybody wants.
"He was so against drugs. His life was good. He had a job, he had a girlfriend, every normal thing everyone wants in life. He would always say he wanted to be normal. He felt that drugs took so much away from him, and he wanted to get back to the way he used to be."