DECATUR — Jack, a 1-year-old Standard Schnauzer, could not stop wagging his tail while getting to try something he had never done before.
"We found out he doesn't know how to swim today, but he's learning," laughed his owner, Brenda Saubert of Decatur. 
Brenda, 60, and husband Lysle Saubert, 61, were among dozens who attended the Fairvew Pool Dog Swim with their dog, Jack, on Saturday following the 18th annual Fido Scurry 5k. Proceeds are split between the Decatur Macon County Animal Shelter and the Decatur Park District.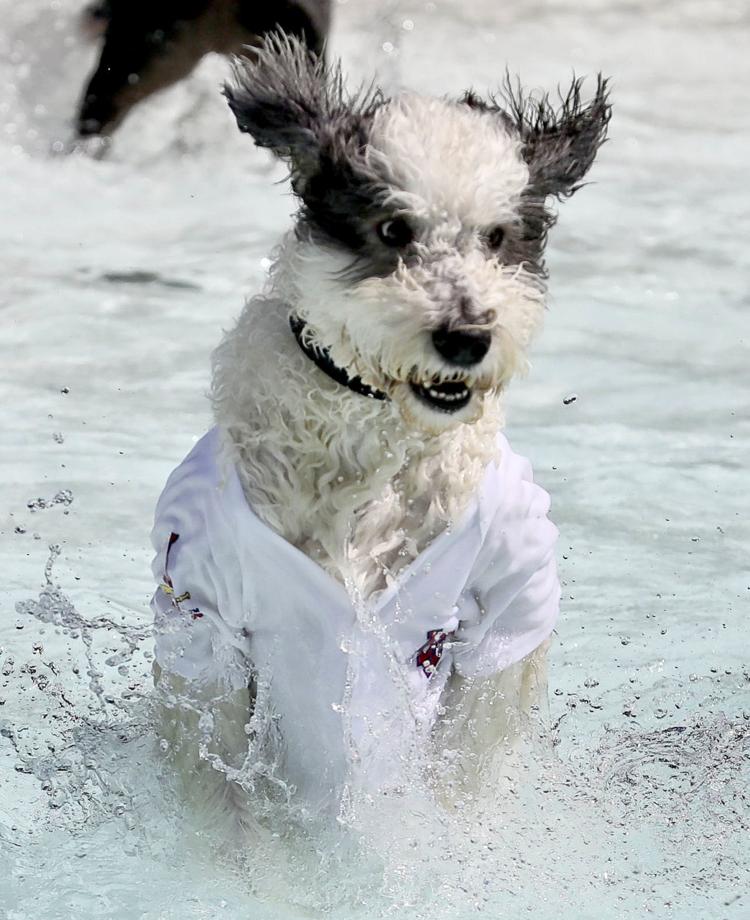 This was the second year the Decatur Park District hosted the swim following the 5K, which the Sauberts said they had attended in past years. At his first swim event on Saturday, Jack spent a good portion of the time running with other dogs along the outside of the pool, Brenda Saubert said. 
The dog swim event allowed participants to bring a limit of two dogs for a few hours of swimming. Some owners brought Frisbees to throw in the pool for retrieval, while others splashed alongside their dogs.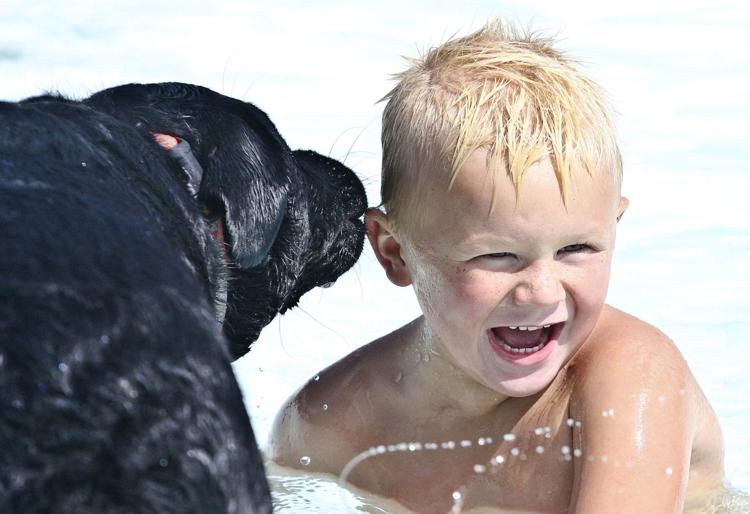 Emily Steele, 30, stopped by to let Sophie, her 6-year-old flat coated retriever mix, socialize with other dogs, along with teaching her to swim.
"I wasn't able to come last year, but I wanted to bring Sophie out to be in the water because she's kind of hesitant in the water," she said. "I'm hoping if I get her comfortable now, she'll be okay later."
Sophie is a comfort dog at PawPrint Ministries, a not-for-profit organization that brings therapy and comfort dogs to schools, senior facilities, crisis areas and healthcare facilities.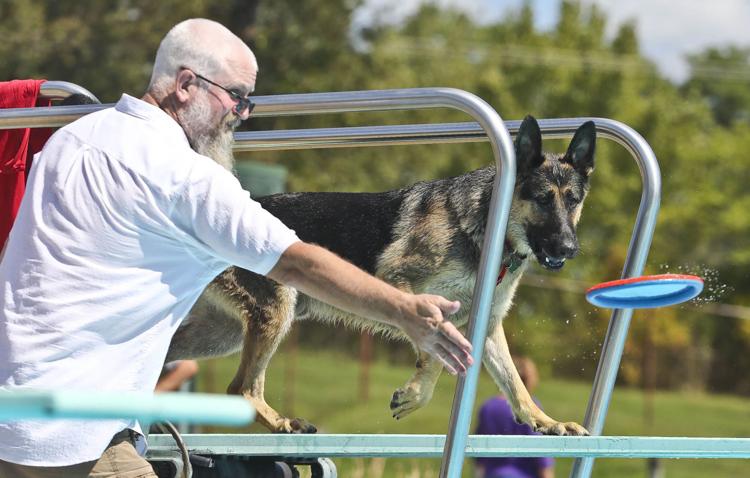 You have free articles remaining.
Steele said teaching her to swim is a preparation for vacation. The pair are going to the Outer Banks in North Carolina later this month, she said.
"I'm happy there's an opportunity like this in Decatur," said 20-year-old Aaron Wrigley.
His two dogs Lucy, a 10-year-old doberman lab mix, and Marie, a 4-year-old pitbull, pointer and boxer mix, regularly visit Fido Fields, the 2-acre dog park in Fairview Park. He said while his dogs prefer water a little more on the muddy side, the idea behind the Fairvew Pool Dog Swim drew them in.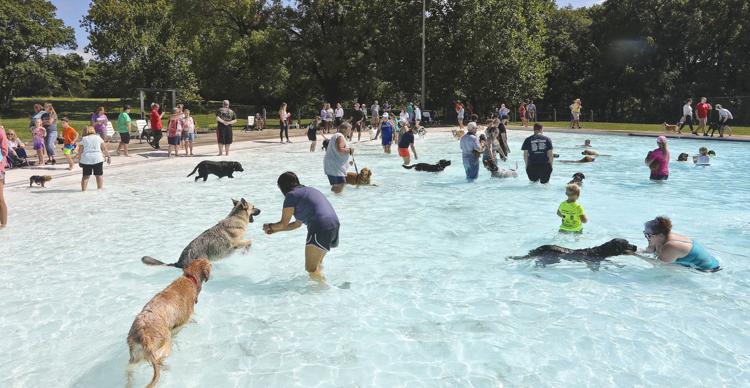 "I'm really happy we're able to just, you know, support something good," he said. "We need to have a good place for dogs, and then we also need a good foundation for dogs to go that don't really have the opportunities to do stuff like this."
In its second year, the event nearly doubled in size. Danita Roseman, recreation and aquatics supervisor for the park district, estimated this year was pushing over 100 dogs participating, compared to 40 the first year.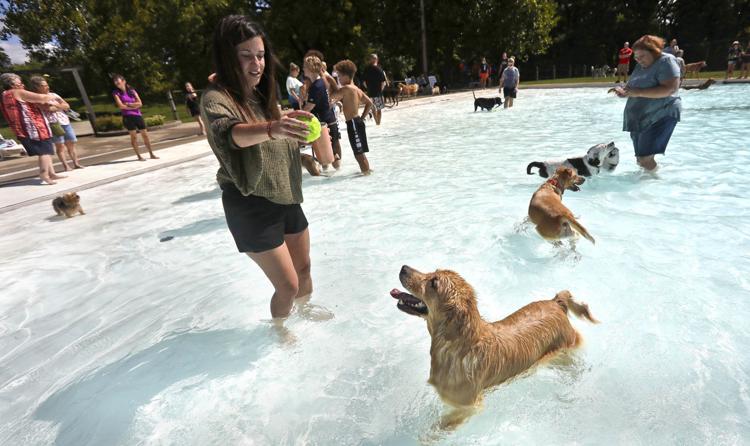 The swimming event served a last hurrah for Fairview Pool, which is now closed for the final time. The park district plans to open a new aquatics facility, Splash Cove, in Nelson Park next year.
"A lot of people came over from the Fido Scurry, which is great," Roseman said. "Since the pool is not going to be opening again and we're opening a new facility, the health department allows us to do this dog swim."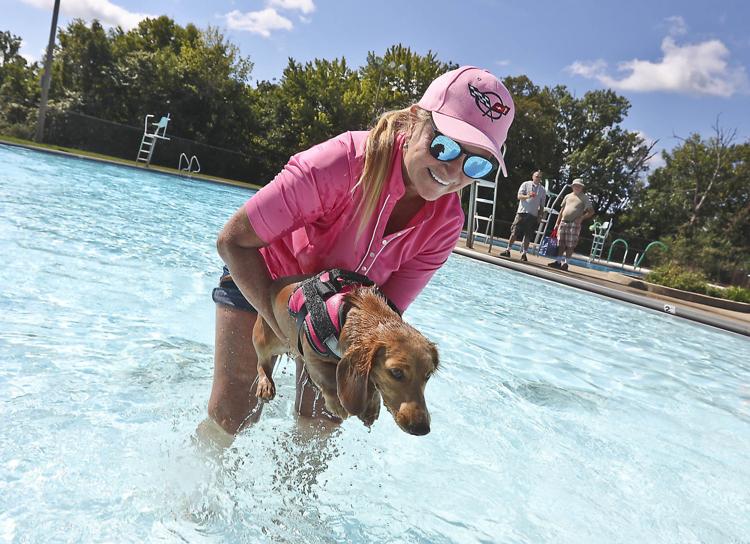 The new facility, which includes multiple water slides and features, is being built along U.S. 36 next to the Overlook Adventure complex, which includes miniature golf, a ropes course and two restaurants. It's part of the park district's long-term lakefront development plan, which aims to transform the Nelson Park area into a hub for recreation that could attract regional visitors as well as providing a range of activities for residents.