The lineup and name for the outdoor facility were unveiled during an invitation-only event at the Beach House on Friday. Primarily funded by a $3.9 million grant from the private foundation of former Macon County Sheriff Howard Buffett, the amphitheater will be named for his wife, Devon. It will open to the public Memorial Day weekend. 
Community leaders celebrated bringing the nearly 4,800-capacity amphitheater to reality, nine years after it was unveiled as part of the Decatur Park District's long-term lakefront development plan. 
"It's a turning point," said Nicole Bateman, community marketing manager with the Economic Development Corp. of Decatur and Macon County, "and it's adding to Decatur's competitive edge." 
Bateman and others expressed hope that the amphitheater would draw visitors from outside Macon County as well as providing entertainment for all types of people in Decatur. She cited a Grow Decatur survey from 2017 that said 70 percent of respondents traveled outside the city to watch live music, and 60 percent said live music was the type of entertainment most lacking in Decatur. 
"There is something for everyone," she said of the park district's lineup. "They have considered our entire community when putting the program together."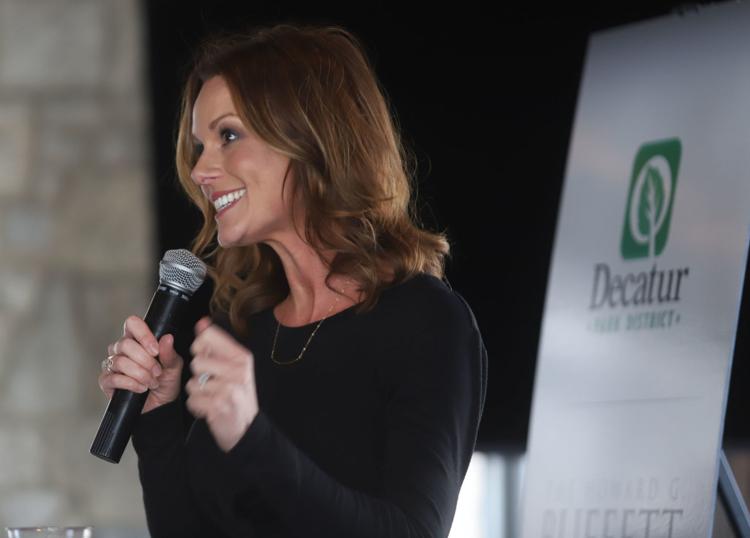 Park district Executive Director Bill Clevenger said the district hopes to appeal especially to millennials. Also this summer, the district plans to open its long-awaited outdoor aquatic center off U.S. 36, near the miniature golf and ropes courses. An expansion of the Scovill Zoo train, taking it around the Children's Museum of Illinois, is also slated for completion this year. 
"All of a sudden, we see this basin that we talked about back in 2010, 2011, through this whole planning process, we're seeing it come out of the ground," Clevenger said. "That is exciting. It's exciting for the park district, exciting for Decatur. It puts us on the map as a regional attraction." 
The lineup
"The lineup we have out now isn't the official lineup," said Wilcott, who hinted that the park district is in the process of booking more mainstream performers. "Our goal here is to provide a very diverse schedule so that no one feel's it's geared toward a single audience."
Clevenger said the goal is to be accessible and affordable for the entire community, while offering entertainment that appeals to everyone. Of the pending headliner announcements, he said, "I think you'll see some big 'wows' coming." 
The May 24 and May 25 opening weekend acts will be announced soon, the park district said. National touring act Forever Motown, which pays tribute to popular Motown artists, is set to perform Sunday, May 26.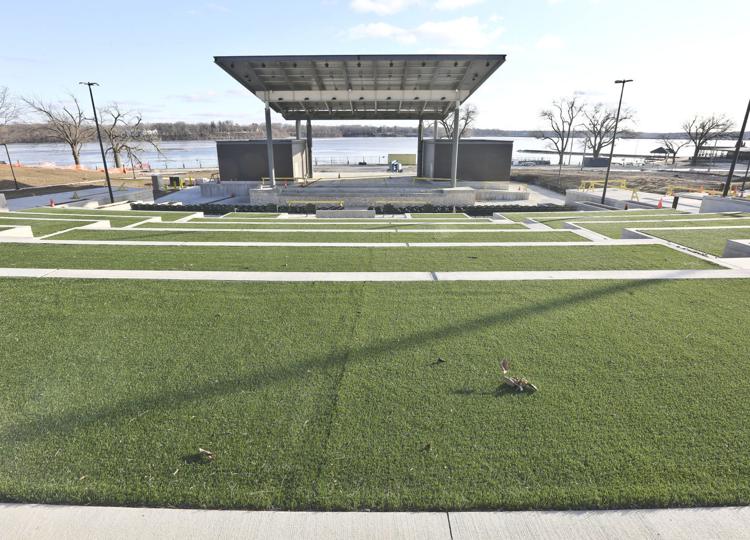 Other acts announced as scheduled performers for The Devon include a Crosby, Stills, Nash and Young tribute band, pop cover group Wedding Banned, country band Lick Creek, Chicago 6, a band featuring Dan Hampton, Steve McMichael and Otis Wilson, who were members of the 1985 Super Bowl Champion Chicago Bears — and a Grammy, American Music and Soul Train Award winning R&B artist whose name has not yet been revealed. 
The park district will also show six free movies at the amphitheater over the course of the summer. 
Cost and capacity
When finished, Wilcott said, the amphitheater will be able to host 4,000 people comfortably. There are 360 permanent seats, complete with cupholders and what Wilcott described as plenty of legroom, along with standing-room-only areas and a lawn for people to bring their own chairs.
It will also feature a perimeter fence, a concession stand and restrooms.
Prices for each performance will vary based on seating tiers, Wilcott said, ranging from $10 to $60 depending on how close to the stage the seats are. He said the park district will offer five events called "$5 Fridays," where admission to the performances will only cost $5 per person.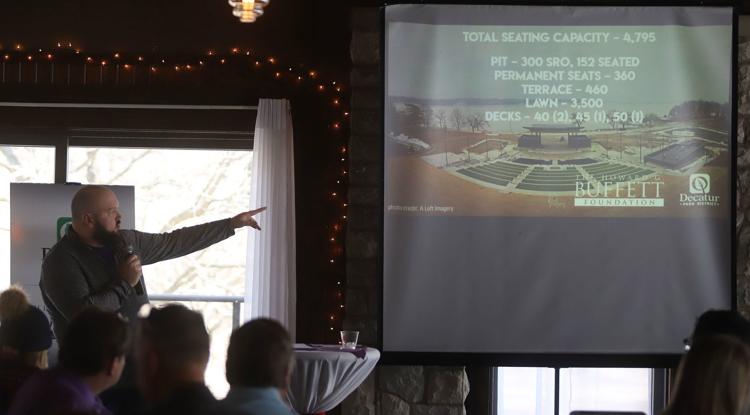 Wilcott said it's his and the park district's hope that the acts slated to perform, as well as the ones expected to be announced later, will provide a lineup that will draw people from all around Central Illinois to Nelson Park. 
"The fact that (The Devon) is the only (amphitheater) in a two-hour radius will be very beneficial to us," he said. 
Boaters on the lake will be able to hear the performances, Wilcott said, but won't be able to see all of them. The amphitheater has a partial wall behind performers that can be lifted so the stage can be seen from behind. Wilcott said this would be done for some events, depending on the circumstances. He said the park district would install speakers to allow music to be heard from the lake.  
Wilcott said the amphitheater's lineup for its first season required a lot of checking in with other similar venues and traveling to see how other amphitheaters did business.
He said preparing to plan the schedule was a process that began almost immediately after he started working with the park district. 
"It was countless hours of researching what has worked well in the area," Wilcott said. "... We really tried to dig into the ground level and build up."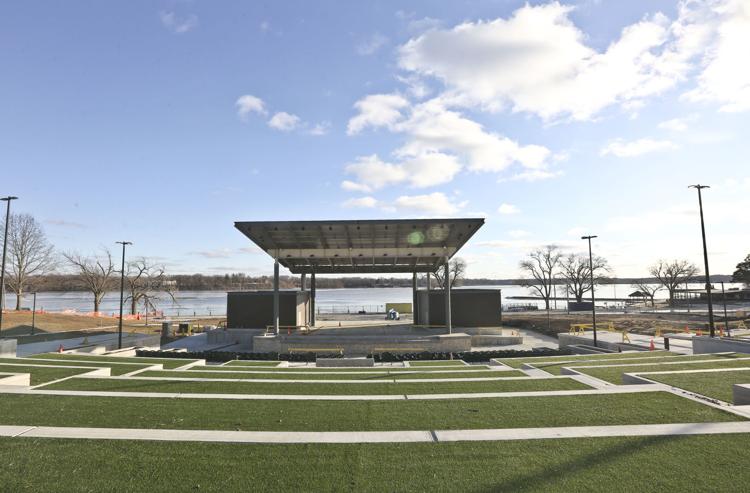 Long time coming
While the amphitheater has been part of the lakefront development plan since its inception, development began in earnest in 2014. Former Gov. Pat Quinn visited Decatur and announced the district would receive state funding for the outdoor venue.
That funding was lost in January 2015 after park district officials said Quinn's office didn't approve the necessary paperwork before former Gov. Bruce Rauner took office late that month. Rauner suspended all state grants for park district projects a few months later.
Funding returned to the project when Buffett announced that his private foundation would cover the $3.9 million base cost to build the venue. The city and park district were to share the $358,000 cost of engineering and professional services.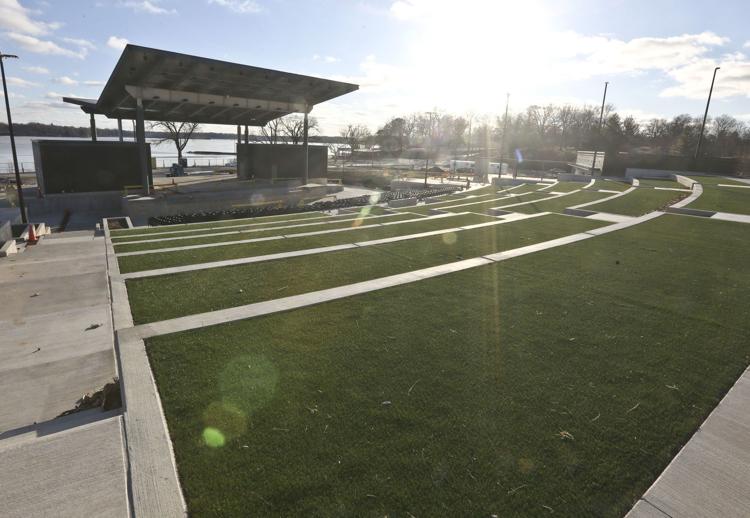 Buffett, who was named Macon County sheriff in September 2017 in the wake of former Sheriff Thomas Schneider's retirement, has been a frequent supporter of various Decatur-area projects and agencies in recent years. He served the rest of Schneider's term and did not run in the 2018 sheriff's race.
In November 2017, the park board accepted a $3.9 million bid from Christy-Foltz Inc. to build the venue. Through its capital projects budget, the park district has funded about $1.2 million of additional work at the venue site.
Wilcott said The Devon will have a presence on Facebook and Instagram, where patrons can learn more about scheduled acts and other happenings at the venue. A website for the amphitheater is also being developed, he said.
This story has been updated to accurately reflect Mike Wilcott's comments about the distance between the Nelson Park amphitheater and similar venues.