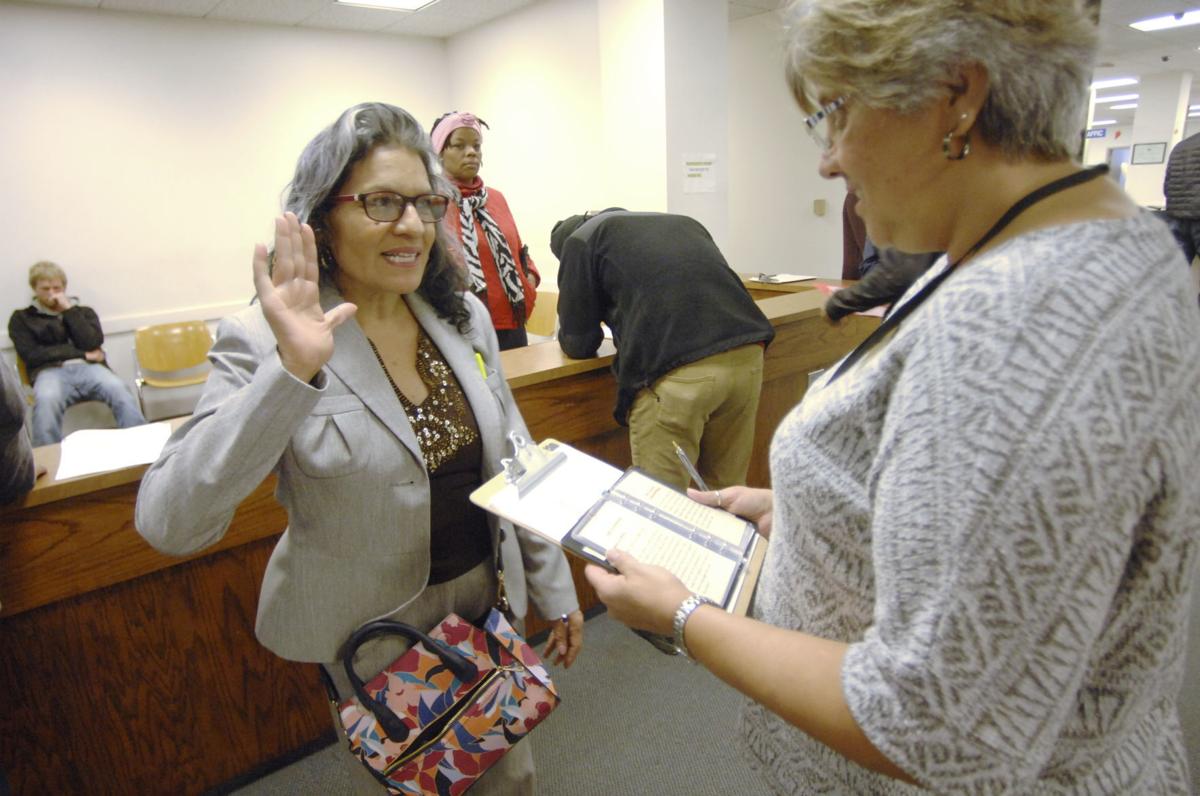 DECATUR — For five years, Jimena Lopez has traveled to courtrooms across Central Illinois, helping people find justice.
She's not an attorney, judge or expert witness, but her role is just as vital in the legal process. Lopez is a certified court interpreter who has translated for Spanish-speaking defendants in nearly 20 Illinois counties. The job requires an understanding of nuance, jargon and complex terminology.
Lopez says the process to become certified is challenging, but the position is rewarding: "It keeps everyone safe," she said.
Illinois courts are required to provide interpreters for those with limited proficiency in English, and a policy developed by the Illinois Supreme Court encourages them to use interpreters who have met standards to become either certified or registered. The state will reimburse all costs for the use of qualifying certified interpreters and sign language interpreters who are listed on its registry or who are certified in other states. It will reimburse $30 an hour for registered interpreters.
But court administrators and judges say it is sometimes easier to allow a family member or friend to interpret for the defendant, noting the difficulty of finding certified or registered interpreters for uncommon languages and the time it may take to schedule an interpreter for a relatively minor case.
Courts also rely on LanguageLine, a commercial service through which the interpreter is essentially available on speakerphone in the courtroom. It offers 36 different languages.
The law requires certification only for American Sign Language interpreters for the hearing impaired, established in the Americans with Disabilities Act.
"(It has) often been the case, people who have English as their second language will bring in with them, a friend or relative to interpret which we can permit," said Judge A.G. Webber, presiding judge of Macon County.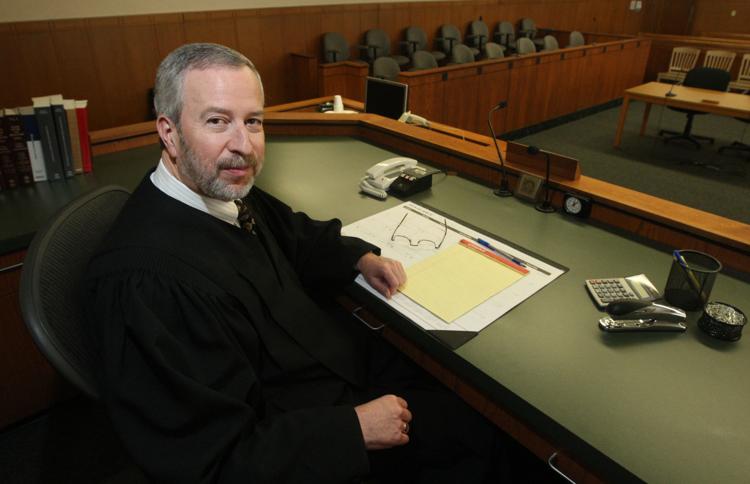 If someone goes to a hearing to pay a traffic ticket, interpreters brought by the party will be permitted, especially if "they want to get the ticket paid and hit the road," he said. These interpreters go without pay.
Each of the Fifth, Sixth and Eleventh Judicial Circuits, which encompass much of Central Illinois, submitted policies to the state Supreme Court saying that they would seek to use certified or registered interpreters, and that unregistered interpreters would be appointed "only when certified and registered interpreters are unavailable."
But data shows that most of the time, either the people translating for defendants and witnesses in these courts are not certified, or the courts are not seeking reimbursement for those who are.
In the Sixth Judicial Circuit, interpreters were used on 1,056 occasions last year, and just 11 were certified or registered, according to data from the Illinois Supreme Court. The circuit includes Champaign, DeWitt, Douglas, Piatt, Macon and Moultrie Counties.
In the Fifth Judicial District, a greater percentage of interpreters used in 2018 were certified — about 12.5%, or 10 out of 80. Coles, Clark, Cumberland, Edgar and Vermilion Counties make up this circuit.
Courts in the Eleventh Judicial Circuit reported using certified or registered interpreters 4.1% of the time, or 20 out of 482 occasions involving a language barrier. The circuit includes Ford, Livingston, Logan, McLean and Woodford counties.
William Scanlon, McLean County's trial court administrator, said interpreters are regularly present in courtrooms. In 2018, the greatest number of cases in the Eleventh Circuit, about 450, required Spanish translation. Scanlon said most were likely in McLean County.
The state's data, which is based on whether the courts seek reimbursement, shows the circuit did not use certified or registered interpreters for any of those cases. Yet Lopez and Rosario Joyce, who said she's a registered interpreter, said they work there regularly.
Asked about the discrepancy, Scanlon said some recent paperwork involving Spanish-language cases listed the interpreter as the Hispanic Outreach Program, part of the Western Avenue Community Center that assists McLean County's Hispanic population. To seek reimbursement, the county would need to follow up with the agency and list the interpreter's name.
Asked if the same issue occurred on the 2018 paperwork, with the program listed instead of the interpreter, Scanlon said, "That would be my conclusion."
It's unclear how many McLean County cases could have been eligible for state reimbursement because the interpreter was certified or registered, but that status was not reported. Scanlon suggested in an email that, while the county has sought reimbursement in some cases, doing so did not provide a benefit for local taxpayers.
"... All reimbursement from the (Administrative Office of Illinois Courts) is from tax dollars, it is not funding from some independent source," Scanlon wrote in the email. "Any jurisdiction who believes they are saving the local community money through the reimbursement process is mistaken regarding the funding source."
The Illinois Supreme Court says state funding for the court system comes from a variety of sources, including the state income tax, county property taxes, case filing fees, court-imposed fines and assessments, and other fees.
State lawmakers each year allocate money for the judicial branch. This year, they increased that amount for the first time in six years to $405 million; officials said the money would allow for full reimbursement of probation services that previously were underfunded. State government also pays for salaries and benefits of supreme, appellate and circuit court judges, as well as staff in the supreme and appellate courts.
County governments pay for other costs of running local circuit courts, including maintenance and support staff, office and courtroom space and recordkeeping and accounting services provided by circuit clerks. Money for these services comes mostly from property taxes, filing fees and court-ordered fines and costs.
In a phone interview, Scanlon suggested the reimbursement system was unfair. "Why would some taxpayer in Decatur, Rockford (or elsewhere) pay for interpreters in McLean County?" he said.
Speaking earlier, Scanlon said the LanguageLine service can be helpful in some cases, but the court couldn't complete a trial using the service in a timely fashion. He reiterated the importance of having interpreters present in the courtroom for more significant matters.
You have free articles remaining.
"I don't suffer if I don't get an interpreter here," Scanlon said. "The party suffers, or the defendant suffers, or the case suffers, and that's the problem."
Beyond bilingual
Federal law requires all courts to provide free interpreters in criminal and civil cases. To work in federal court, those interpreters must pass a competitive test. Many states have a process to certify interpreters, but those standards can vary. And some states, like Illinois, allow interpreters to serve even if they have not become certified.
The U.S. Department of Justice has investigated several states that weren't complying with federal law. In May, it reached an agreement with the Louisiana Supreme Court, which agreed to phase in a language access program providing written and oral translations.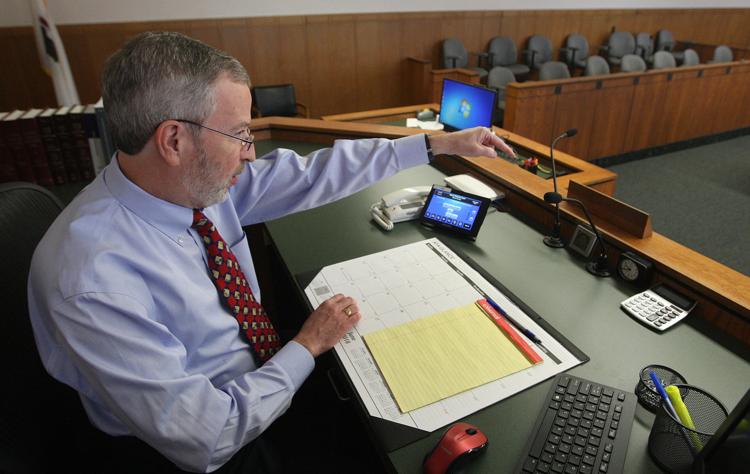 The lack of a skilled interpreter can cause problems. A 2016 report on the subject by PBS described one situation in which a man accused of running a red light mistakenly thought he was being charged with rape. The interpreter told him he was accused of a "violación," which in Spanish does not mean "violation," but "rape."
Recognizing the importance of skilled translators, the American Bar Association in 2012 released recommended standards for language access in the courts. The 156-page document urges courts at all levels to adopt standards for language services and calls for the funding needed to do so.
In Illinois, the Language Access Program's reimbursement provision was meant to encourage courts to hire certified or registered interpreters — "essentially, people who have proven their skills," Spanner said. A registry of certified and registered interpreters is available to give courts a central place to find qualified people for the job.
"It's beyond being bilingual," Spanner said. Interpreters must know how the legal system works and be able to translate with nuance. Those who pass the state's exam with a score of 70% or higher are considered "certified," and those who pass with a score of at least 60% are "registered."
When non-certified interpreters are used
Officials say there are several reasons why certified or registered interpreters are not used more frequently, even when the expense is reimbursed. Major factors are convenience and speed, as well as the severity of the case.
Macon County only uses interpreters a few times a month on average, Webber said. Allowing non-certified interpreters can improve efficiency in those cases.
Sometimes, it's faster and easier to use those in the area to translate, rather than waiting for a certified or registered interpreter from elsewhere, Scanlon said. He gave several examples, such as a divorce hearing when no certified interpreter is available and a family member or friend is willing to provide translation. Another example: If someone is vacationing in the U.S. from a foreign country, the courts will try to process that case quickly so that he or she can return.
"We've got to balance the resources available with the needs we have," Scanlon said.
Some languages, such as Japanese, do not have a ready supply of certified interpreters, leaving courts with few options.
If unregistered or non-certified interpreters take part in a court proceeding, they promise in court to make a true and impartial interpretation using their best judgment and following legal and ethical standards.
For counties without a large population with limited English proficiency, it can be hard to predict how often interpreters will be needed.
Moultrie County Circuit Clerk Christa Helmuth said the county rarely uses interpreters. But when they do, she said, they prefer to hire certified interpreters because the county can be reimbursed.
Becky Williams, court administrator at the Coles County Courthouse, said use of interpreters "runs in spurts." The Coles County budget for fiscal year 2019 for court interpreters was set at $2,500, and as of the end of September, the county had spent $2,196.18 of that allotted amount. When an interpreter is needed, she said, the county tries to hire one who is certified or registered.
Since 2007, the average annual amount spent on court interpreters in Macon County has varied widely from roughly $1,000 to over $5,000, data shows. In 2019, the courts spent $1,972.17 as of Oct. 31. Webber asked the board for a $1,500 interpreter budget for fiscal year 2020.
McLean County's budget for 2019 is $48,600, and by early November, $38,300 had been spent, Scanlon said. He said the budget covers interpreters for all aspects of the court system, including pre-trials, interviews, pre-sentencing investigations, trials, traffic and for parents of juveniles.
U.S. Census data estimates showed 172,828 people living in McLean County in 2018, and an estimated 8.4% spoke a language other than English at home. By comparison, data shows Macon County has a population of 104,712 with an estimated 3.5% speaking a language other than English at home.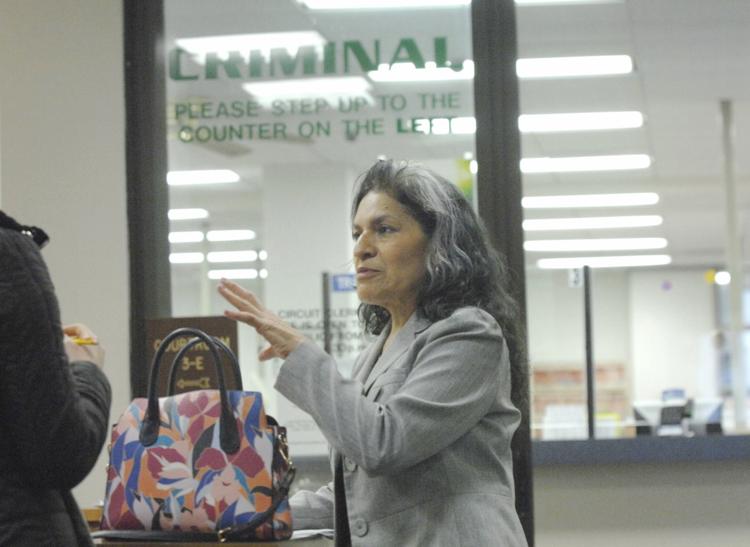 A hard but rewarding job
Spanish interpreters, like Lopez and Joyce, are in the greatest demand. Roughly 91% of the 2018 cases interpreted in Illinois — or more than 134,000 — were in Spanish.
Joyce, a native of Mexico, works as an interpreter for Western Avenue Community Center in Bloomington. After years of providing her skills pro bono, Joyce now serves as a court interpreter through the Hispanic Outreach Program. 
She said she is at the McLean County courthouse almost daily, ensuring the process is fair and that people can understand the charges and evidence being brought against them.
Joyce said her job isn't only to interpret during court, but also to inform the defendants of required tasks following their hearings. This involves making sure they understand exactly what they need to do moving forward and referring them to other resources.
Lopez described the certification process as "complex," but said the job is an important, needed one. She decided to become certified to prove her capabilities not only to herself, but to the courts.
"Sometimes it's a huge investment," she said. "I do encourage people to get trained, even if it's not your full-time job."
Contact Kennedy Nolen at (217) 421-6985. Follow her on Twitter: @KNolenWrites